Guy Simonian's Hobbies
Here are some of my current hobbies and some history regarding each one.
Golf
I started golfing when I was about 12 years old. At that time my family lived a block away from the Stanley Golf Course, a beautiful 27 hole public course whose land was donated to the city of New Britain, Connecticut by one of the founders of the Stanley Tools company. While my brothers, friends and I enjoyed slamming golf balls around the course, a big part of our golfing experience was avoiding the starters traveling around in a scooter or a green utility truck. My father was always a great advocate of the game, playing on weekends with his friends, then later on in life on a private country club. He loved watching golf tournaments on television which during my youth felt like an awful waste of time, but of course now its what I watch or record most Sundays during the golf season.
During my college years and for some time thereafter my best golf memories are playing with my brothers, father, and our Armenian friends and relatives. An annual charity tournament was held at the Tallwood Country club in Hebron, Connecticut. This was a fun filled event full of bravado and camaraderie. Mostly a male only event it consisted of a shotgun start tournament followed by a wonderful cookout for all the participants. My mothers brother in law, Uncle Greg Abrahamian was a fixture at these events. An excellent golfer and fierce competitor at everything he did (like playing cards) Uncle Greg was an excellent teacher and role model for the aspiring golfer. I was not a gifted athlete and golf was no exception. My father golfed enough to develop consistency in his game which is what I strive to do even now. Here are two photos from the Tallwood Armenian Open showing my brothers, my father, and Uncle Greg.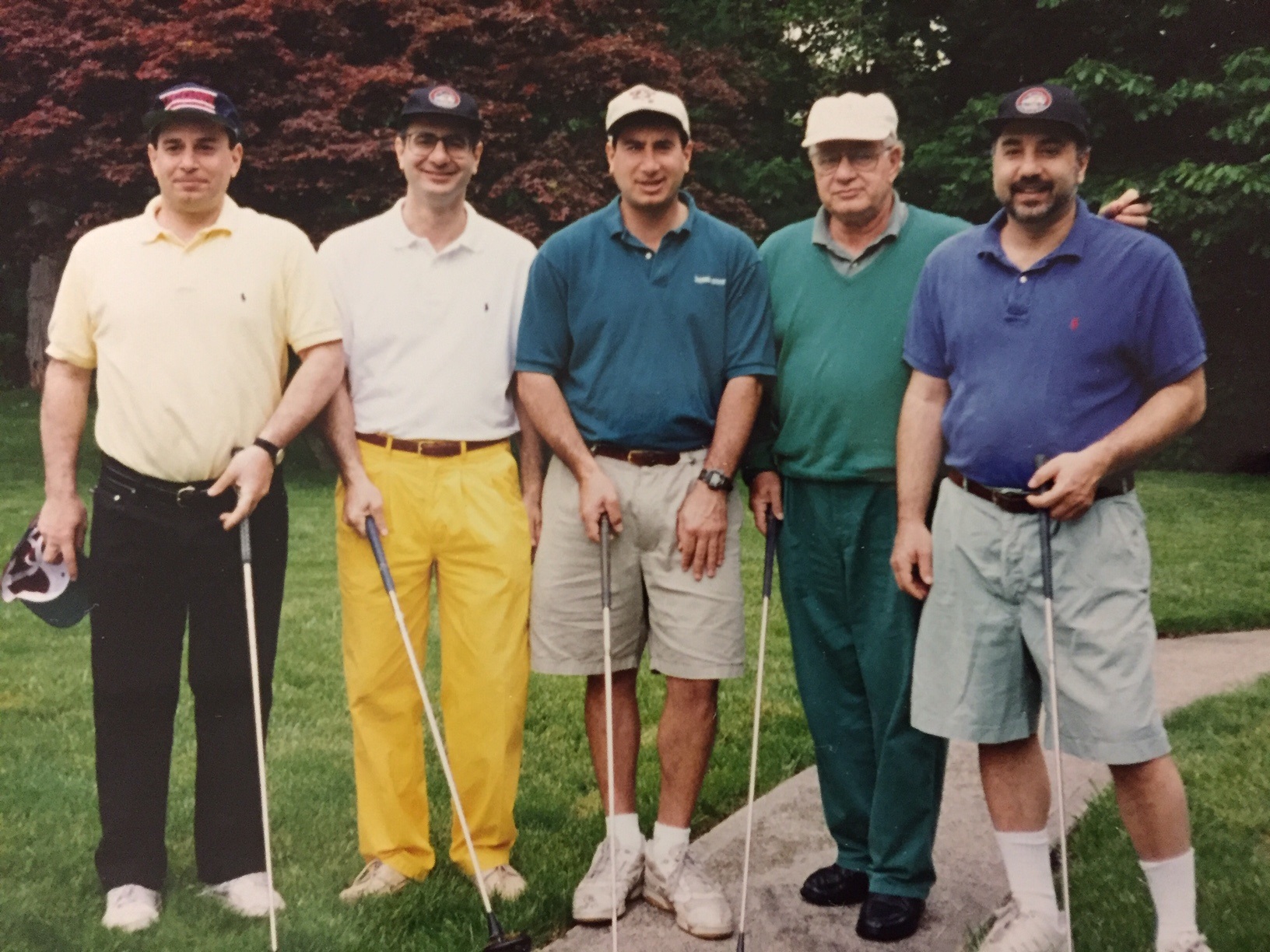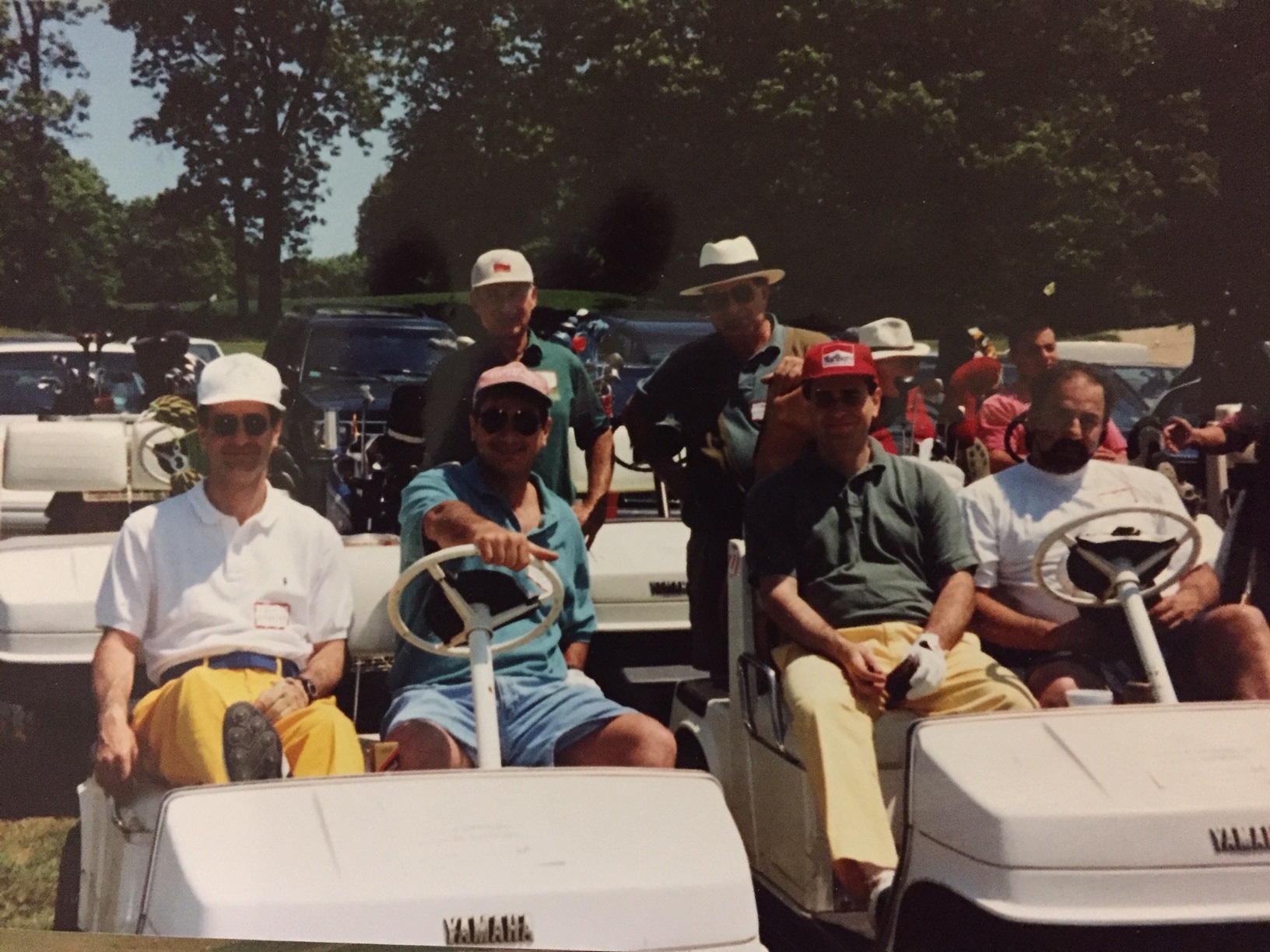 The next phase of my connection to golf came around the year 1986. I joined a golf league with some of my co-workers from Digital Equipment Corporation. Still very much the amateur I did receive honorable mention which included a trophy for being the "most improved" golfer. So I went from being horrendous to simply just awful. So I proved my cousin John A. wrong who likes to say that, "Golf is the one sport where no matter how much you practice, you never seem to improve".
I continued to play on a irregular basis, including two scramble tournaments on a regular basis. One was the Armenian tournament mentioned; the other was one called "The Shrew Scramble" named for and run by friends of my youngest brother Art. My team changed a bit from year to year but mostly consisted of myself, my brother Art, our friend Serop, and a cast of other players in the 4th spot. I do recall that we actually won this tournament twice, once outright, the other time after a tie was made which resulted in us winning a spectacular chip-off contest. Here is the winning team in 2015 with green jackets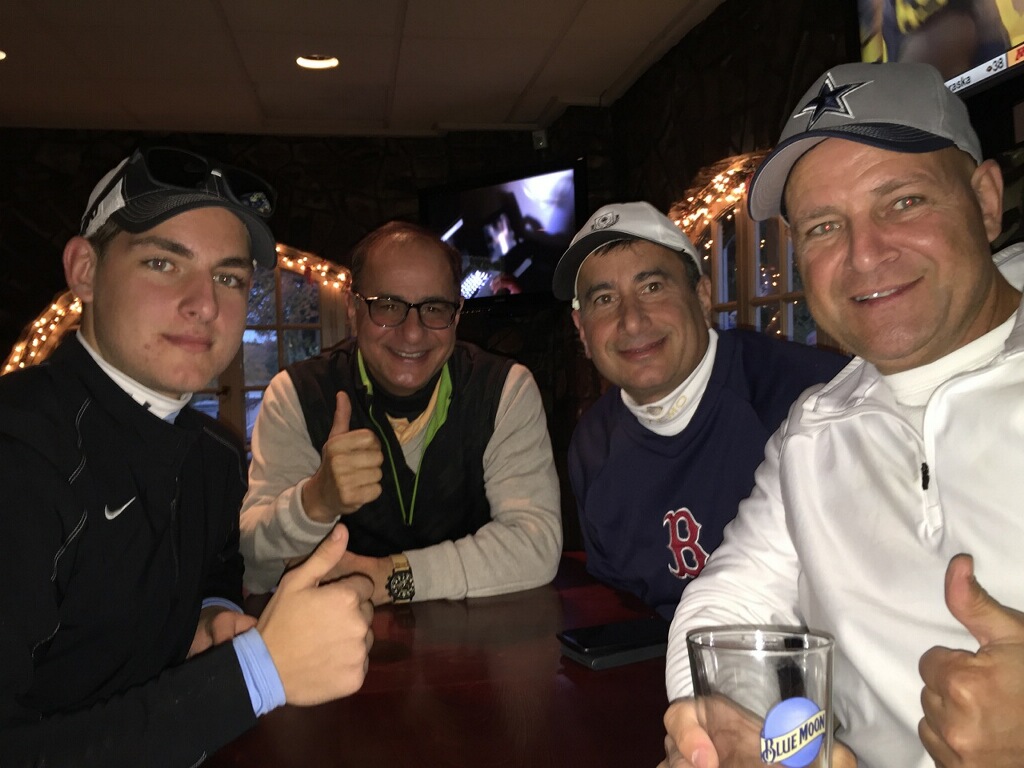 and again with Lenny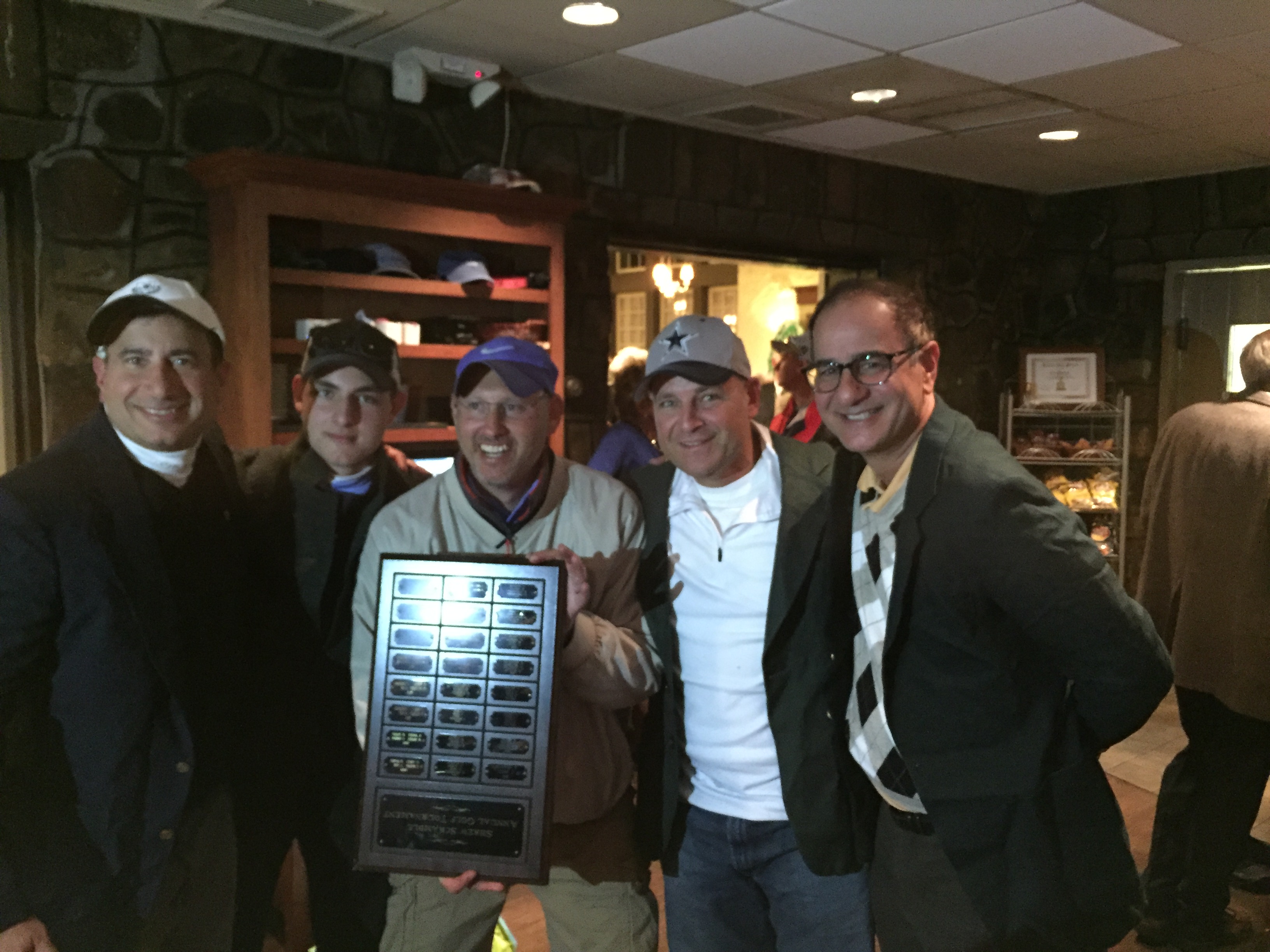 a photo of the plaque, notice our names from 2006.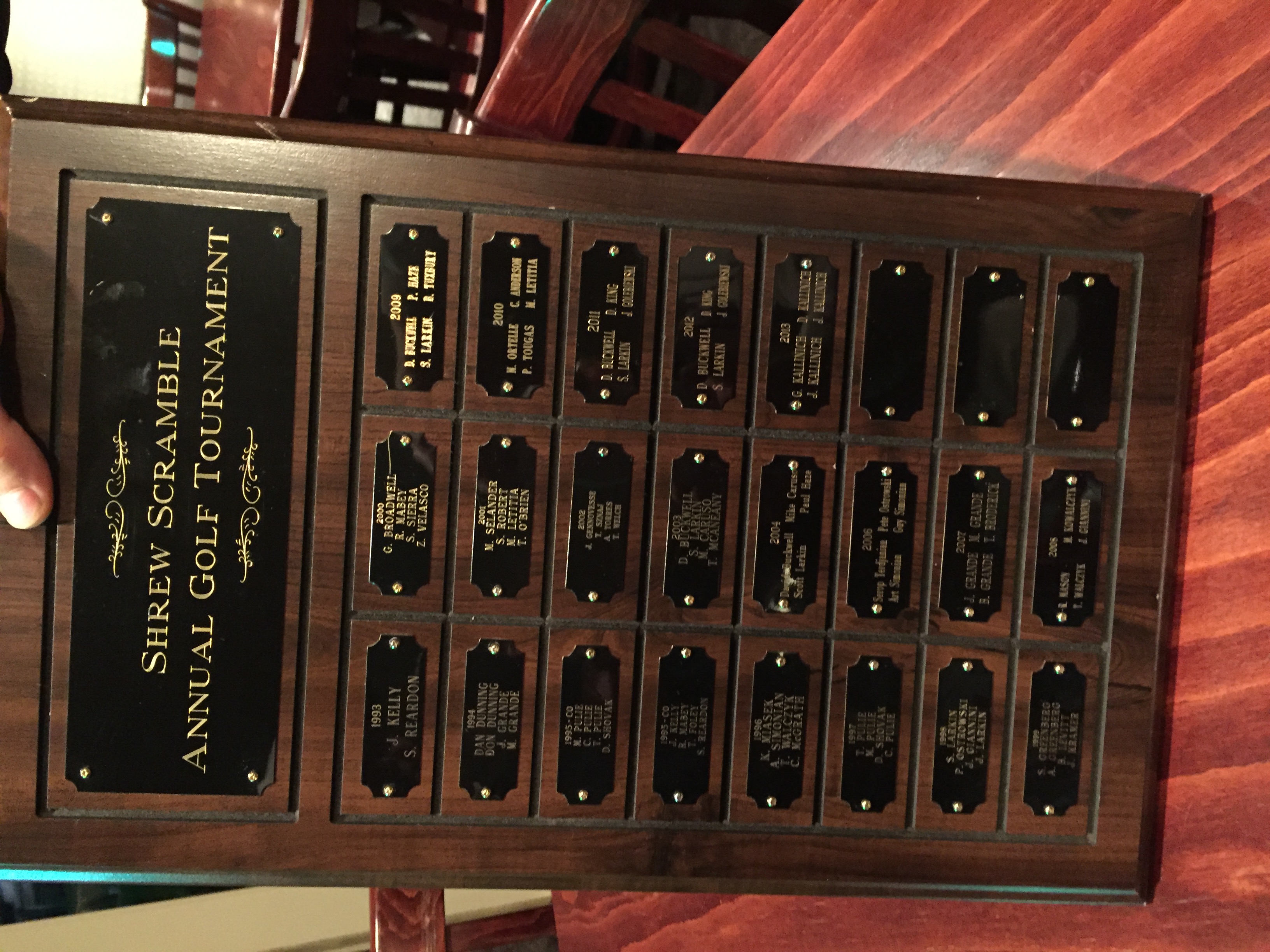 In the next phase of my golf career my wife Darlene and I joined the country club to which my parents had belonged, the Shuttle Meadow Country Club. Developed in 1917 as the playground for the factory owners and other elites of the surrounding community, the 18 hole course itself was designed by Willie Parks. A lot of effort goes into maintaining the course layout in keeping with his original design and philosophy. For us, it is as much a social gathering place for our major family events as a golf club. We have enjoyed engagement parties, birthday parties, Holiday parties, and many other social events too numerous to count. For some Tennis and a large pool round out the family outdoor activities.
I have had the pleasure of participating in many club-sponsored tournaments. In fact my father was on a winning tournament team in 1999, the tournament then was a two day A-B-C-D best two of four scores net of handicaps. Called the Willie Whalen tournament the format enabled even high handicap players to participate and compete on a team with lower handicap golfers. In fact, twenty years later On October 6, 2019, I was on a team that also took first place in this event. Winning this event enabled the winners to get their names emblazoned on the plaque inside the clubhouse memorializing this event. Here is a photo of our winning team, the pairings of all the teams and our winning scorecard.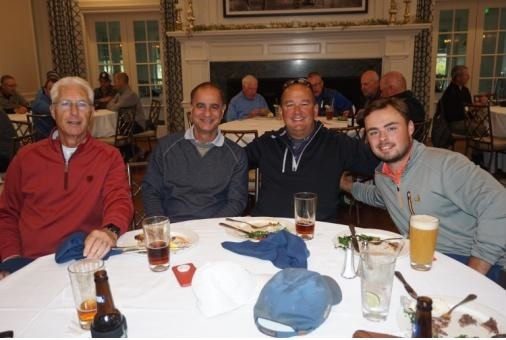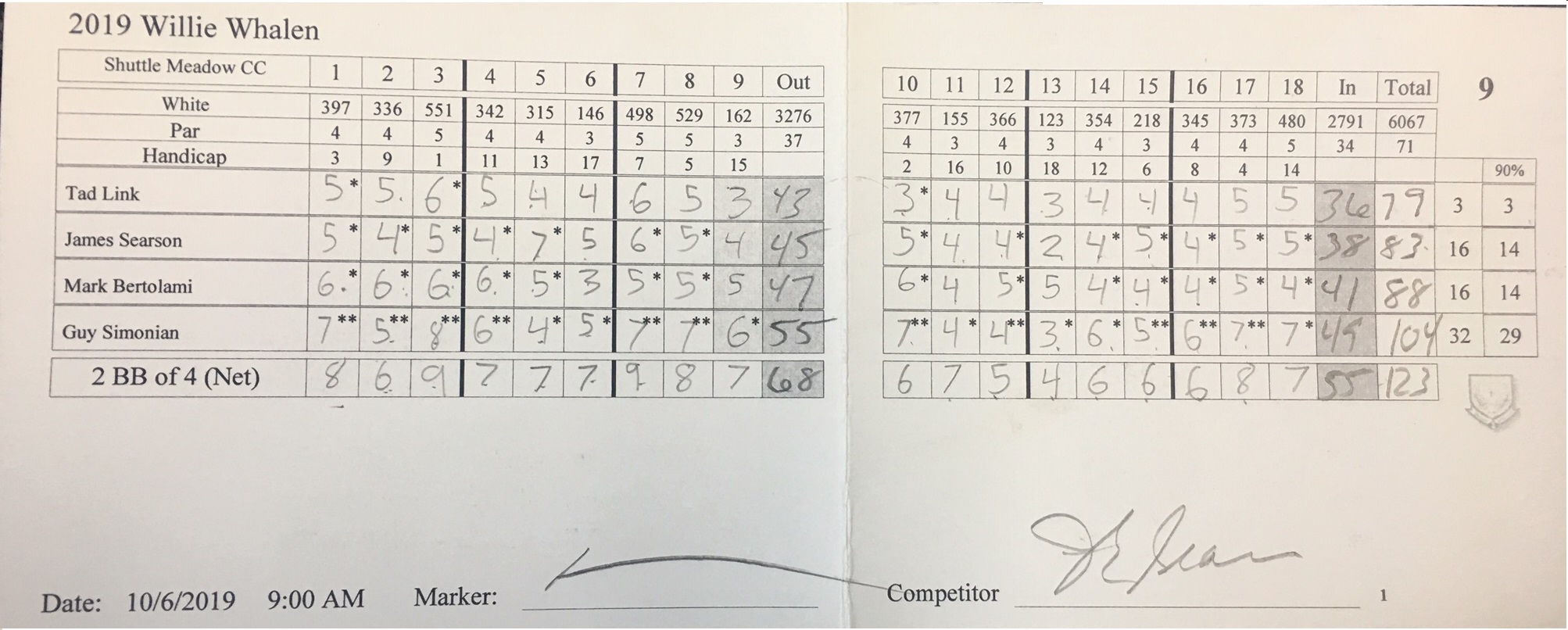 Being a high handicap golfer has its challenges but I was determined to improve. As I read recently on a slip of paper tucked inside a fortune cookie, "failure is not defeat until you stop trying". In March of 2020, while vacationing in Naples, Florida, I made arrangements to take a golf lesson with a pro named Mark Durland. Operating out of the beautiful Naples Grande golf club, Mark employed one of the latest innovations in golf instruction, the TrackMan. That lesson on March 4, 2020 marked a turning point for me. Mark pointed out the flaw in my swing that was producing inconsistent results which provided the basis for a campaign of improvement. It's not the California Gold Rush, mind you, but by adhering to the principals of the inside out swing I learned that day, let's say that I may now hit 9 or 10 fairways out of 18, rather than perhaps 3 or 4 beforehand. Click here to view a video summarizing that lesson.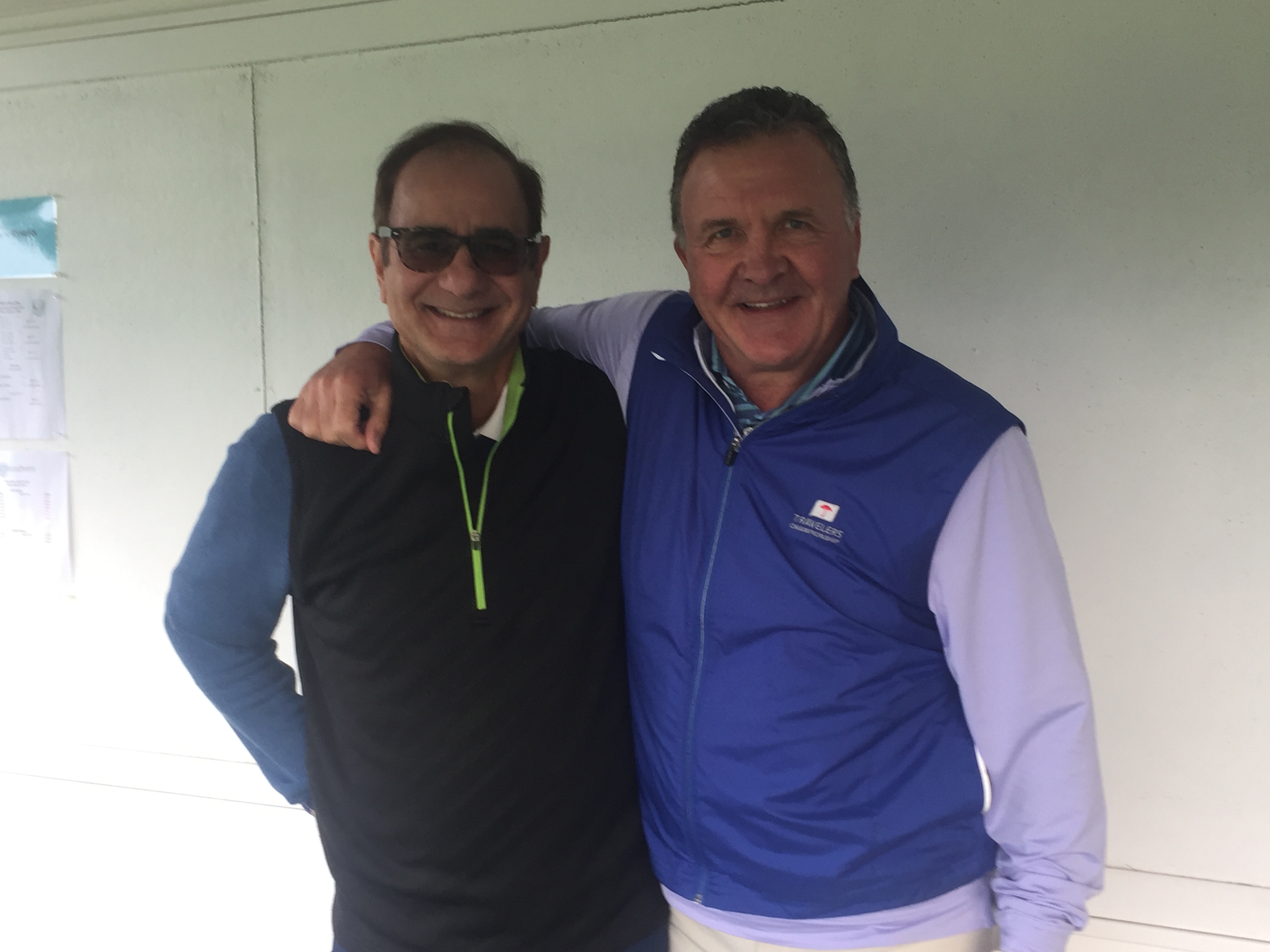 My next breakthrough came under the direction of pro Tim Gavronski at Shuttle Meadow Country Club. Less technology than the Trackman session, Tims lessons emphasized consistency through repitition. The first thing he cleaned up was my pre-shot routine. The goal is to repeat the identical behavior pattern every time you approach the tee.
These lessons paid off when the Hye Boys team entered the Armenian Open at Tallwood Country Club in 2021. Here is a picture of the winning scorecard and the happy teammates, myself, Art Simonian, Serop and Ryan Terdjanian.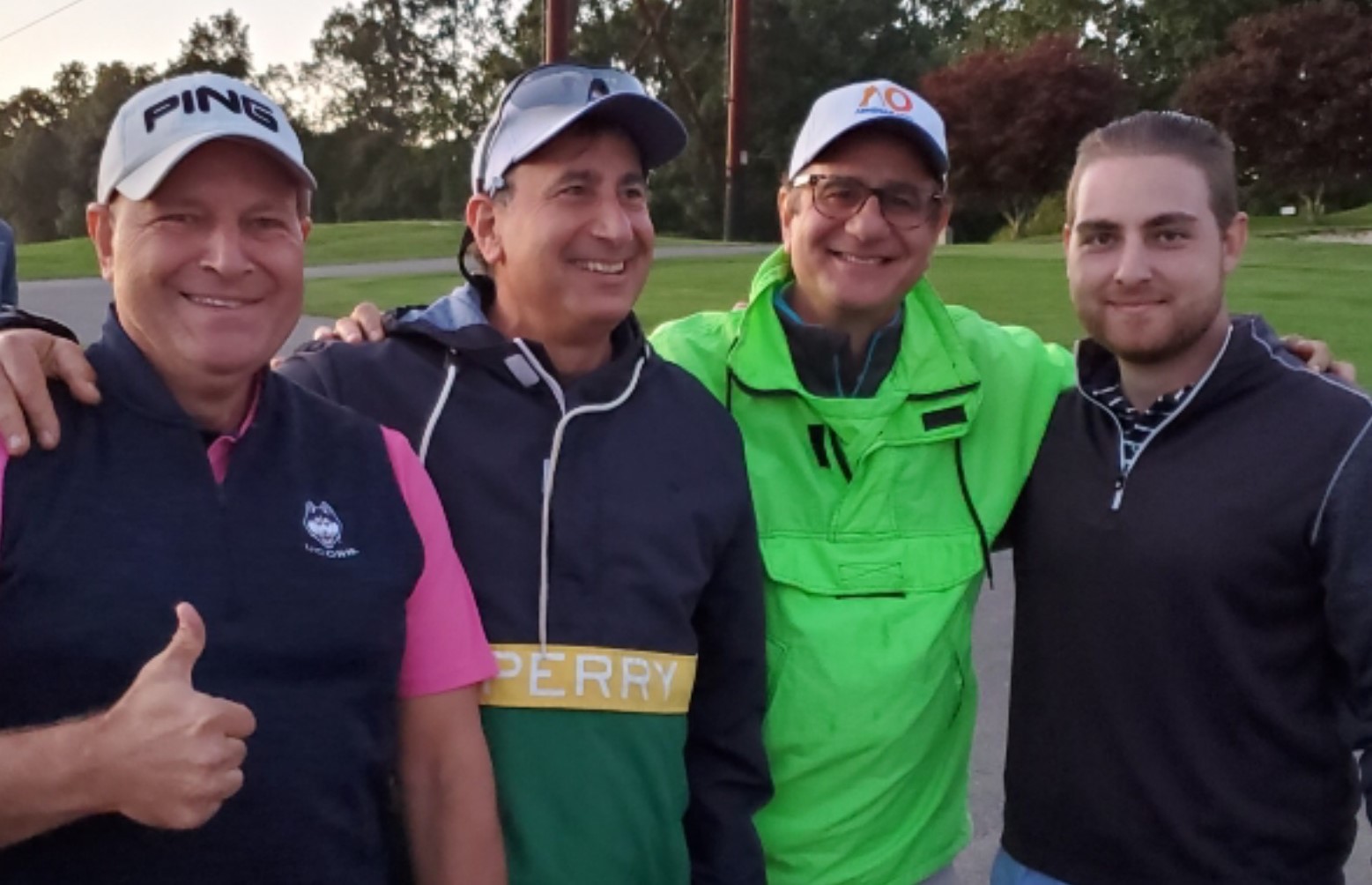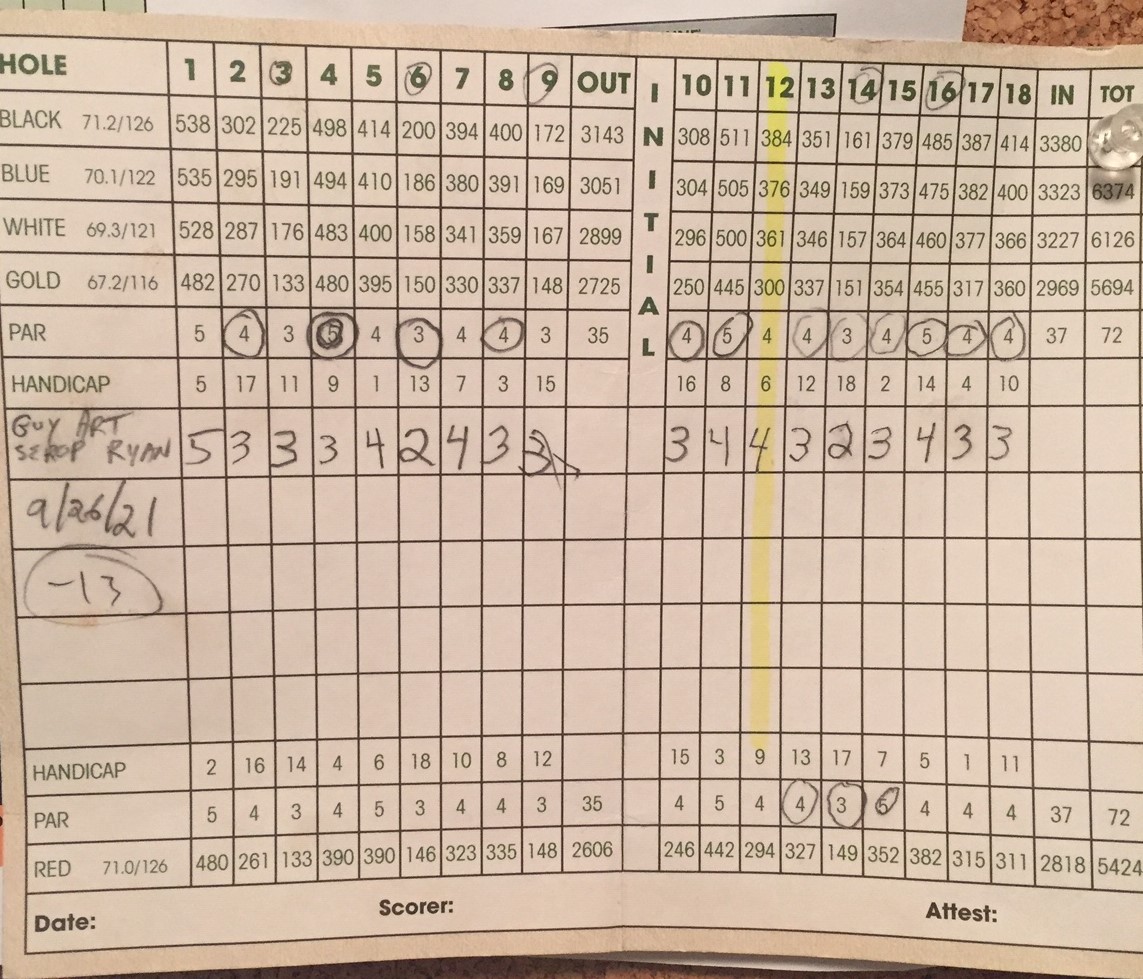 ---
Boating
My first experiences boating were as a child in the 1960's. My parents would rent a beach cottage on the Connecticut shoreline, first in Westbrook and later in Old Lyme. Vacationing with our friends, the Hoosigians, the Hoosigian parents Beverly and Given got along very well with my parents Art and Lucy. My family had three kids (later four) and theirs had three as well. Tommy the oldest was brother Mark's age, Linda was my age, and Cheryl was brother Craig's age. For two and sometimes three weeks both families would pack up their Ford, Mercury, Buick or Chevrolet Station wagons and relocate ourselves to a shack on or near one of the sandy beaches. Here's Craig, Cheryl (or Linda?) and Lee circa 1960 in front of one of those cottages.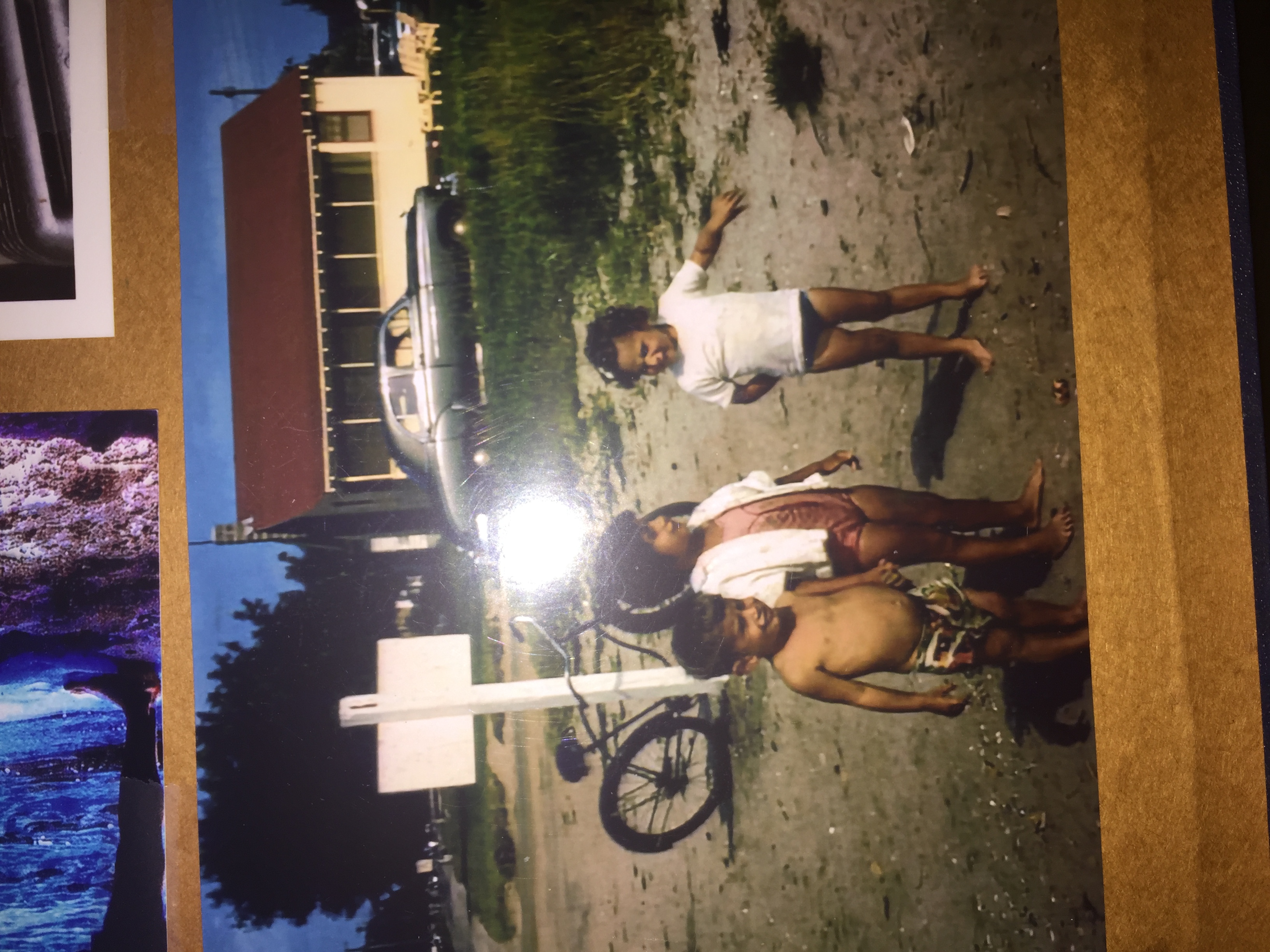 And again a couple of years later, this time myself, Craig, Cheryl, Linda, Tommy: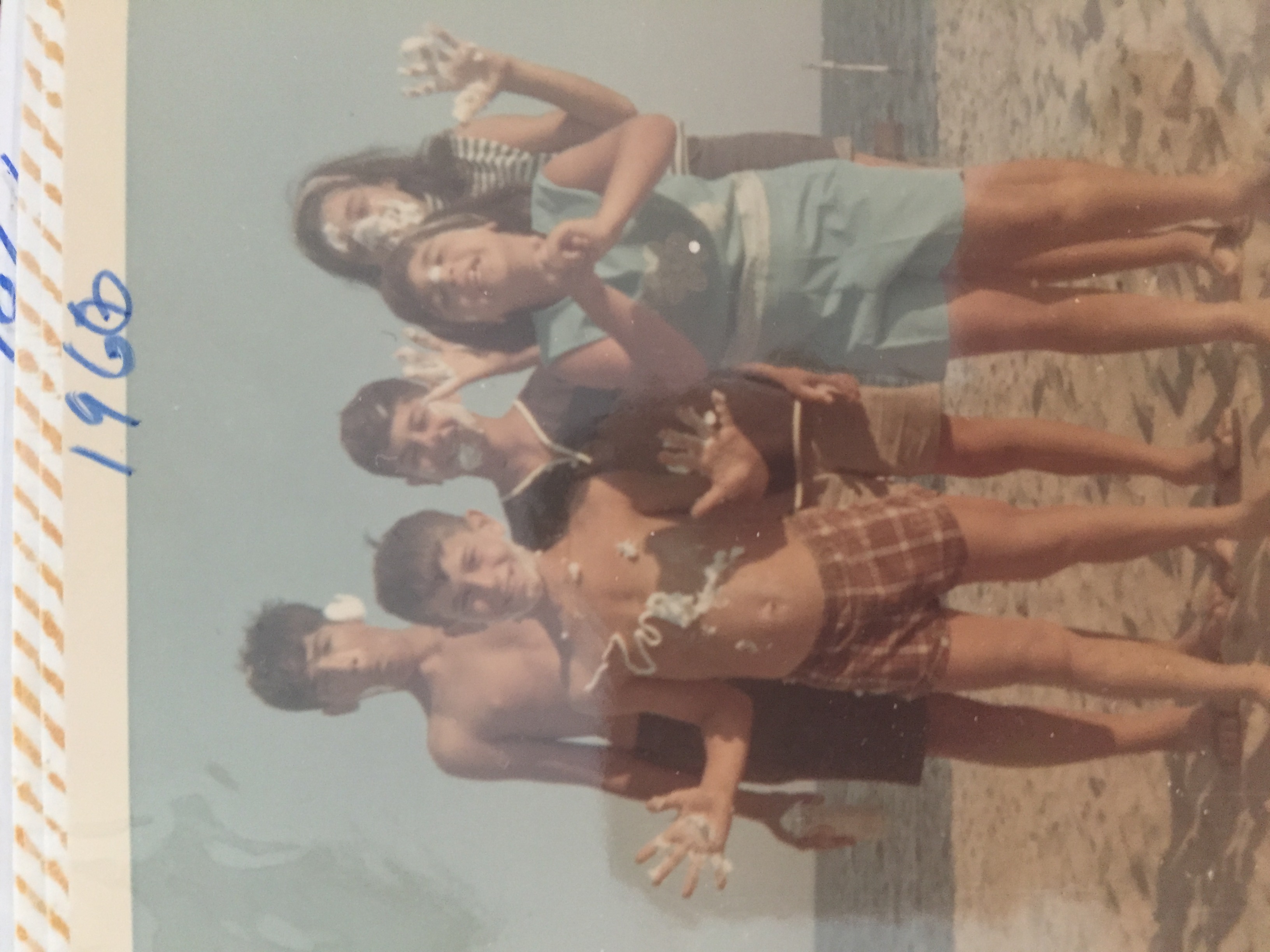 Invariably we would get a visit from, or actually borrow Uncle Paul Abrahamian's outboard powered boat. We had a boat ourselves at one point, but I only remember it as existing underneath a tarp and getting fiberglass repair and bottom painted. Water skiing and fishing were both possible off Uncle Paul's boat. Fishing would take place around Duck Island off the coast of Westbrook.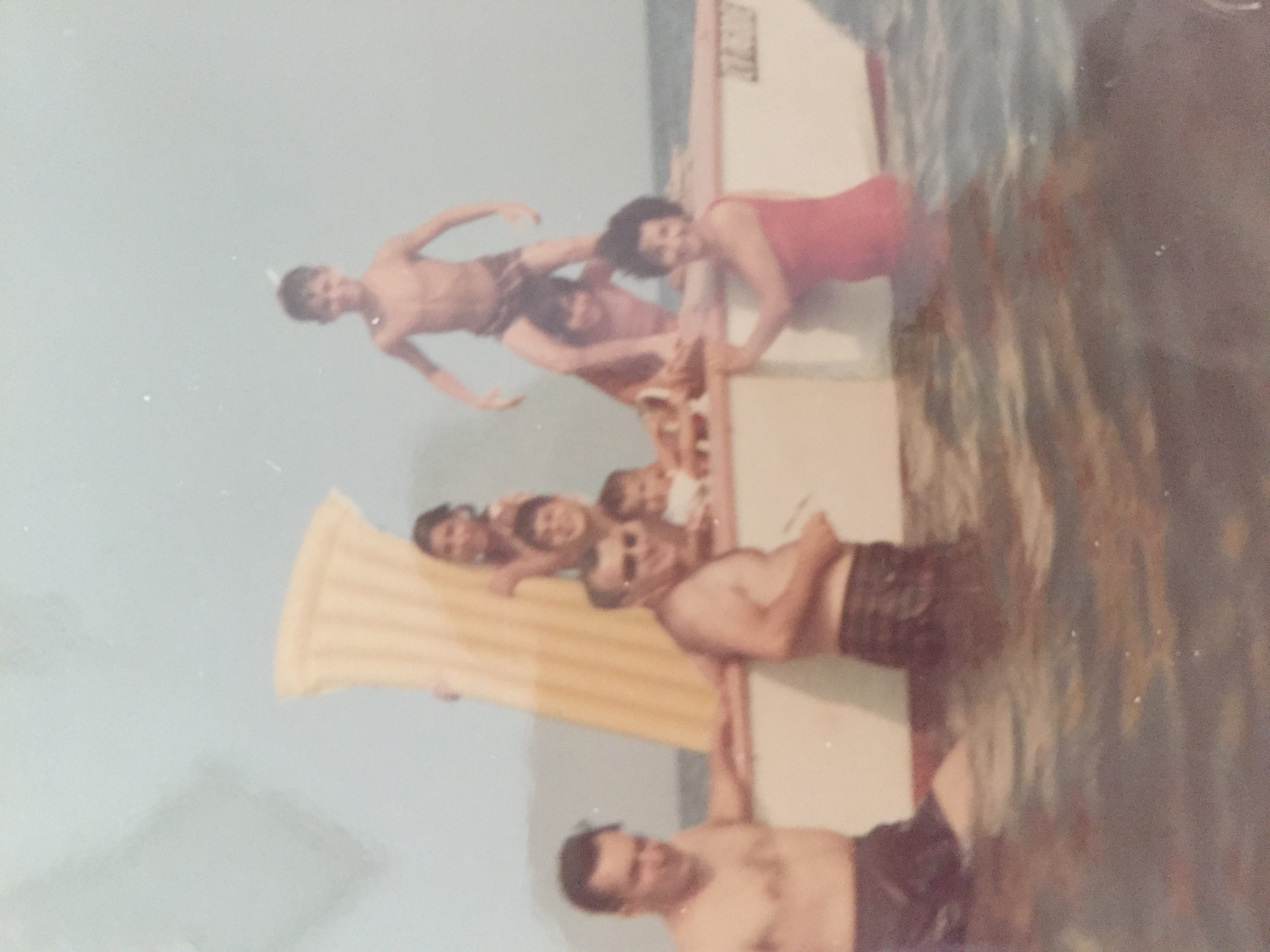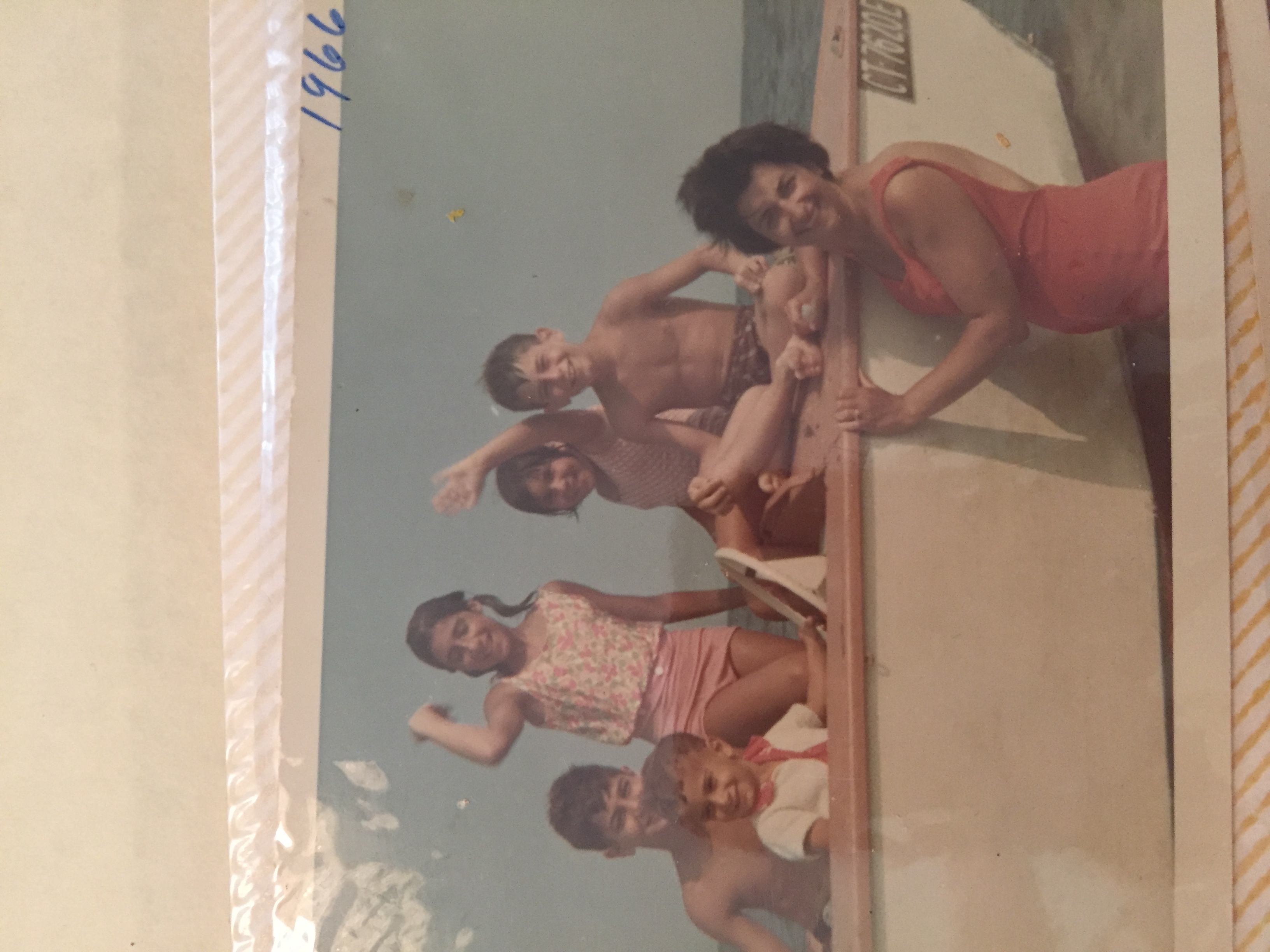 I did learn to water ski off the back of the boat one summer. While Uncle Paul was actually in the U.S. Navy during WWII, he knew and would share his knowledge of boating, knots, and navigation. He was a radio operator on a U.S. Destroyer and would entertain us kids with whistled imitations of signal calls, depth charges, and incoming Kamikaze planes. he also taught us how to play the game 'Battleship' with a pencil and paper. We would draw the grids and place our carriers, battleships, destroyers, and PT boats on the grid then fire away at our opponents. From him we learned to mimic the sound of incoming fire whose end result was either a splash or an explosion. Dad and Uncle Given were not the sailor Paul was. One summer he leant us his boat which we didn't secure properly and it was swept away in a storm. Somehow it was recovered and we were able to retrieve it a couple of days later. Uncle Paul's boat was probably 15 feet long with a 15hp or 25hp outboard. It's probably no coincidence that I am restoring a fiberglass boat with an identical configuration.
In the late 1980's my brother Art was in his mid to late twenties, and I was in my late 30's. Art convinced my parents to go in on a boat to be used for cruising the CT river, with occasional jaunts to Long Island. Art selected a new 23 1/2 foot Four Winns 235 configured with a Cuddyy Cabin, stern drive driven with a 350 cubic foot Mercury Mercruiser V8. We both attended Coast Guard boating classes, while he completed the class and received a certificate, I dropped out and didn't complete the course until 30 years later in 2017. We spent a lot of wonderful days on the water, with friends, my wife Darlene, our parents and brothers, and even my pet dog Smudge cruised with us. We dropped anchor in Hamburger Cove once where puppy Smudge enjoyed his first swim off the ski deck. I did learn the basics of safety operating a vessel with an enclosed gasoline tank. Docking manuvering was an important skill to be acquired.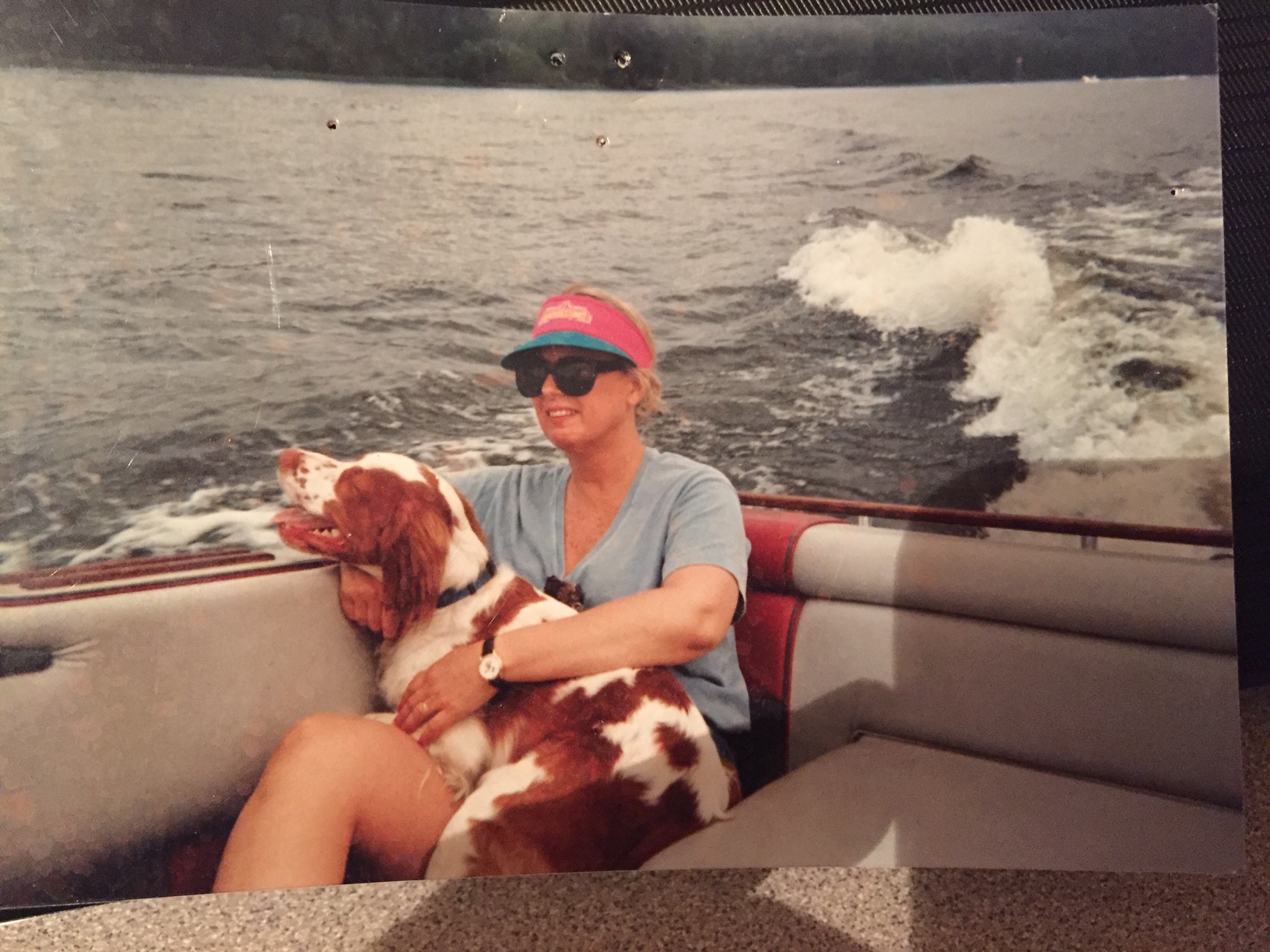 In 2016 I attended a boat show in Hartford and was intrigued by a boat club that was there. Called the Carefree Boat club, they had several new boats docked in Clinton at the Cedar Island Marina. For a small fee to join and regular monthly membership payments, you were able to reserve a boat for a half or full day. They had experienced captains that would train you and test your docking and motoring skills before allowing you to take a boat out on your own. They would even wash and service the boat for you. You just paid for the fuel you consumed. I had several very enjoyable outings on these boats. The challenge for me was getting a crew committed to going out for a cruise. After one or two outings, most of my friends and family members were not that interested any longer. Weather was also a factor. More than half of the scheduled outings were cancelled due to the weather. Even just high seas were enough for the cautionary management team to cancel the days outings.
In 2019 I decided it was time for me to dock a boat closer to home. Behind my house I had a wonderful dock constructed by the Beebee dock and mooring company. it had an aluminum gang way, flo thru decking up top, and Ipe wood on the floating 100 square foot dock. Being 400 feet away from the house, keeping the gulls away was challenging. The best deterent I found was a motion activated water sprayer made by the Orbit company. Later I worked with the Menunkatuck Audubon society and constructed and installed an Osprey platform. For two years, the Osprey kept the gulls off the dock. This past year they did not seem to care as much and the gulls are back. I started out with a rowboat I saw at West Marne. I think it was $800 so I bought it along with some oars, lines, and an anchor and hauled it all away in the back of my truck. My plan was to power it with a trolling motor. I started looking for a used trailer and trolling motor and after a week, I found someone selling a trailer and a trolling motor. The trailer came with a 14 1/2 foot fiberglass boat and a 15HP Johnson. The boat is a 1983 Sunline D144 built in Canada and the motor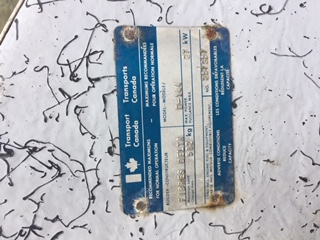 is a 2002 Johnson J15R4SNF. So I returned the dinghy for a refund after never putting it in the water. Set up the motor in a trash can and started it up. It ran, however roughly and it wasn't spitting water. My cousin Greg pulled the lower unit off and replaced the water pump. Ran it a few more times, each time it became harder and harder to start. I figure the fuel pump needed replacement but decided to seek out a marine mechanic. A friend at a local marina knew a small engine mechanic so I called him. He showed up with a truck in October and hauled away the boat, motor, and trailer to parts unknown. It was the end of the season so I wasn't in any hurry, but he was in an even less of a hurry. After bothering him for a few weeks on end, he reported that he made a few safety repairs, but the motor needed a new carburetor. I wasn't convinced the carb was the problem. I got the bat and motor back and the motor was running again, still roughly. He had replaced the fuel pump, updated the gas lines, and installed a new safety swith and throttle assembly. I rebuilt the carb but no change. Now I thought maybe I had a leaky head gasket so I picked up a compression tester from Harbor Freight and tested the compression. Lo and behold it was only 50psi. I started a thread on a boating forum to search for answers.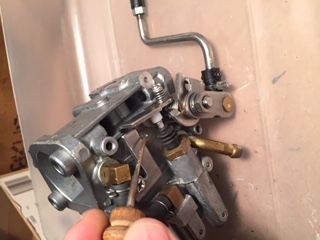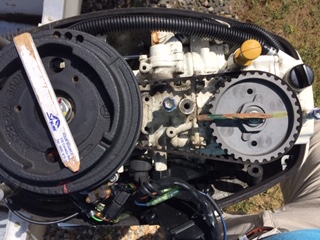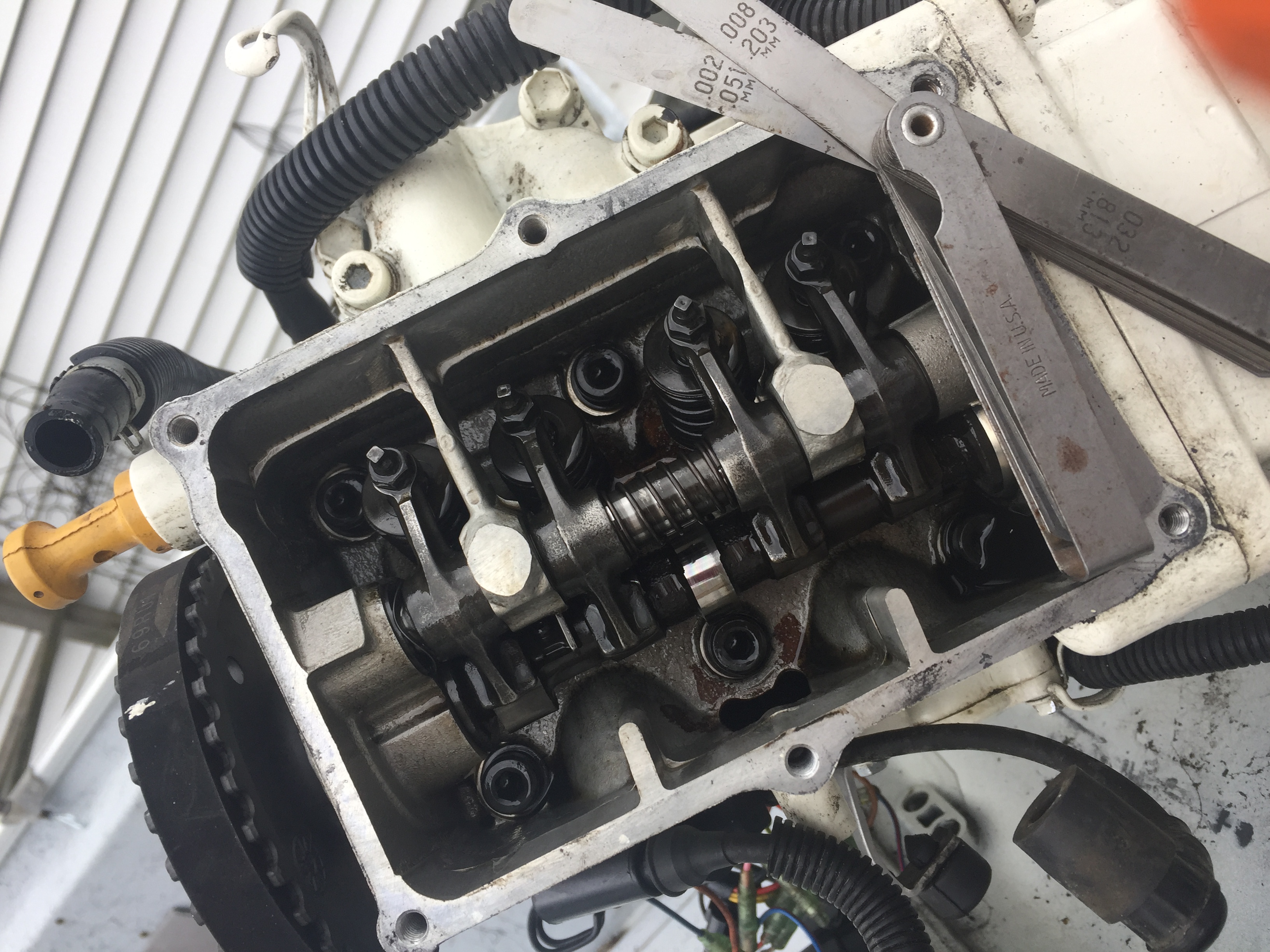 I was able to increase the compression on cylinder #1 from 50 to 70 psi. Still not 100psi but is still a 40% increase. I put the cylinder at top dead center and found the cam was off by 1 notch from TDC of the timing belt. Either the timing belt slipped or was installed incorrectly. What puzzled me the most was why the paid mechanic never mentioned this. Later on I found on that the correct timing should be set at 5 degrees after top dead center (ATDC) so it was set up correctly. I got a hold of a Seloc shop manual from the local library and poured over it from cover to cover. I pulled the valve cover off and tested the gaps on the cam lobes. They were both at .003". The exhaust should really be .006" but I left it alone. Later on I found the repair manual for the equivalent 2005 Suzuki motor the DF9.9 which also covers the DF15 motor which is identical to mine. That manual specifies .007 to .009 inches for both the intake and exhaust valves. I did end up making that adjustment which you can read about on the same Boating Forum post entitled 2002 15hp diagnostic head or carb? The compression was (which was 50 PSI) now measured 75 PSI on #2 cylinder and 90 PSI on #1! Now the motor idled better and revved up beautifully. Watch the video here. I noticed some water logged wood underneath the deck fiberglass so my next project became replacing the plywood from below the deck. Back to my now favorite store I picked up a rotary tool and made a clean cut in the deck. Rolled it back like a sardine can to expose the water logged plywood below decks. I cleaned it all out, sanded and painted the wooden keel exposed in the bilge and replaced the soggy plywood with some Trex decking boards and some other waterproof materials. At first I spaced out the planks.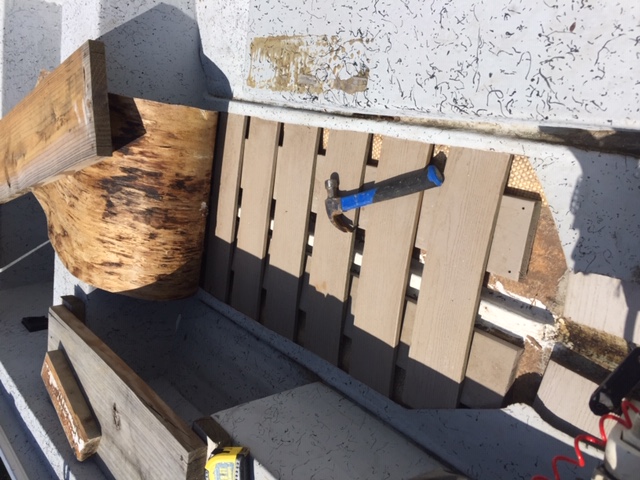 Later I added more materials and tightened up the grid. I could just leave it like this and cut out the fiberglass decking surface.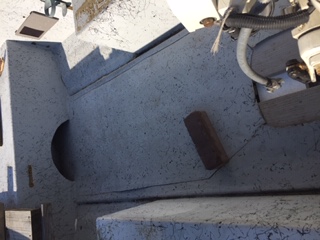 The finished product is a lot stiffer and sturdier than before. I even reinforced the exposed bilge near the stern with some small cut sections of Trex that can be removed. I'll probably mix up some marine epoxy to glue the deck surface back down along the seams I had cut.
My brother Art and I launched Marsha on August 29, 2020 mostly to assure myself that she floated before I invested much more time in the rebuild. We wired up the Minn Kota Endura 40 and off we went. Of course as we were returning to the launch the motor completely shut down. We frantically paddled ourselves back to shore and wondered what went wrong. I did some reading and found out the electronic controls often went out. After a couple of days went by, I got around to pulling the head cover off and put my meter on the leads. The controller seemed to behave properly. Once in a while the shaft would spin as well. Eventually I dis-assembled the motor housing and after what I saw, I was surprised that the motor worked at all. The commutator wires were fried, one was burned all the way through. The main bearing was so bound up you could barely spin the prop by hand. While I was unable to reach the Minn Kota support people on the phone, their website was an excellent resource. The parts digram and ordering system worked flawlessly. For about $30 I ordered everything I needed, washers, commutators, commutator housing, the main bearing and some washers. The rebuild went smoothly except for the fact that despite buying a gear puller for the job. I was unable to pull the main bearing off the shaft. Fortunately, my friend Rich had a friend John who is a go-to mechanic. On a Sunday morning, John was able to pull the bearing with a very specialized mini-puller. He installed the new bearing as well. I gifted John the new gear pullers which he appreciated. By Sunday afternoon, I had the rig up and running again. The housing design is interesting. You actually control how much tension is placed on the bearing by tightening two long shaft screws that run inside the space in between the magnets. I ran the motor while adjusting these two screws to optimize their performance.I did locate a service & repair manual online which calls for a 25 to35ft lb torque spec on the thru bolts for a 3.25" diameter armature.Will torque to that spec. Am ready to test on the water again!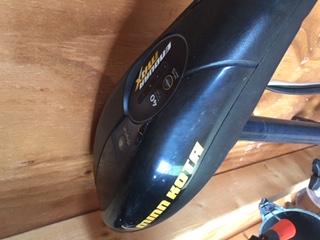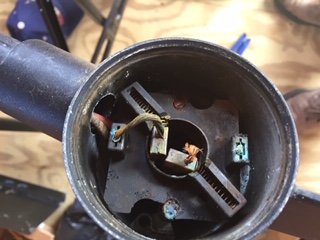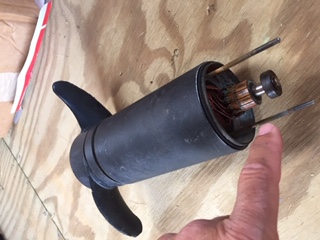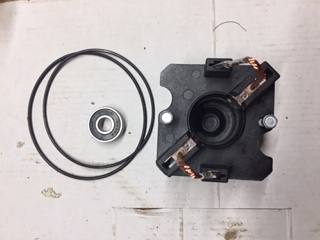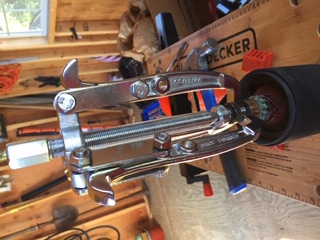 Of course the Dilly brand trailer needed some work. After visiting the CT DMV to register the boat, it turns out to be much simpler to keep the VT registration for the trailer.The toe hitch was rusted which I replaced anew, and the center roller was worn down which I replaced as well. With a new center roller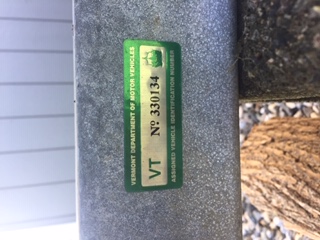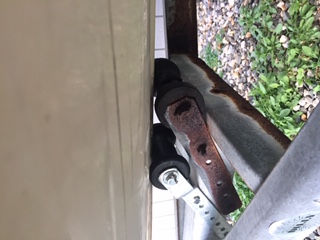 in front of the old roller, the boat sits a few inches taller on the trailer so it rides above the bow roller. Normally you might just adjust the height of the bow roller but in this case there is no adjustment room left. I could get an oversized bow roller, but best would be to remove the old center roller, and move the new one into its position. Over the winter of 2021 I removed the wheels. Once re-installed in the springtime, the bearings were frozen from lack of use and needed some encouragement to start spinning again.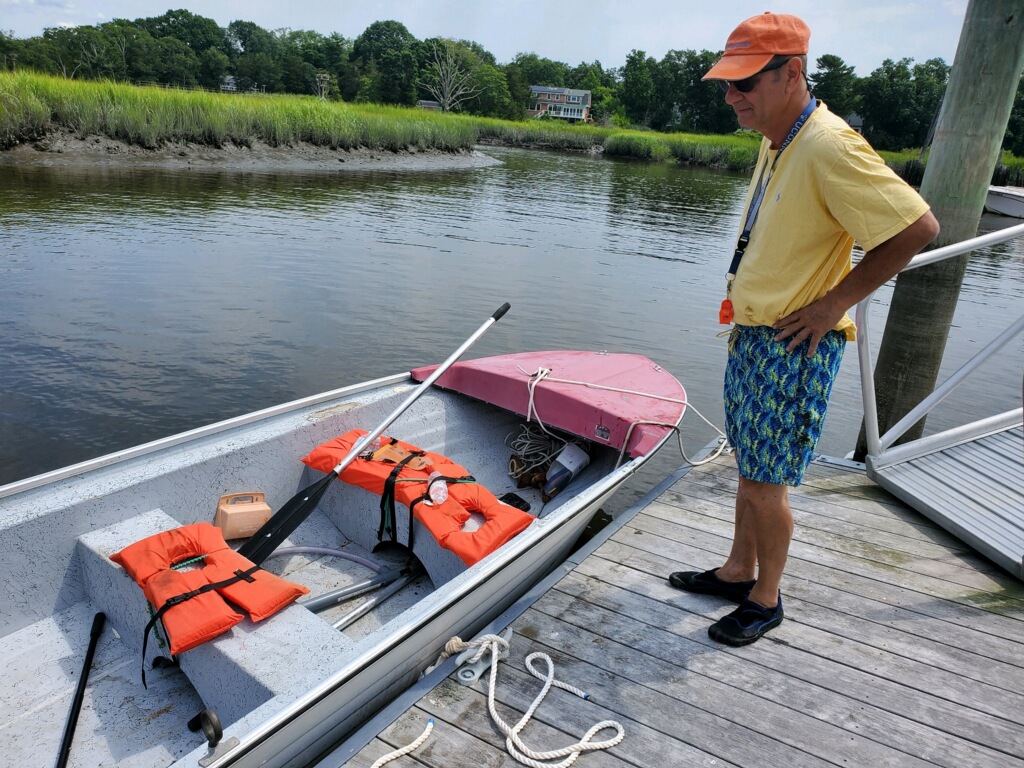 My brother Art and I re-launched Marsha on August 1, 2021 again mostly to assure myself that she floated and to try out the repaired motor. We launched without incident and was able to move her from the launch to the dock behind my house on the marsh. An hour or so later I went out again with three of my cousins. Noticeable underpowered and exhibiting vibration, Greg showed me by disconnecting one then the other spark plug wire that she was only operating on one of two cylinders. We got her back to the launch and trailered back home. We pulled each spark plug wire and held it close to the cylinder head and listened for the spark. #2 was definitely not sparking. We could also run on either cylinder by moving the good plug wire from one to the other. Apparently the coil is designed to fire both plug wires without any accomodation for timing differences between cylinders. The Suzuki DF15 manual spelled out the diagnostic steps involved with testing the ignition coil. The cross plug wire called the secondary side resistance should show 7 to 10K of resistance but tested open. We toyed with the idea of splicing two plug connections from the one working side, but opted to replace the coil instead.
August 7 update: Cousin Greg and I (mostly Greg) replaced the coil and worked on the motor for the better part of a day. Even after replacing the coil the engine kept hunting at low speed and had trouble maintaining a low speed idle. Convinced it was a carburetor issue, we had the carburetor off at least 3 times, cleaning every possible jet and rebuilt the float assembly. We then focused on the electronic timing. We adjusted the timing by moving the timing belt by one notch each time then running the motor. Each notch of change seemed to affect about 15 degrees of timing. First we advanced the timing one notch, this made it worse. Then we retarded one notch, then two. Retarding by one notch presented the best performance. See 2002 Suzuki DF15 timing specifications and timing advance post. We did get onto the water and despite the low speed woes we did enjoy seeing the motor and boat perform extremely well at top speed.
---
Shoreline Property
We had been vacationing at different beach properties for most summers since we were married in 1989. While the RI shoreline, especially the South Kingston area was aesthetically the most appealing to us, we found that overnight or daily visitors from friends and family were few and far between. We then tried several CT shoreline areas including the Old Lyme area where I spent many summer weeks as a child. We settled on an area on the Madison Guilford border. After renting for a few seasons, in 2008 we started looking for a place to call our own. I liked the Saybrook Point area as it offered large houses with a golf course meandering through the complex. The property I like was large and dated, actually an old hotel. Each bedroom had its own bathroom complete with clawfoot tubs. As romantic as this appeal was to me, my spouse was not as interested in taking on this rehab project. We ended up buying a place on a salt marsh in an area we had been renting for about three years. Salt marshes are critical ecological environments. Flora and fauna abound. We helped contribute to this habitat by permitting and constructing an elevated nesting platform for Osprey. Here are a few photos and a video of some of the nesting Osprey.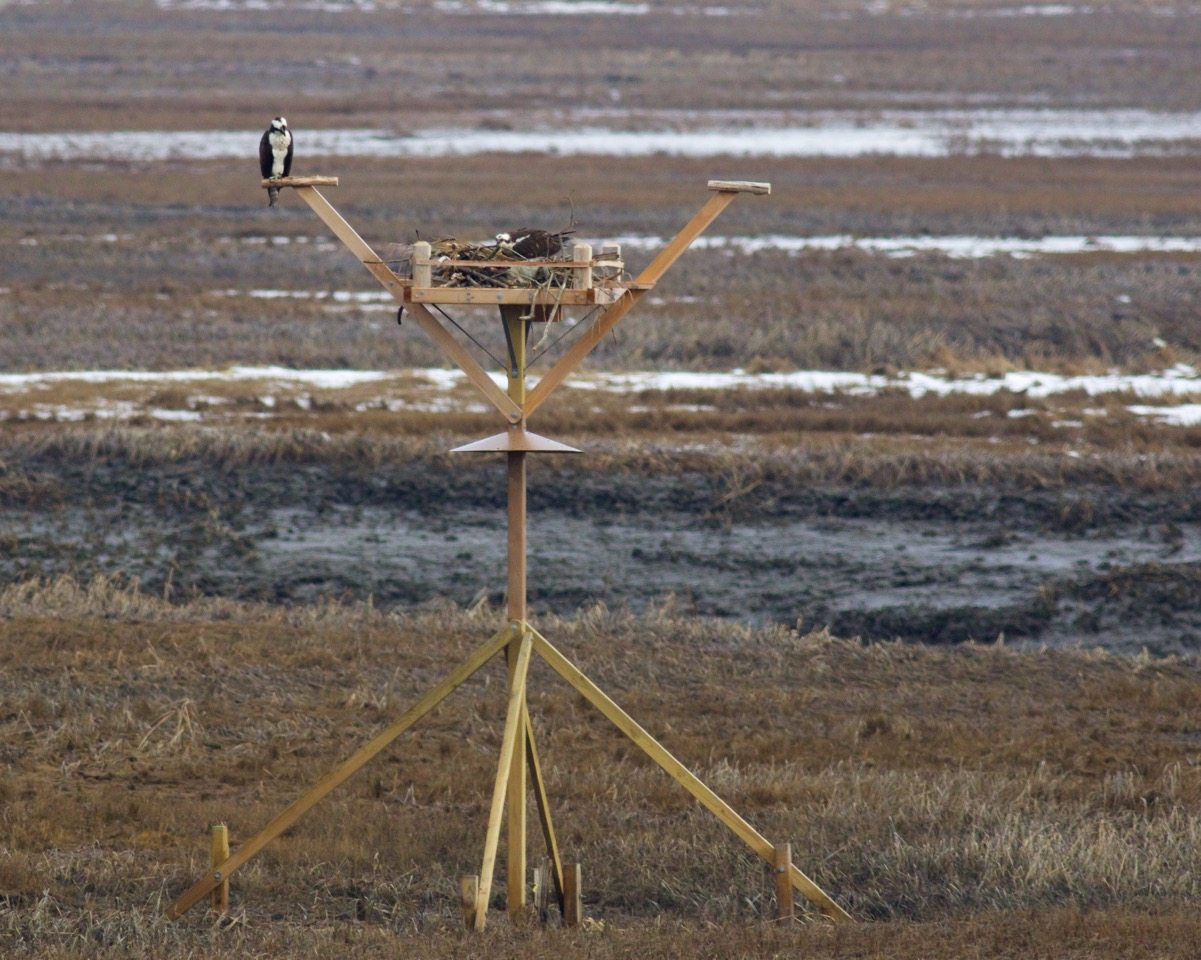 One of our friends also had a family cottage in the area which provided an attractive social component as well. Ironically a few years later, these friends disrupted this social connection when they outgrew their house and purchased a different shoreline property 20 miles away. In some ways I regretted the decision to purchase what we did, on the other hand had we not acted, we might never had done so and would still be looking today.

The area we purchased in included membership in a beach association that owned a small beach best compared to a postage stamp. As this was going to be inadequate for our needs, we undertook a project to construct an outdoor living space that would cater to the large summer parties we planned on hosting. About three years between concept and full implementation, I actually enjoyed the process. Despite the horror stories you hear about construction projects, dealing with contractors, etc. I had a very positive experience. Aside for one ornery electrician, all the contractors were very pleasant to deal with, they all took pride in their work, and showed appreciation for the business we gave them. In rough estimates the project cost was measured in hundreds of thousands of dollars with 1/3 going to the masons, 1/3 to the pool contractor, and 1/3 to the general construction (designers, carpenters , plumbers, gas technicians, electricians, water and septic, and project engineers).

Here is a video from July 14, 2013 when we hosted our first pool party. And here we are two years later hosting the same event I always loved this photo.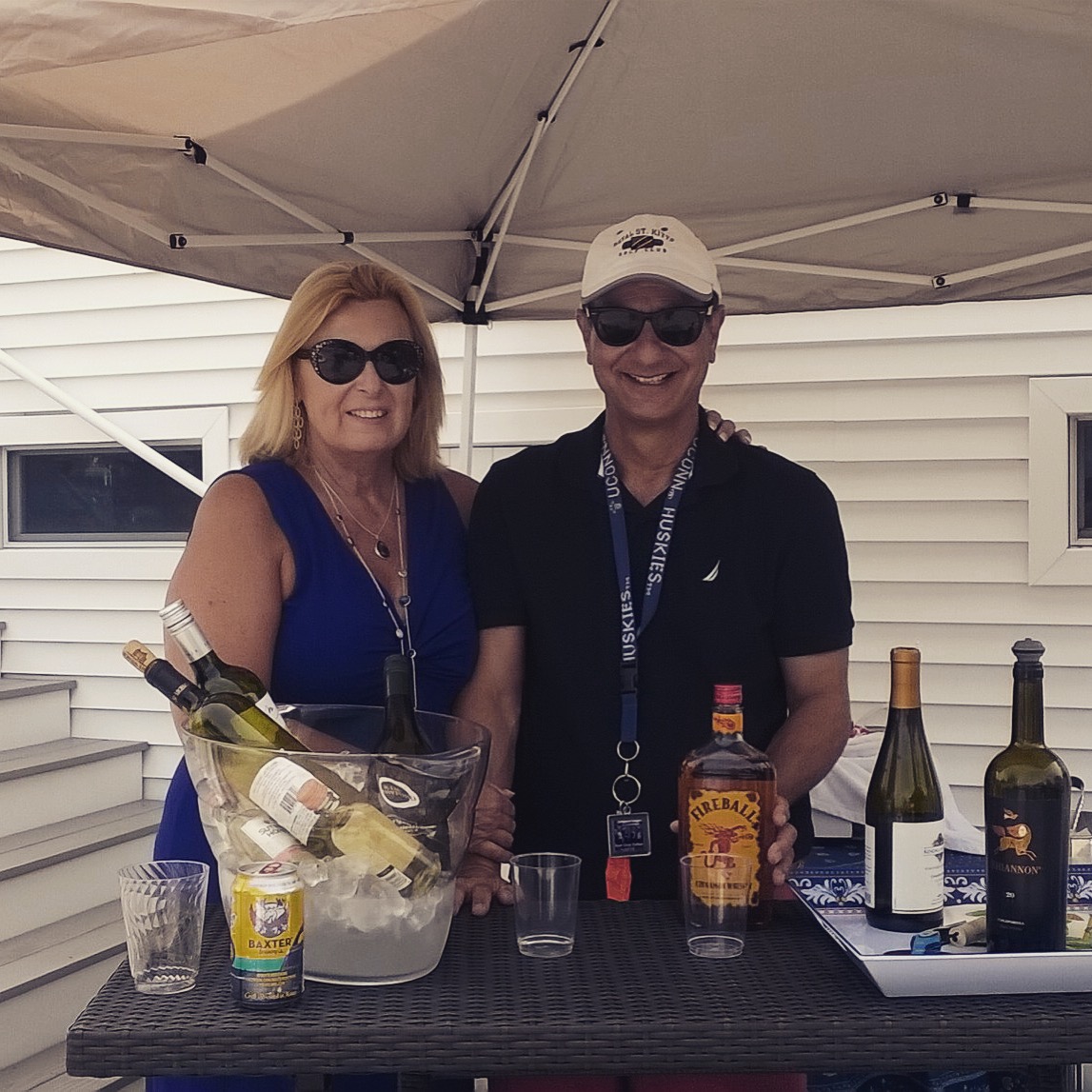 Here we are at the Chamard vineyard in Clinton with a few friends.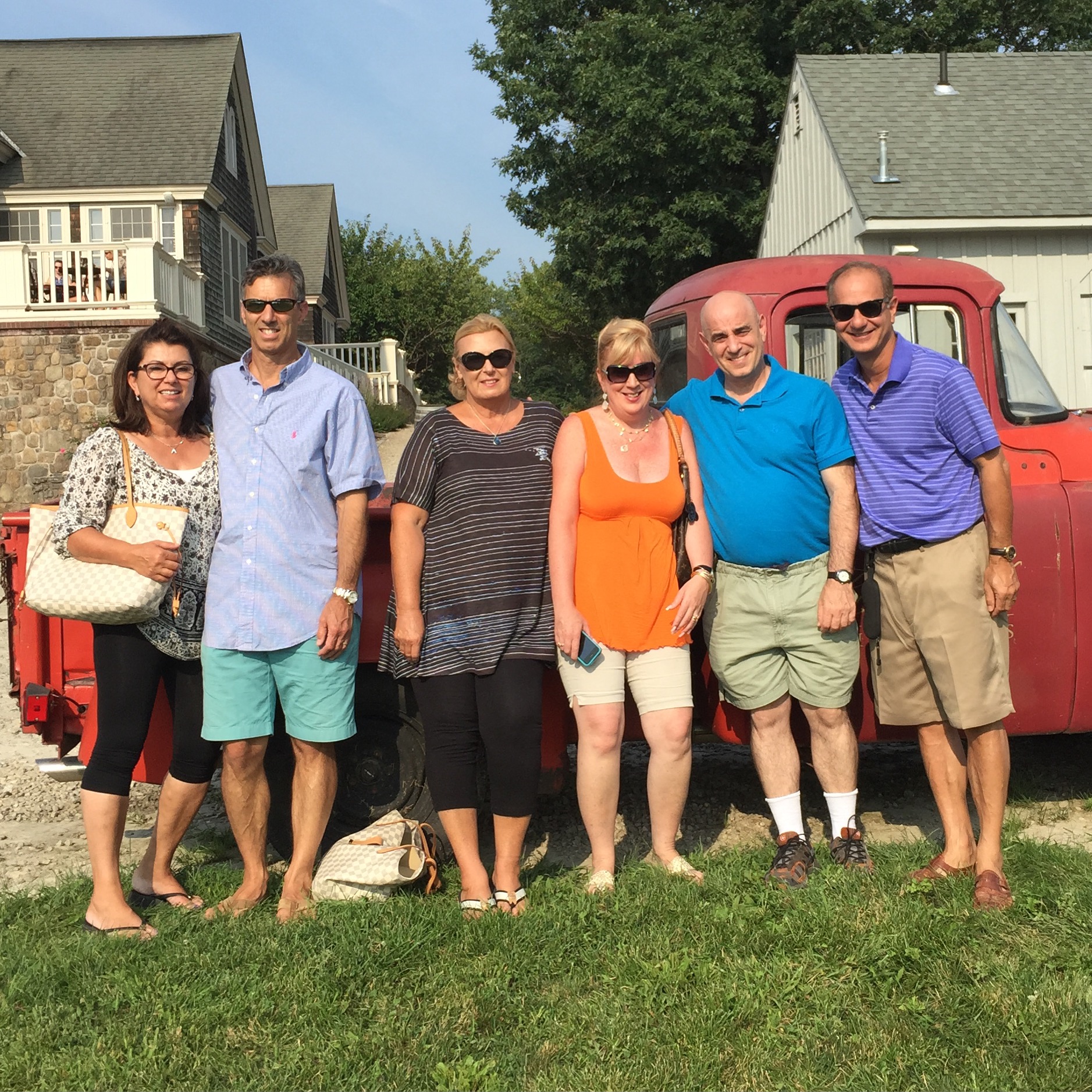 My other project was to obtain a permit to install a dock in the river behind the house. About 400 feet of marshland separated our back yard from the river. DEEP frowned on constructing a walkway for that length so I abandoned the walkway idea and got the dock built. Here's a picture of the dock from the back porch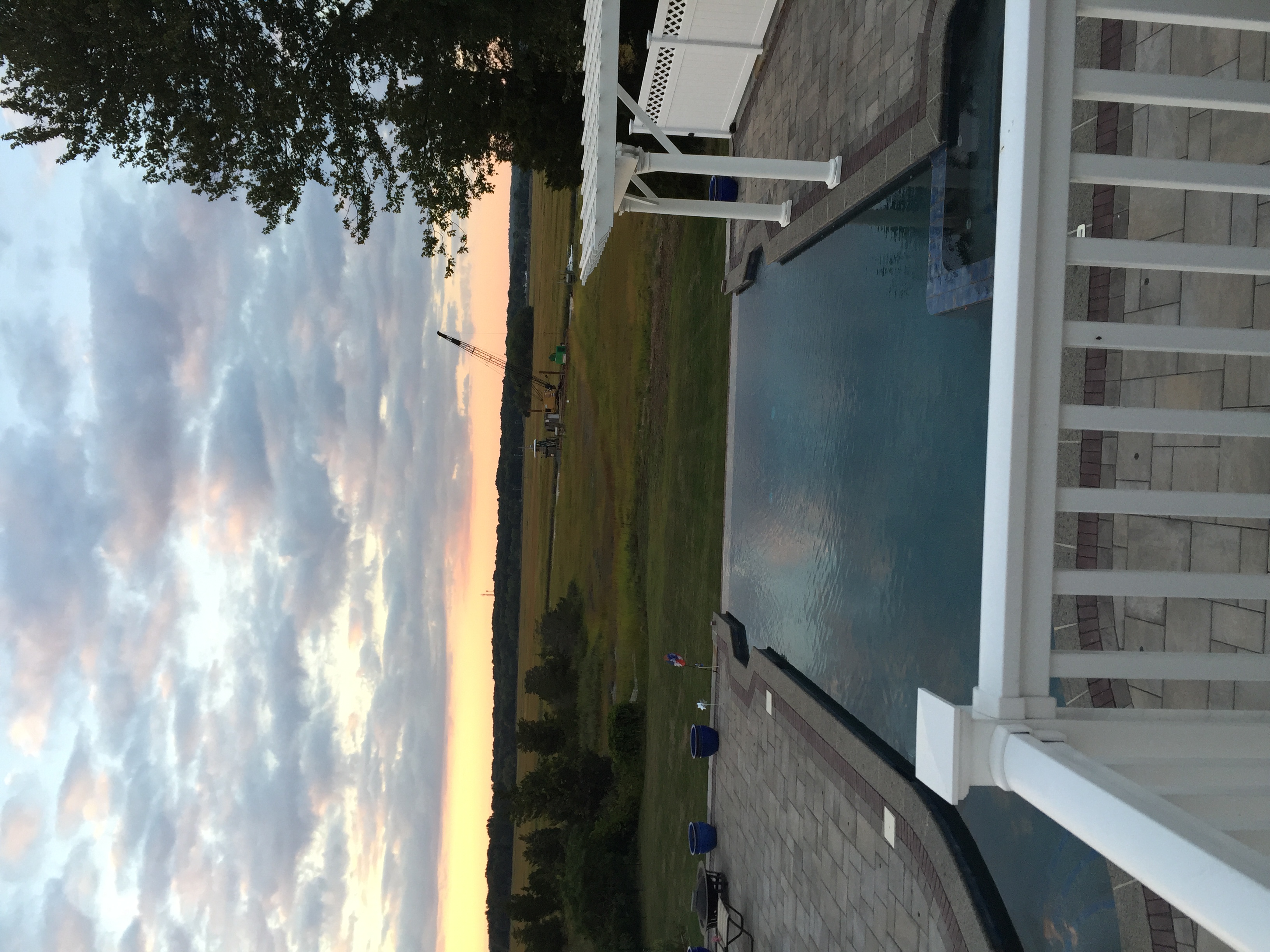 under construction featuring the floating barge that drove the pylons.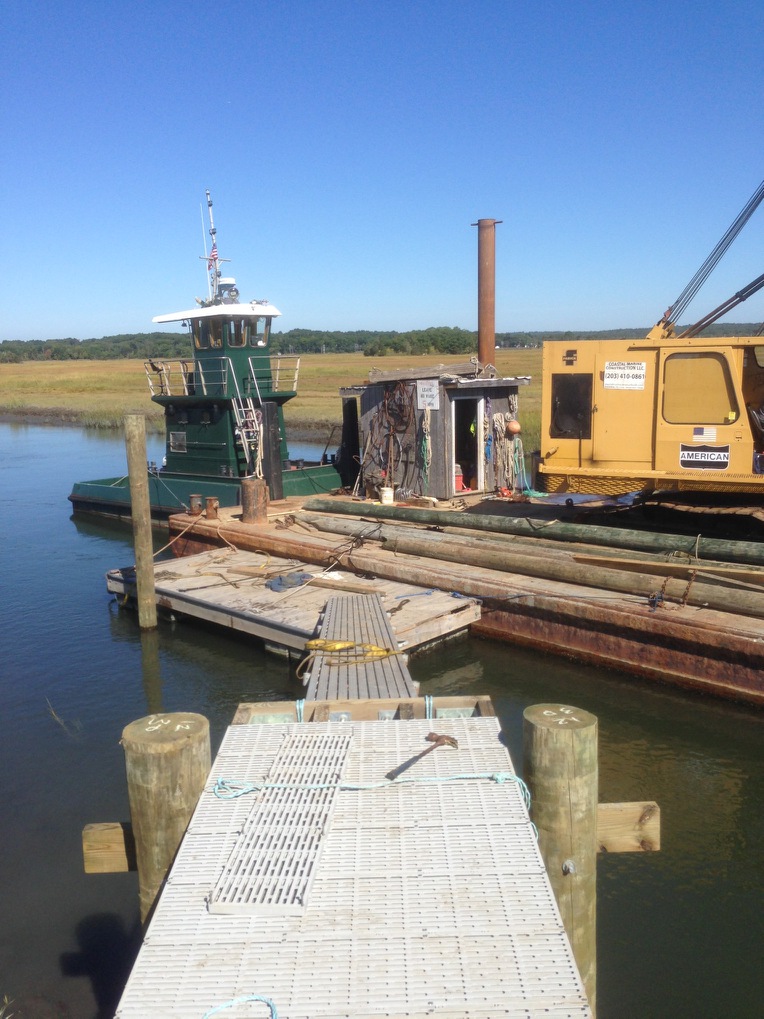 It was extremely well constructed using epay wood for the floating dock, flow thru composite for the walking surfaces, and some very large timbers that were driven down into the wetlands. Here's a video of me trying to hail whoever may be on board while the sun sets on the marsh, and at high tide the next morning. I did eventually thank the barge operator and tossed him a can of beer when I ran to the end of the street and caught him rounding the bend of the river.
Meanwhile the beach association was faced with a series of setbacks. Hurricane Irene in 2011 followed by Storm Sandy in 2012 wiped out part of the beach wall and all of the retaining wall behind the small sandy beach. Many of the homes along the shoreline were seriously damaged. The Federal government eased restrictions on reconstruction but it was still a costly restoration expense. The association also maintained two wooden groins, one adjacent to the beach to the east, and one about 60 feet away to the west. The west groin as it became known was constructed in 1969 and had become dilapidated by 1995 according to the aerial photos we had. Attempts were made in vain to restore it as it was exposed directly to the open ocean with no rocks to protect it. It was falling apart so badly, most of the members wanted to remove it just to reduce the hazard factor and many wanted to reconstruct it as well. While no actual study or expert opinions were proffered, the justification for the rebuild was made by someone who produced a hand drawing showing how the west groin preserved sand despite the fact that the beach was 60 feet away and on its downdrift side. The president of the association was in favor of the proposal, so a vote was quickly taken to approve spending money on the engineering needed to reconstruct the west groin and pursue its permit. This seemed counter intuitive to me so I spent some time over the next few months researching what groins were and how they worked. I presented my findings to the board in June 2016 and convinced them to recommend proceeding with the removal, but deferring the reconstruction. Much of the documentation and correspondence can be seen here. The other project I volunteered for was an effort to improve the condition of the roughly 1/4 acre beach lot. This was an interesting botanical research project. It was fascinating to observe the balance of vegetation change over the course of the season. Red fescue, Kentucky bluegrass, ragweed, curly dock, plantains, and dandelions, clover, creeping Charlie take their turns dominating the environment with ragweed the overall dominant variety. I did make a series of 5 videos on the topic you can view here. Lot Investigator Videos 1- 2- 3- 4- 5. While I dd have some success with chemical treatments of the beach lot, the majority opinion was not to spend $5 on the effort. The lesson for next time is not to run a committee without a defined objective and more importantly a budget to spend! The next committee I joined is a capital allocation group who has a charter to do long range capital planning (25 years). The large capital projects include rebuilding the west groin, maintain the east groin, reconstruct the roads (about 1800 linear feet), and maintain the sandy beach, portions of a sea wall, rock abutments and a stone retaining wall. I constructed a calculator specific to these projects.
---
Family
I have a wonderful extended family, some of whom are no longer with us. Here is a video of my Dad from his birthday party Jan. 26, 2013., and a year later with a few of us around. Here is brother Craig in one of his happier moments making a split in bowling at Darlene's birthday party March 16, 2013. Here he is coaching son Douglas through a strike at the same event and again with some crazy antics he was known for. Here's two of the last photos from the fall of 2014 of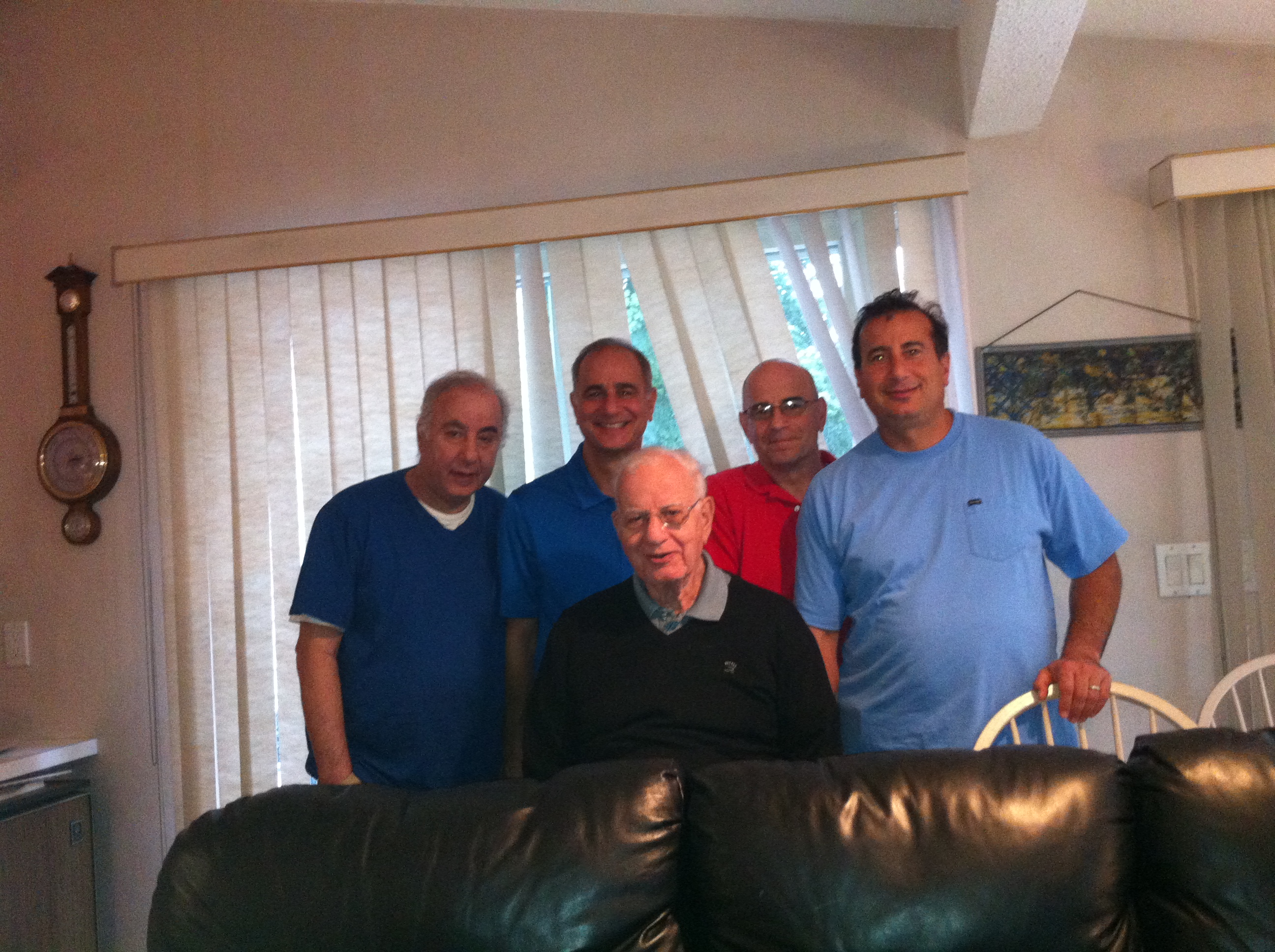 Dad with his
4 sons when we were mostly healthy and finally Craig at his birthday party in 2014.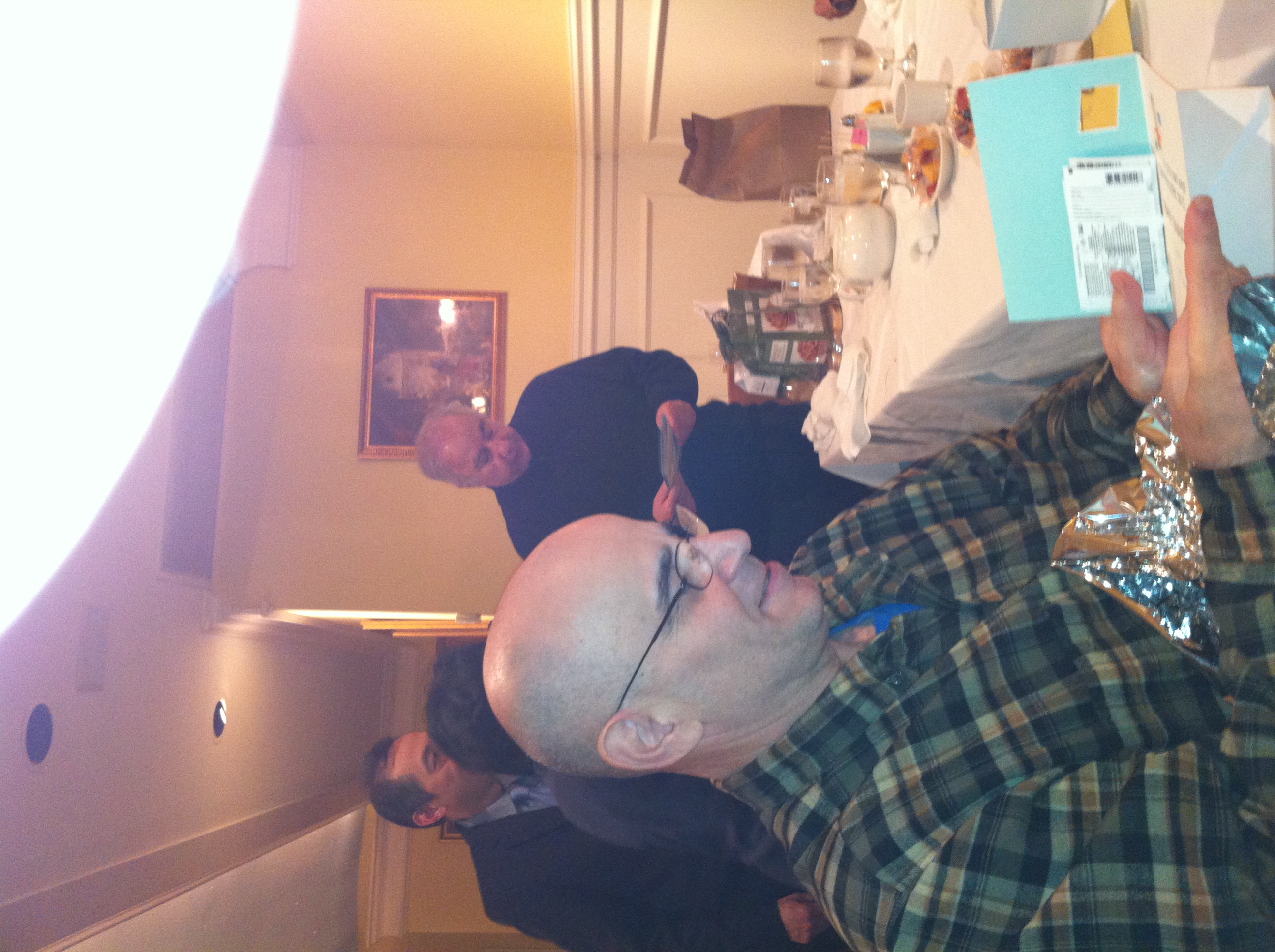 and seemingly enjoying a new beginning in the new year.
, and with me as the Godfather of the cross with his fellow deacons.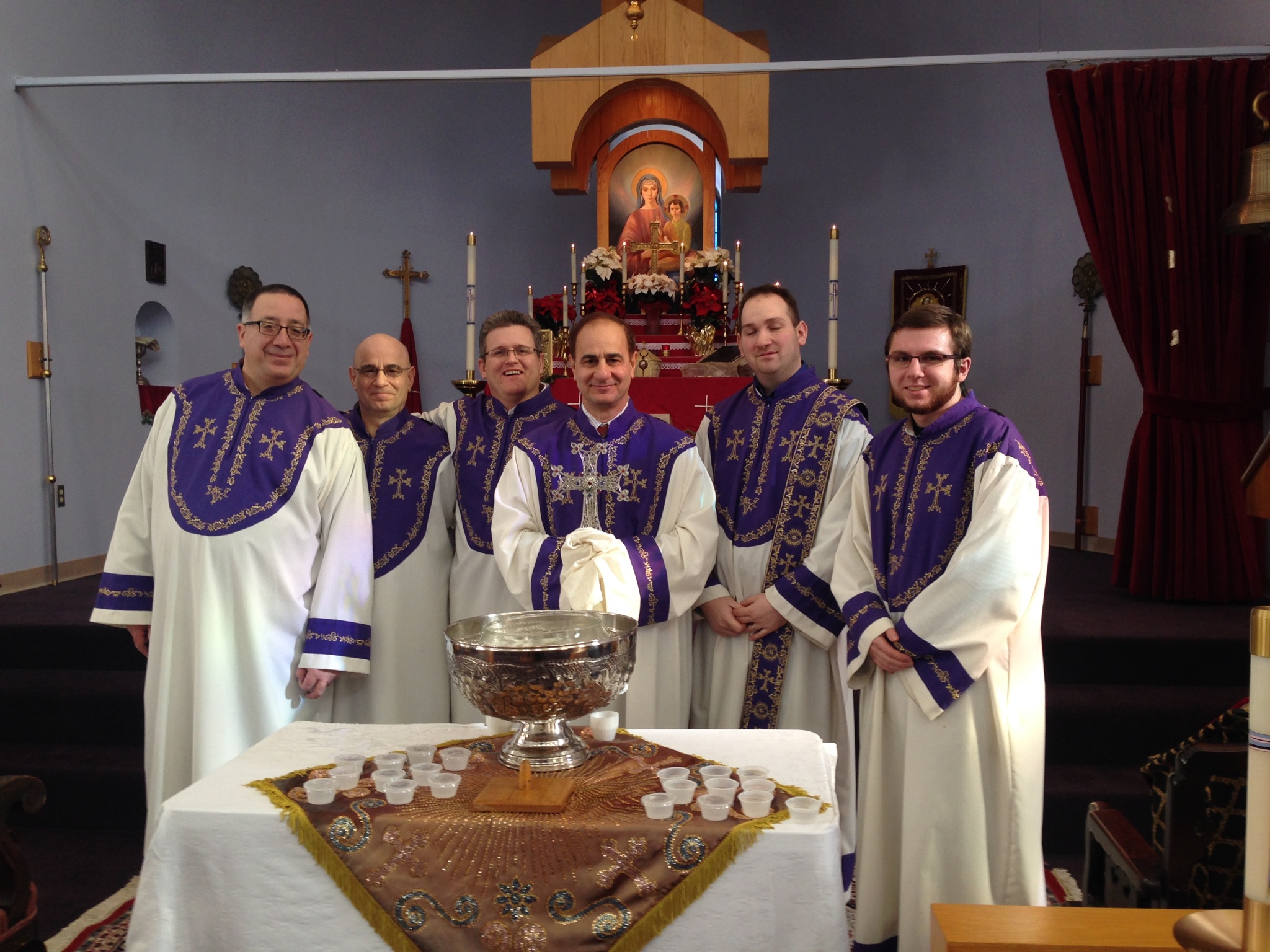 and a funny winter image a few weeks later.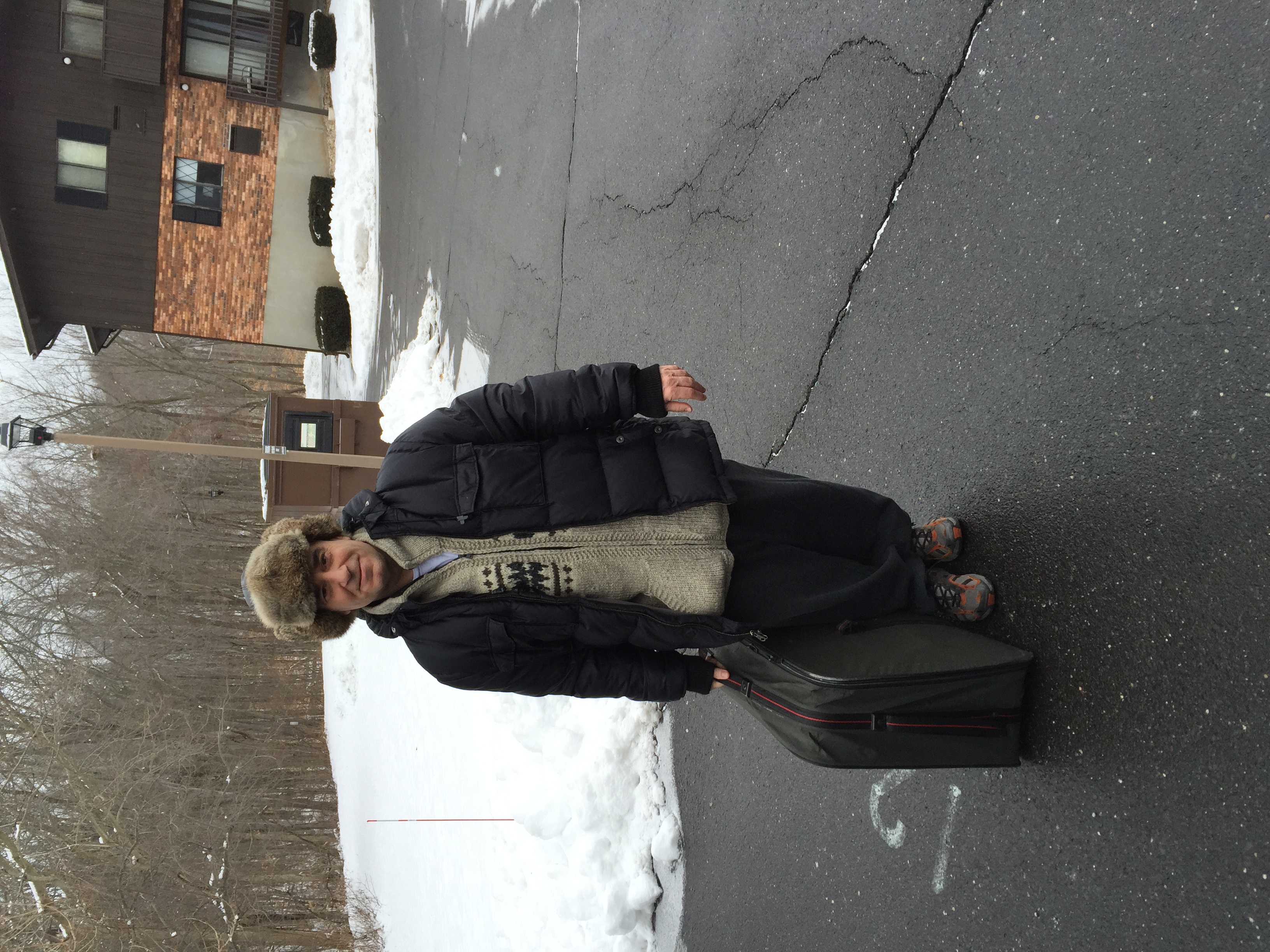 . Here's a gathering of a few Simonians at Uncle Georges 90th birthday party in July of 2015.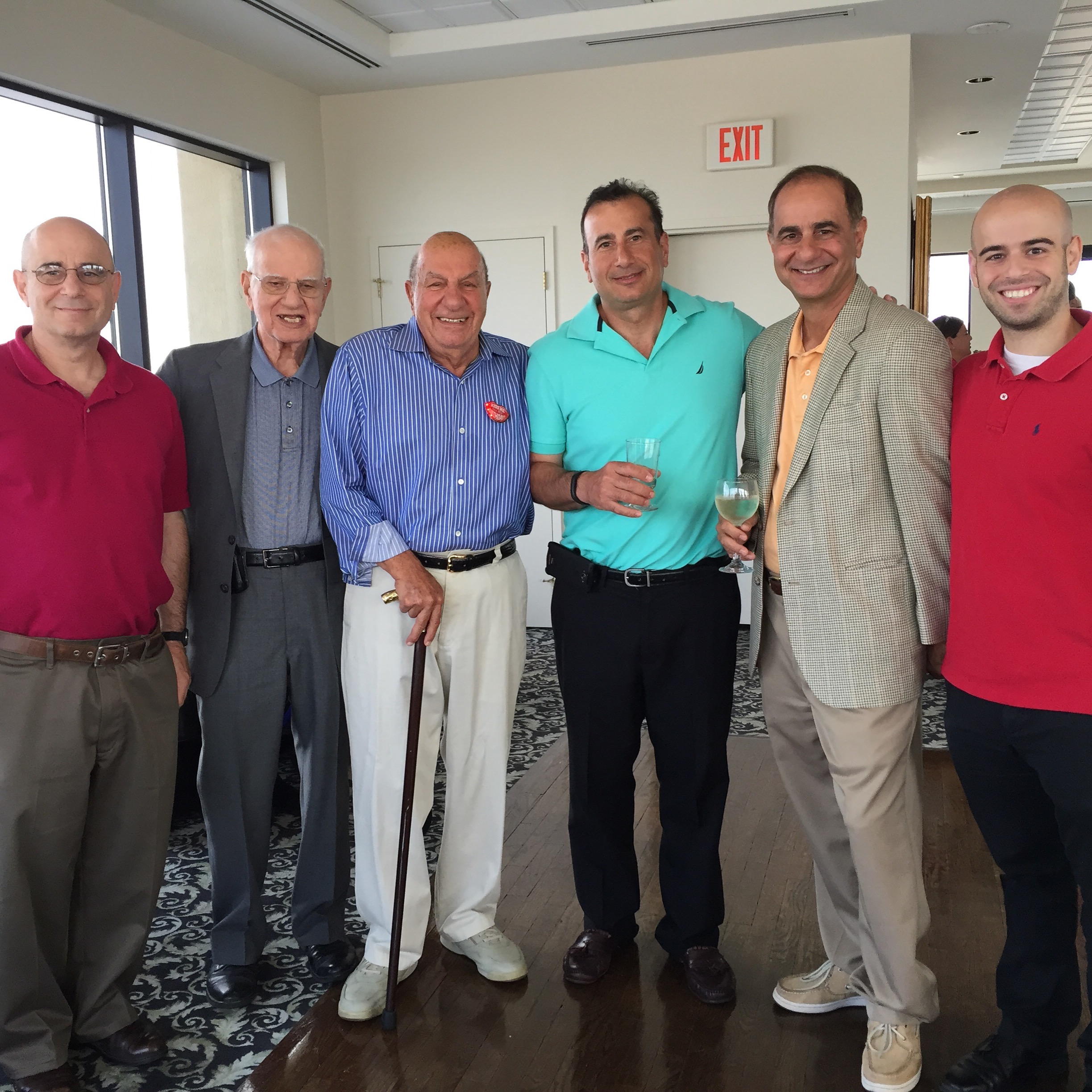 along with a few of Dad and Georges kids and grandkids.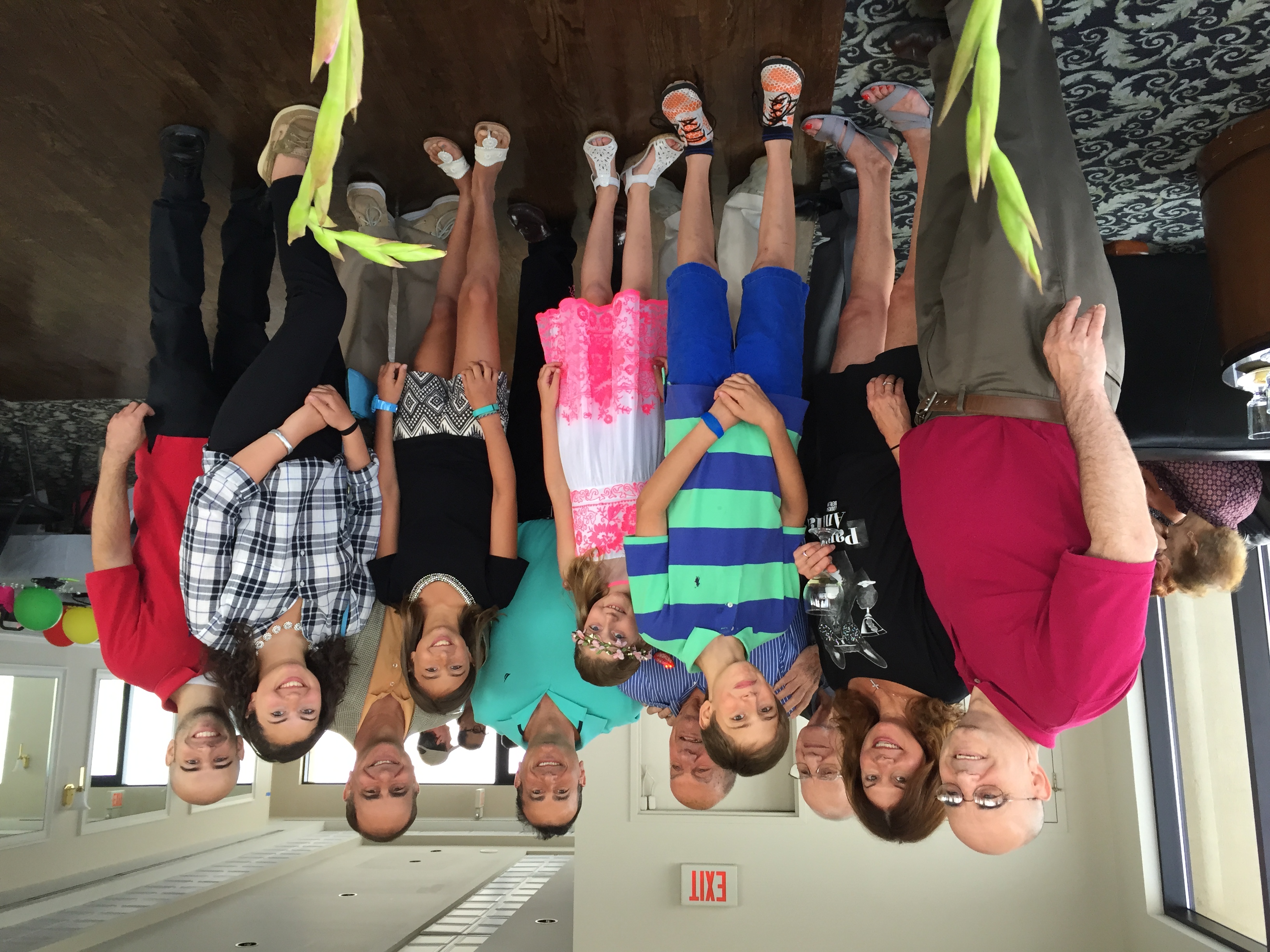 Here is some family history on my Mother's side of the family. Here's one of the only known photos of me with my Mom's Dad, Joseph Yessian, circa 1956. and on the right at cousin Debbie's 1st birthday party, circa September 27, 1958. That's me center frame, brother Mark to my right, brother Craig across from me and cousin Lee in the foreground. So at this point in time, Grandma Rose Vartouhi Yessian had 5 grandchildren.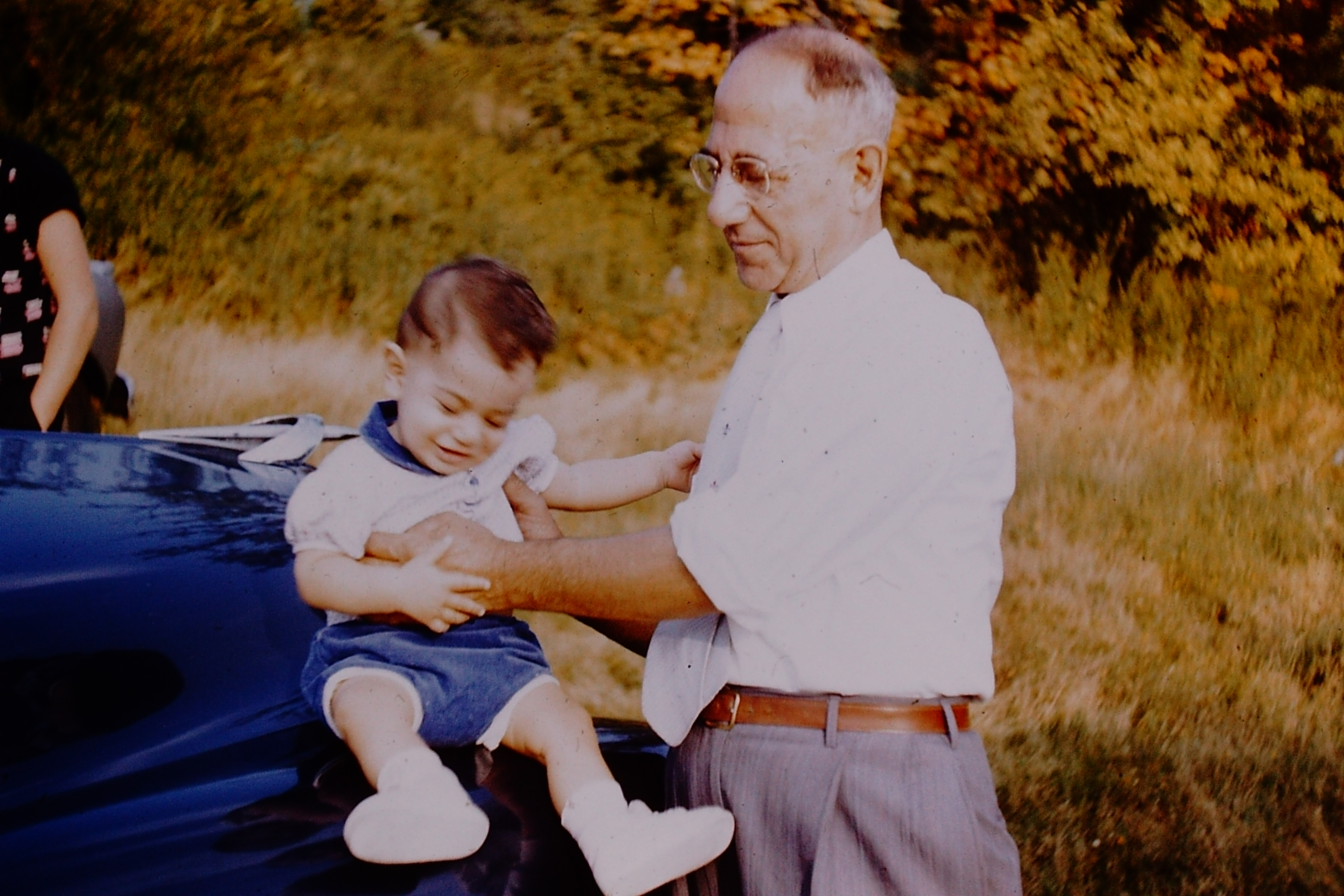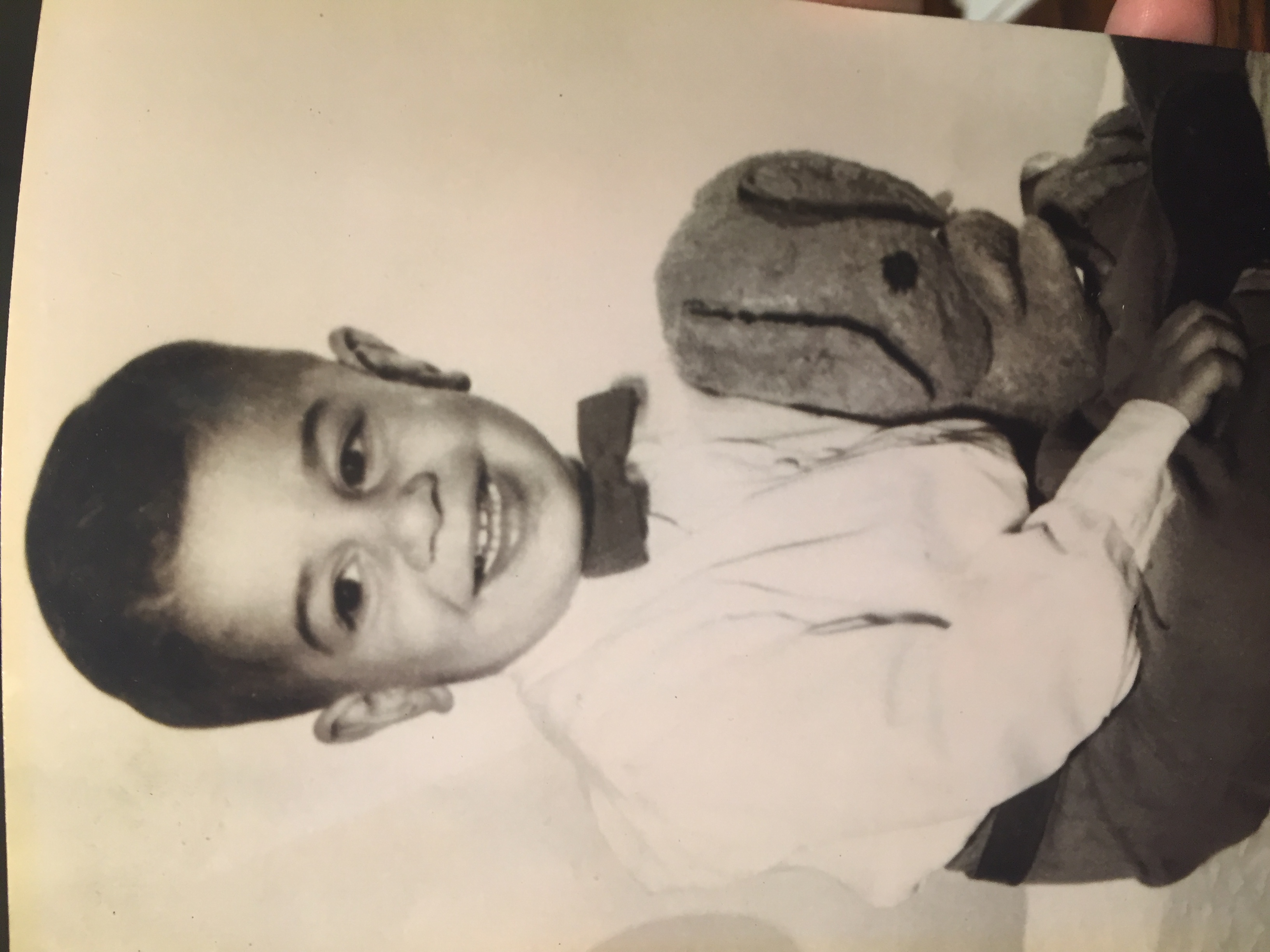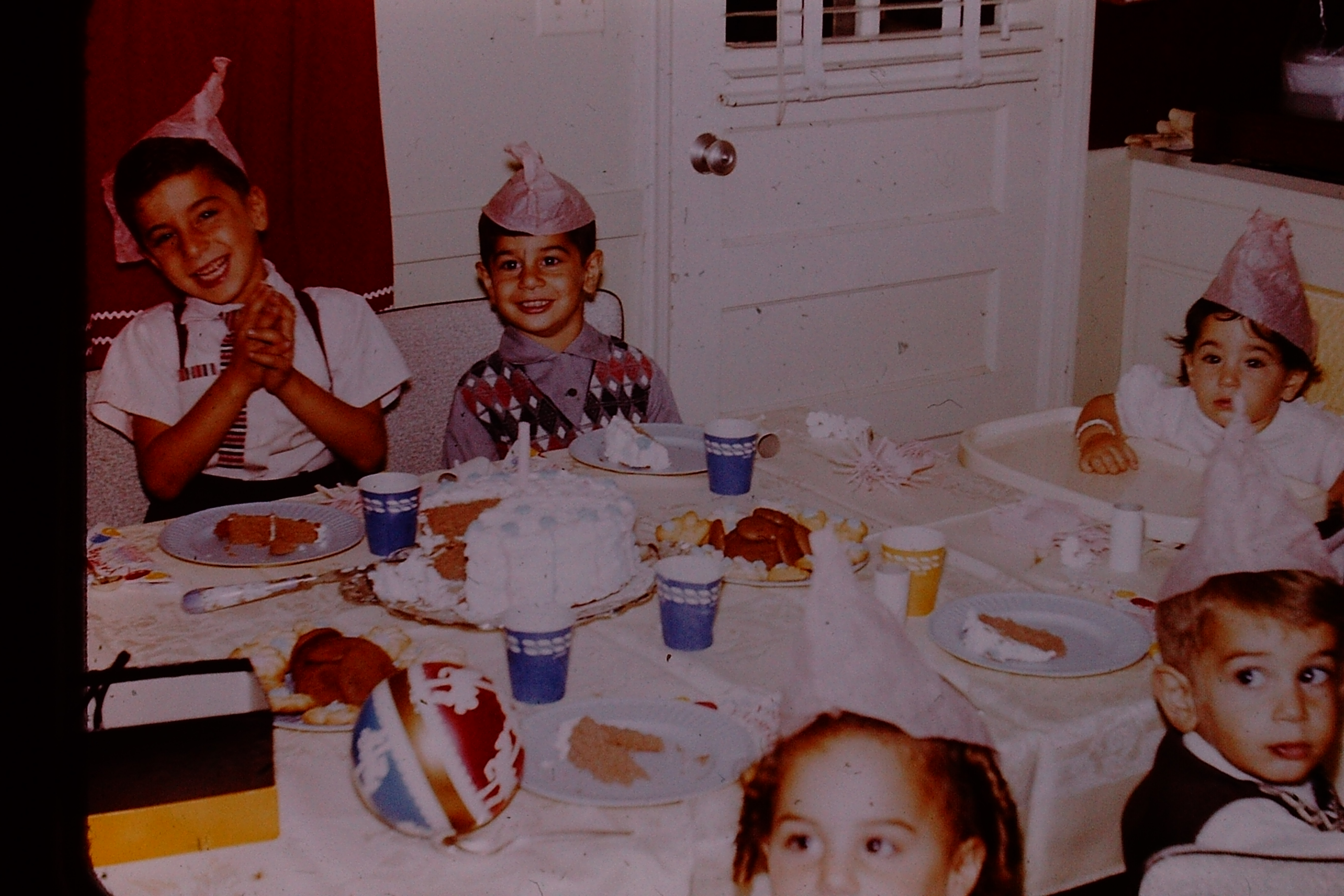 ---
Cycling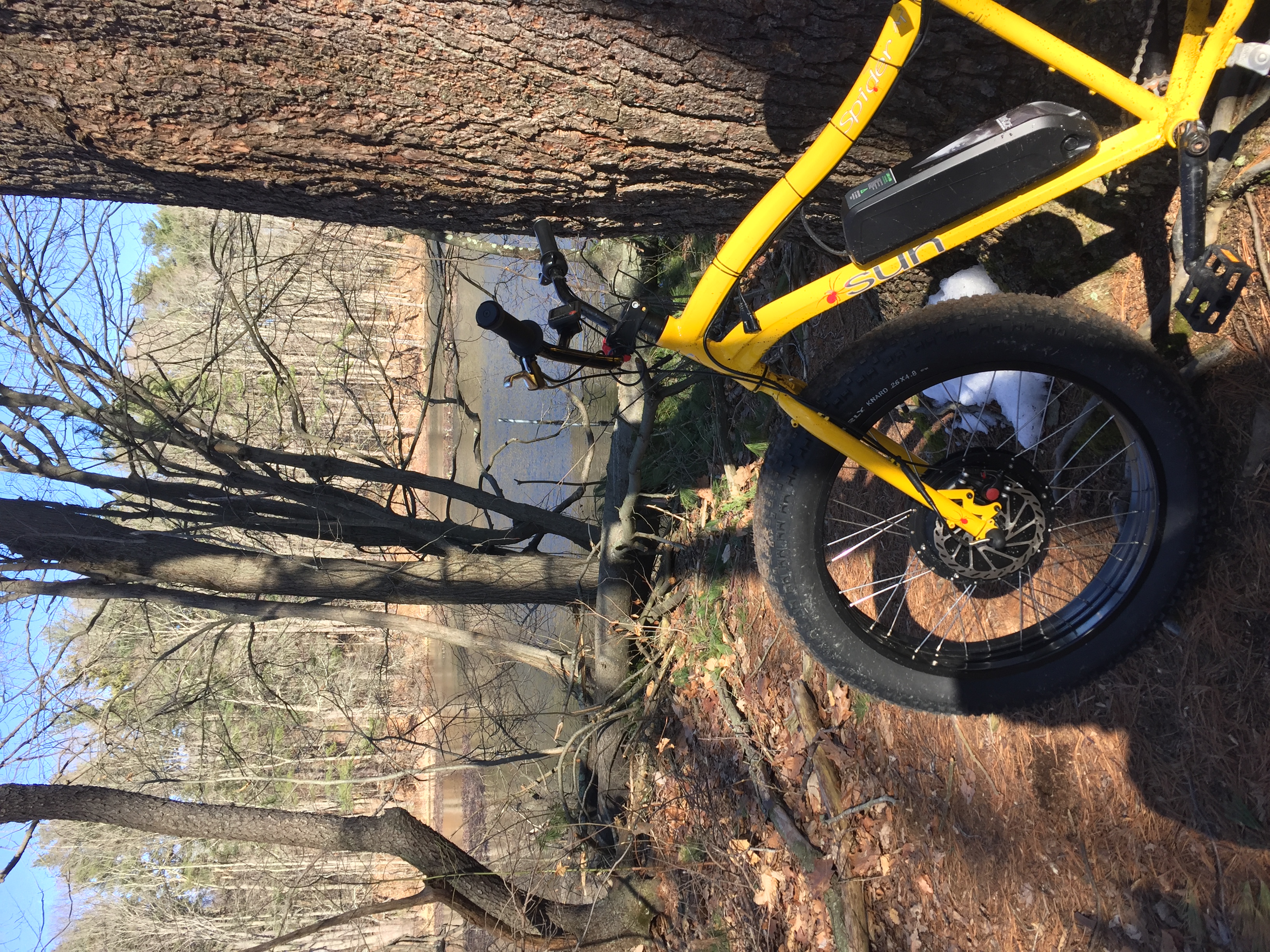 Everyone rode bicycles as kids as did I. It was a great way as a kid to explore our surroundings with my childhood friends. My first recollection riding was my father teaching me how to ride. We didn't use training wheels. We lived on a steep hill called Country Club road. Dad would run alongside of me holding the bike vertical while I pedaled and worked on my balance. My recollection is that I learned in one day how to ride. Dad was running alongside of me when I realized he wasn't holding me upright any longer. He slowed down while I kept going and just said, "Ok you've got it! ". Our next house was more suburban. There were houses around a block and a half dozen kids my age or my brothers ages we played with. Bikes got us quickly from one house to the next. Each yard had its preferred use. Gary Napierskis back yard was ideal for softball or touch football. Our house had a tree fort built inside an old and very large maple tree in the middle of the yard. Here's a photo of the tree fort.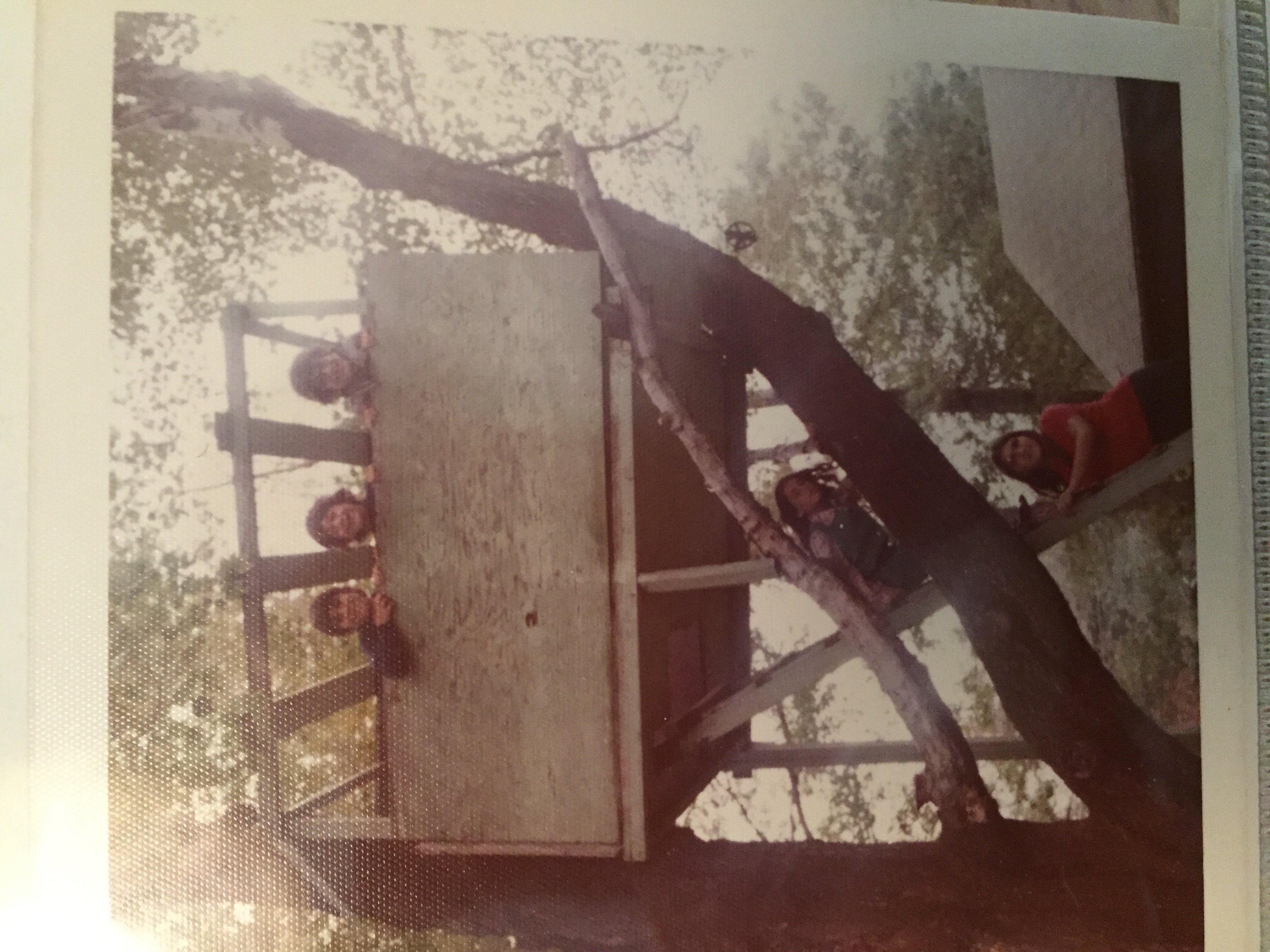 This provided for hours and hours of fun for me from the age of 9 years old and up. In front of Feigenbaums house was a flat section of road well lit that was the kickball venue. My friend Tony has an inground swimming pool that the new owners still use today, 60 years later. We rode our bikes to the college to watch football games. We rode to some dirt hills where we played army. We rode to the Belvedere pizza shop to get grinders and to Max's five and dime to buy silly putty and candy. Even to the drug store next door where they sold us cigarettes we said were for our mothers. In 5th and 6th grade we rode our bikes to school stopping at Mel's garage on the way back to buy 5 cents worth of red pistachio nuts from the vending jar. No one had or used a bike lock. The concept of locking your bicycle was foreign to us. At the schoolyard we would just leave them on the ground or lean them next to a tree. There weren't any bicycle racks anyway. Here's a photo with a sting-ray bike which is what someone might ride to school in the mid 1960's.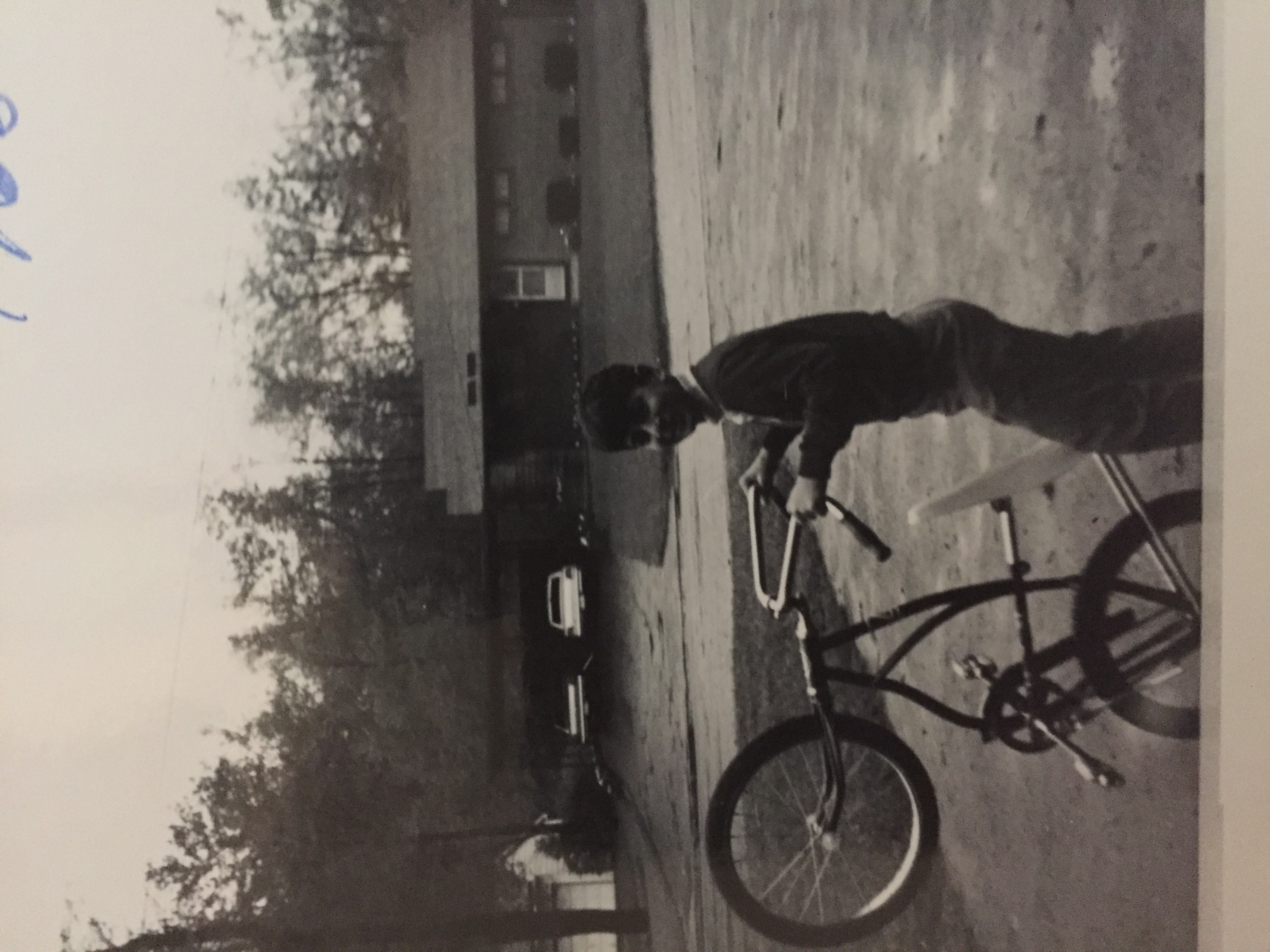 We also rode or jumped repeatedly over the air tube in front of the fuel pumps that rang a loud bell inside the garage until Mel himself came out shouting at us the send us off running and laughing. During the summer as young teenagers we rode to the park to meet our friends at the tennis courts where sometimes the girls would show up as well. Here's me on a bike from that timeframe.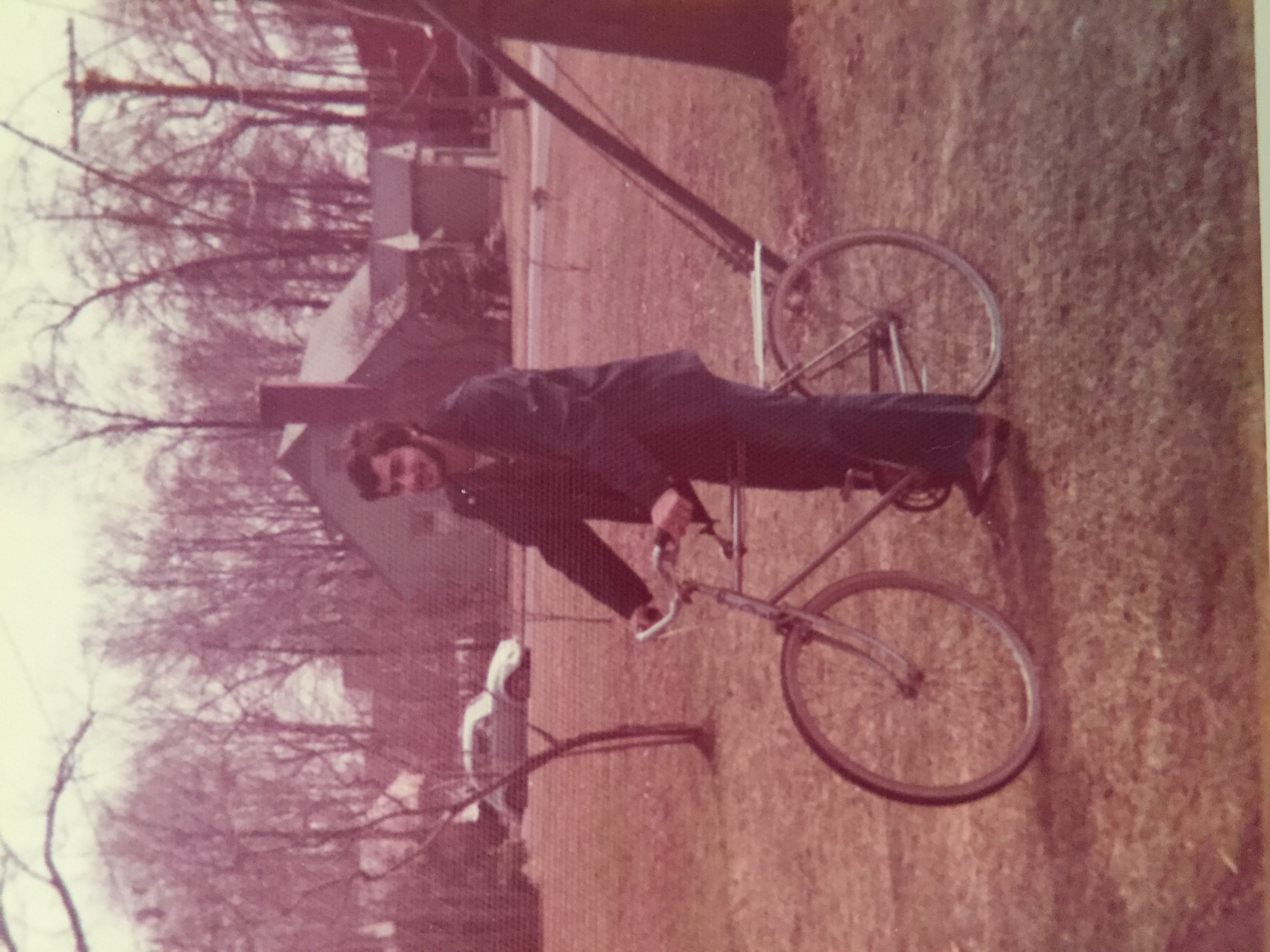 During high school we had a bike club. I recall showing my classmates how to replace a tires, patch inner tubes, adjust brakes and gear derailers. Three of us did quite a bit of riding, predominantly as I recall riding in the wintertime. We rode 10-speed bikes, Schwinn, Raleigh, and Peugeot were the top brands. As long as the roads were relatively dry we would take long rides in the countryside and around the reservoirs in the area. Fast forward to present day, my latest foray into cycling was turning two fat tire bikes into electric bikes, one in 2017 the other two years later. Along the shoreline I wanted a cycle with two wheel drive. This would get me through sand and surf when I rode along the shoreline, and through snow patch when I took to the land trust trails in the wintertime. The first bike I converted was a two speed Sun Tour Spider cycle. I found the bike at a Berlin area bike shop and bought it used for next to nothing. I purchased a motorized 1000 watt fat tire front wheel, controller and battery pack from a company called Luna Cycle. Here's a video of one of my winter jaunts using this setup. The two speed hub was limiting what I could do. Once I engaged the motor, I couldn't pedal fast enough to keep up. I looked into upgrading the hub to a multi speed. Found out the German made Rohloff was top of the line. A 14 speed hub would set you back $1400. Shimano makes one called a Nexus which comes in 7 or 8 speeds. I ended up purchasing an 8 speed Sturmey Archer (remember the old 3 speeds?) hub and sprocket kit. My plan was to upgrade the Sun Spider bike, but I soon learned that the rear hub of this bike and frame were designed with a unique beveled sprocket so that a replacement hub was incompatible with that design. I ended up donating the hub I bought so the nice people at Zanes bike shop could put it in one of their charity cycles. Zanes dedicated bike mechanics, I ended up customizing a new Specialized fat tire bike that had two cranks so I had plenty of range to work with. Greg there mated the steel fork and electric front hub I had onto the Specialized frame. Now I have a much lighter fat tire cycle with plenty of pedaling range for my off road ventures. Here I am a year later in March 2019 with another off road winter jaunt this time with the customized Specialized cycle.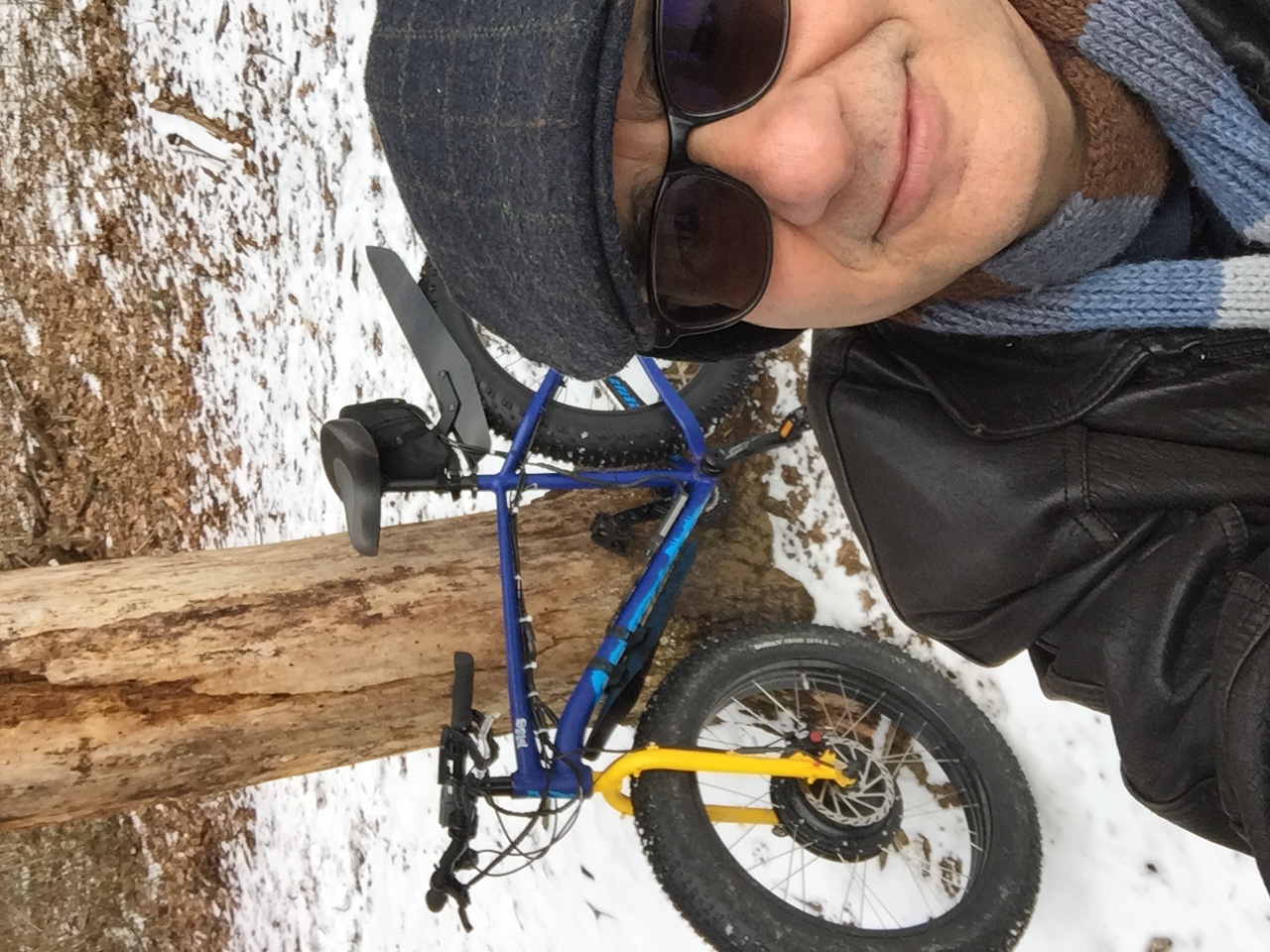 More recently in October of 2021, 6 of us had a cycling and hiking jaunt to Hammonasset Beach. We started at the nature center lot then cycled down to the beach. Leaving the bikes we hiked out to Meig's Point along the rocky shoreline. We returned to enjoy a nice cookout followed by some laughs around the fire pit.