Guy Simonian's Hobbies
Here are some of my current hobbies and some history regarding each one.
Golf
I started golfing when I was about 12 years old. At that time my family lived a block away from the Stanley Golf Course, a beautiful 27 hole public course whose land was donated to the city of New Britain, Connecticut by one of the founders of the Stanley Tools company. While my brothers, friends and I enjoyed slamming golf balls around the course, a big part of our golfing experience was avoiding the starters traveling around in a scooter or a green utility truck. My father was always a great advocate of the game, playing on weekends with his friends, then later on in life on a private country club. He loved watching golf tournaments on television which during my youth felt like an awful waste of time, but of course now its what I watch or record most Sundays during the golf season.
During my college years and for some time thereafter my best golf memories are playing with my brothers, father, and our Armenian friends and relatives. An annual charity tournament was held at the Tallwood Country club in Hebron, Connecticut. This was a fun filled event full of bravado and camaraderie. Mostly a male only event it consisted of a shotgun start tournament followed by a wonderful cookout for all the participants. My mothers brother in law, Uncle Greg Abrahamian was a fixture at these events. An excellent golfer and fierce competitor at everything he did (like playing cards) Uncle Greg was an excellent teacher and role model for the aspiring golfer. I was not a gifted athlete and golf was no exception. My father golfed enough to develop consistency in his game which is what I strive to do even now. Here are two photos from the Tallwood Armenian Open showing my brothers, my father, and Uncle Greg.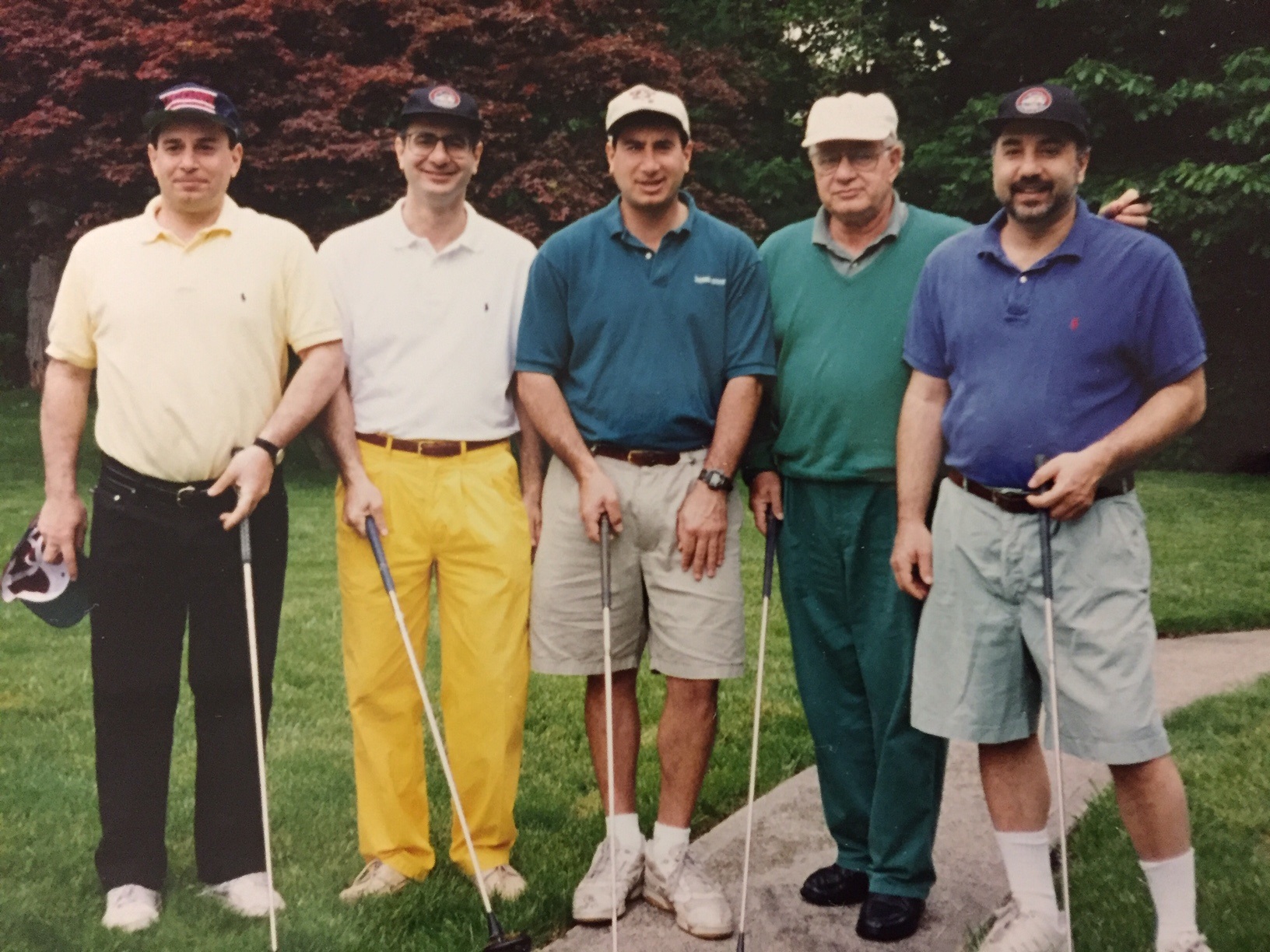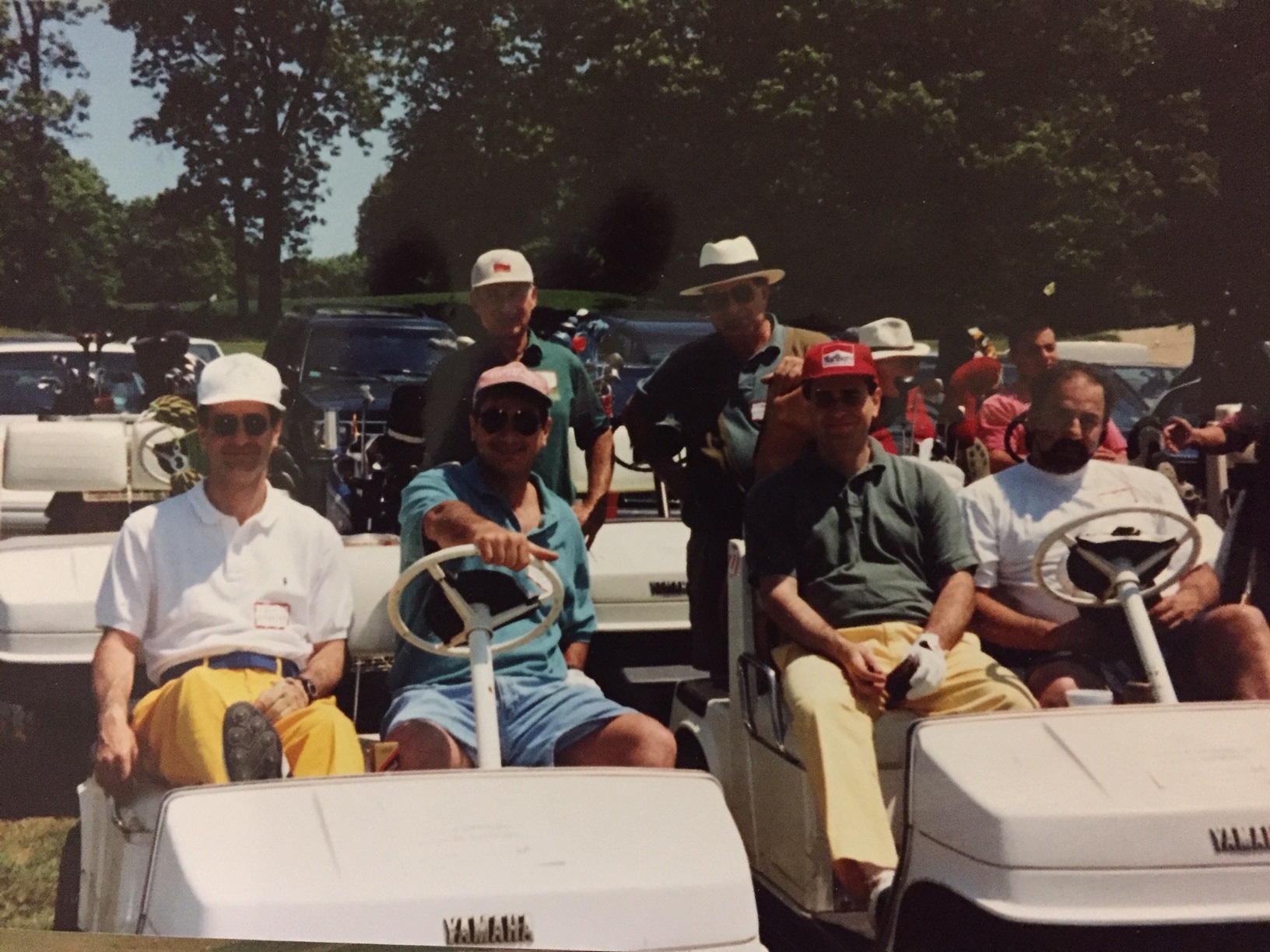 The next phase of my connection to golf came around the year 1986. I joined a golf league with some of my co-workers from Digital Equipment Corporation. Still very much the amateur I did receive honorable mention which included a trophy for being the "most improved" golfer. So I went from being horrendous to simply just awful. So I proved my cousin John A. wrong who likes to say that, "Golf is the one sport where no matter how much you practice, you never seem to improve".
I continued to play on a irregular basis, including two scramble tournaments on a regular basis. One was the Armenian tournament mentioned; the other was one called "The Shrew Scramble" named for and run by friends of my youngest brother Art. My team changed a bit from year to year but mostly consisted of myself, my brother Art, our friend Serop, and a cast of other players in the 4th spot. I do recall that we actually won this tournament twice, once outright, the other time after a tie was made which resulted in us winning a spectacular chip-off contest. Here is the winning team in 2015 with green jackets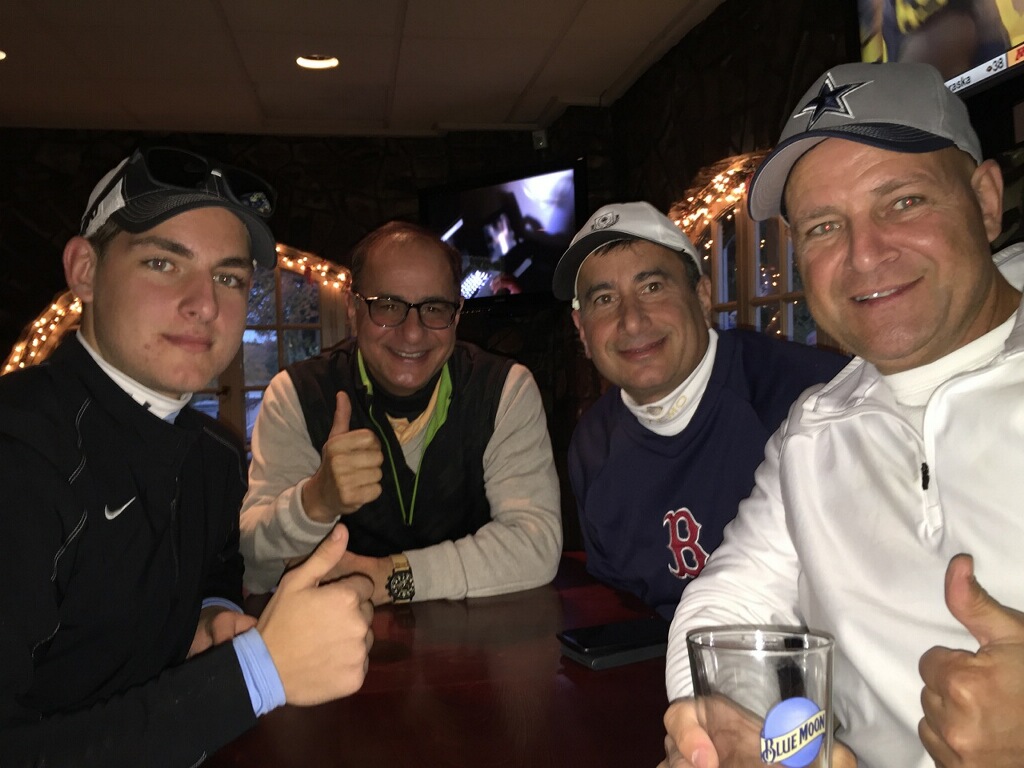 and again with Lenny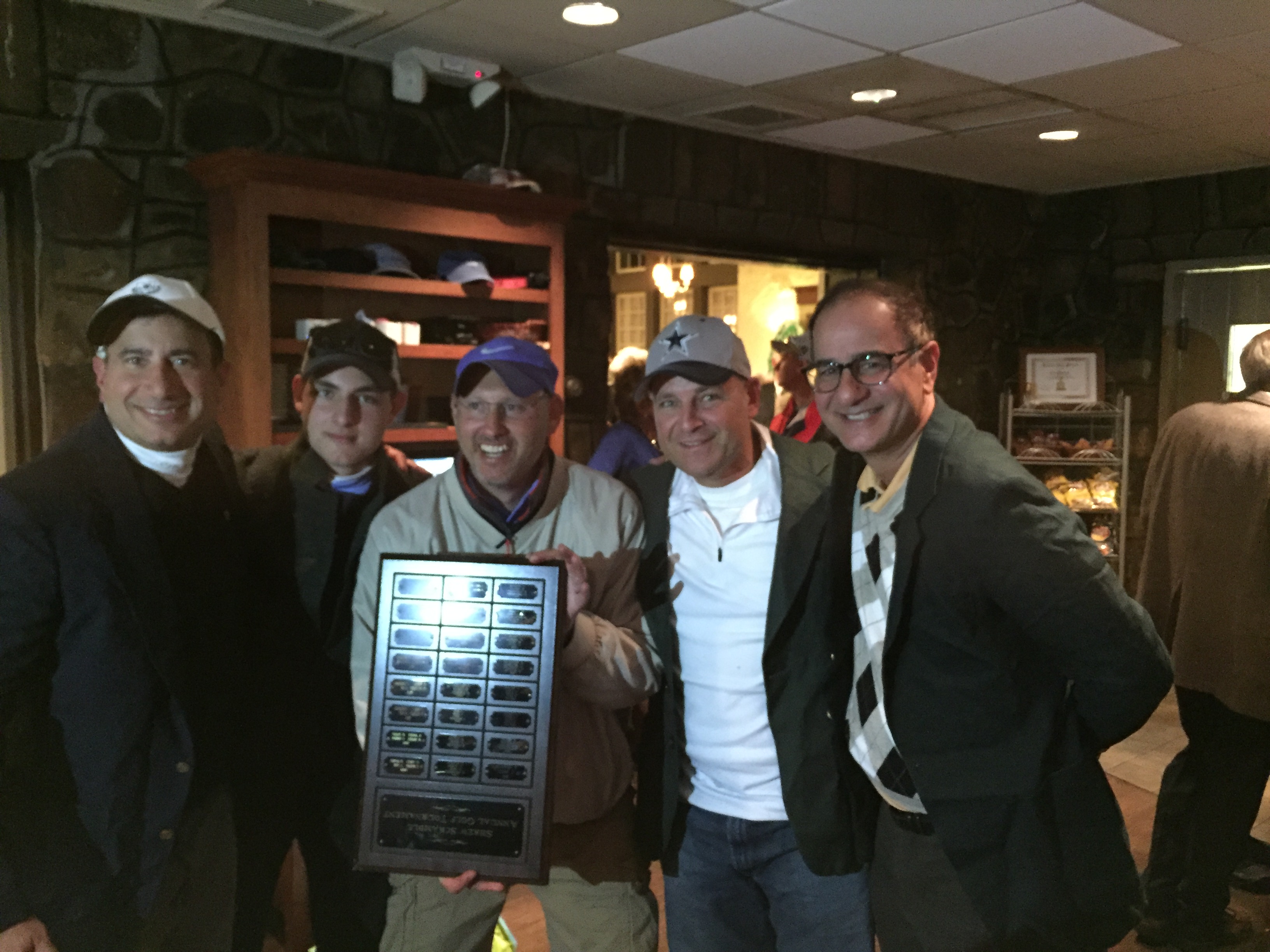 a photo of the plaque, notice our names from 2006.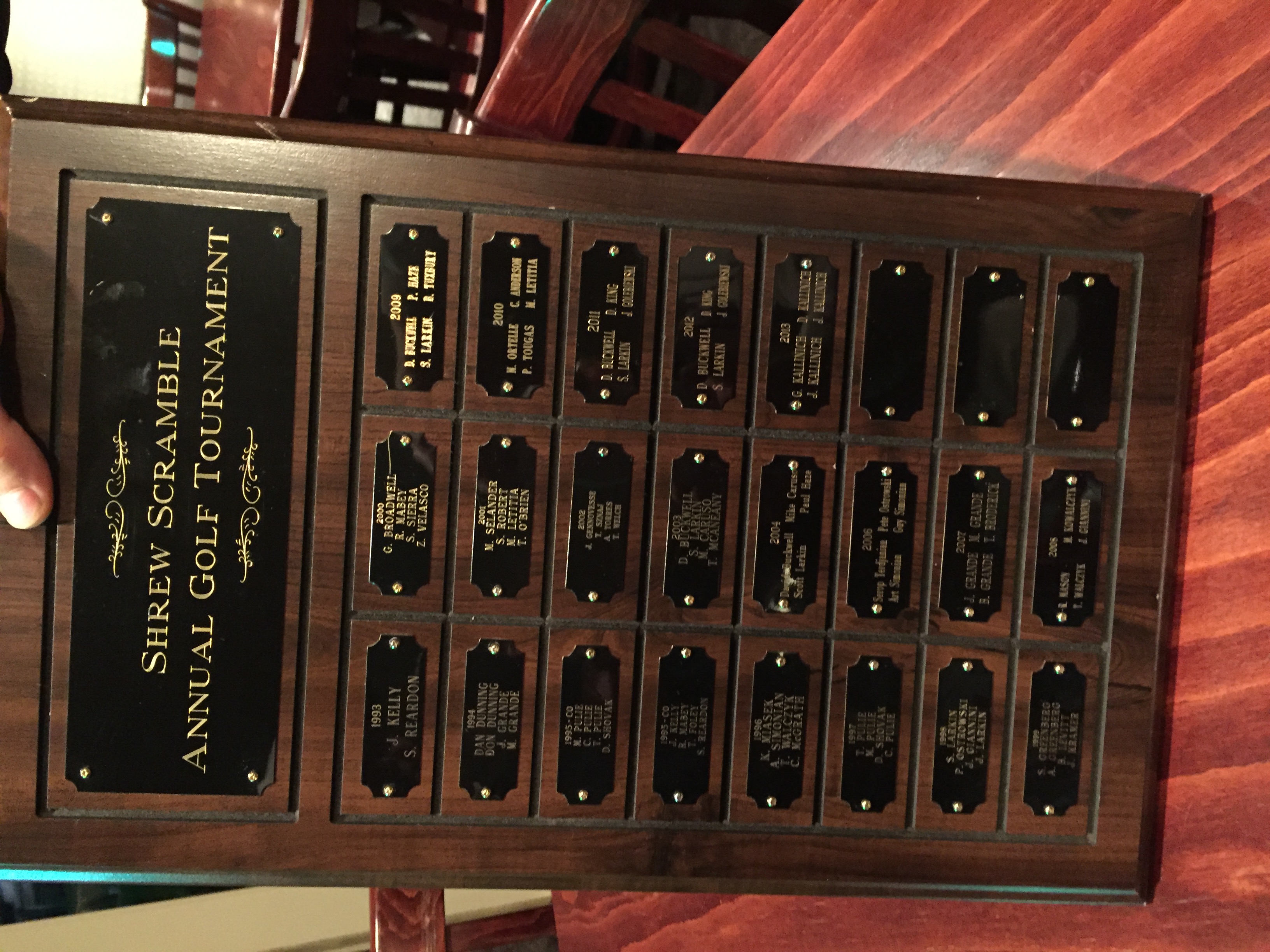 In the next phase of my golf career my wife Darlene and I joined the country club to which my parents had belonged, the Shuttle Meadow Country Club. Developed in 1917 as the playground for the factory owners and other elites of the surrounding community, the 18 hole course itself was designed by Willie Parks. A lot of effort goes into maintaining the course layout in keeping with his original design and philosophy. For us, it is as much a social gathering place for our major family events as a golf club. We have enjoyed engagement parties, birthday parties, Holiday parties, and many other social events too numerous to count. For some Tennis and a large pool round out the family outdoor activities.
I have had the pleasure of participating in many club-sponsored tournaments. In fact my father was on a winning tournament team in 1999, the tournament then was a two day A-B-C-D best two of four scores net of handicaps. Called the Willie Whalen tournament the format enabled even high handicap players to participate and compete on a team with lower handicap golfers. In fact, twenty years later On October 6, 2019, I was on a team that also took first place in this event. Winning this event enabled the winners to get their names emblazoned on the plaque inside the clubhouse memorializing this event. Here is a photo of our winning team, the pairings of all the teams and our winning scorecard.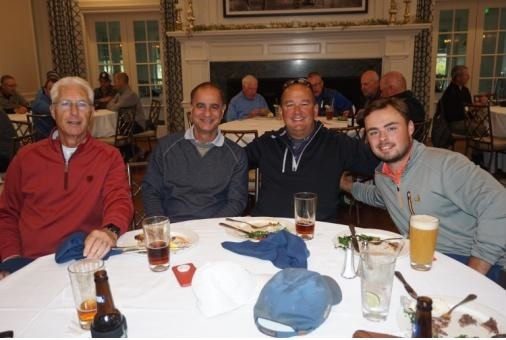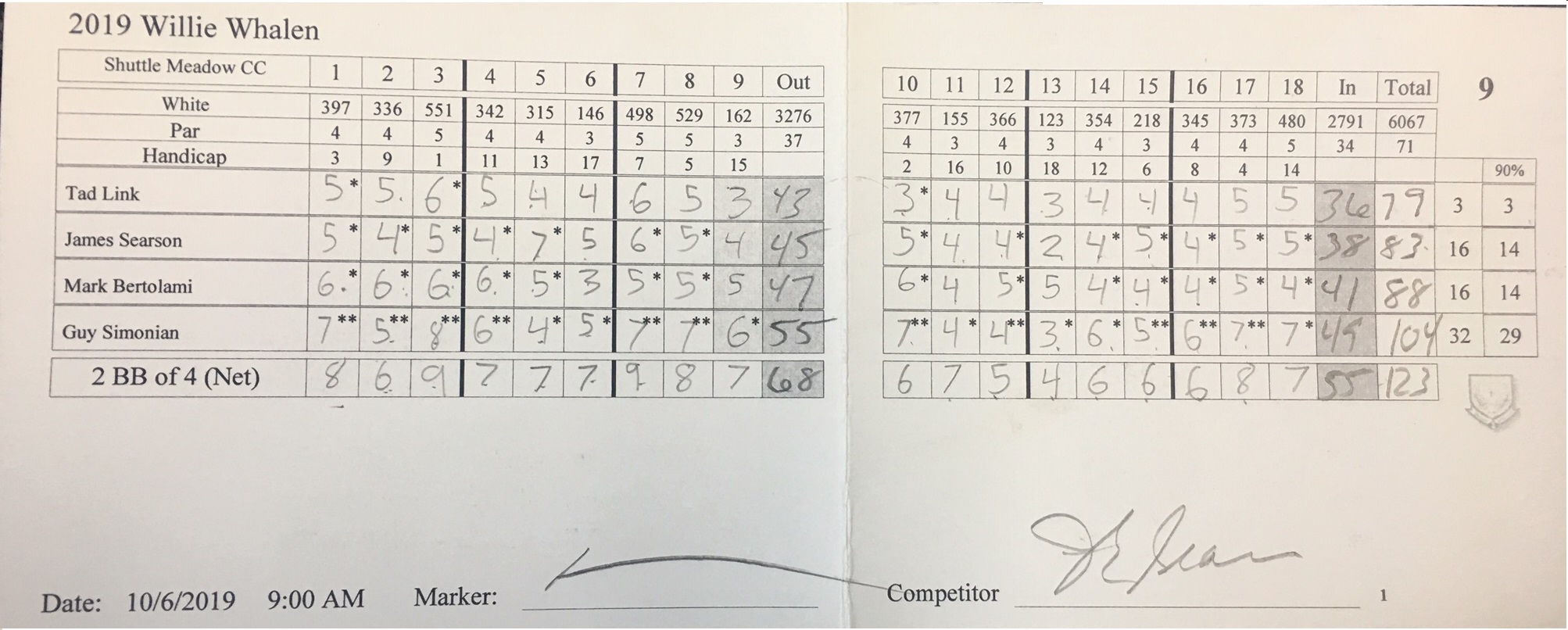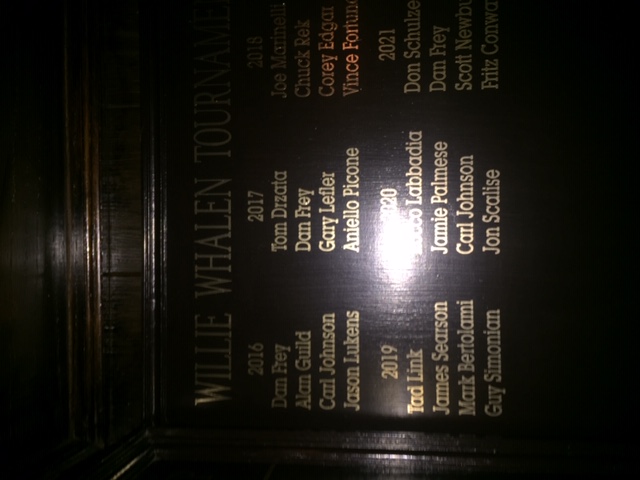 Being a high handicap golfer has its challenges but I was determined to improve. As I read recently on a slip of paper tucked inside a fortune cookie, "failure is not defeat until you stop trying". In March of 2020, while vacationing in Naples, Florida, I made arrangements to take a golf lesson with a pro named Mark Durland. Operating out of the beautiful Naples Grande golf club, Mark employed one of the latest innovations in golf instruction, the TrackMan. That lesson on March 4, 2020 marked a turning point for me. Mark pointed out the flaw in my swing that was producing inconsistent results which provided the basis for a campaign of improvement. It's not the California Gold Rush, mind you, but by adhering to the principals of the inside out swing I learned that day, let's say that I may now hit 9 or 10 fairways out of 18, rather than perhaps 3 or 4 beforehand. Click here to view a video summarizing that lesson.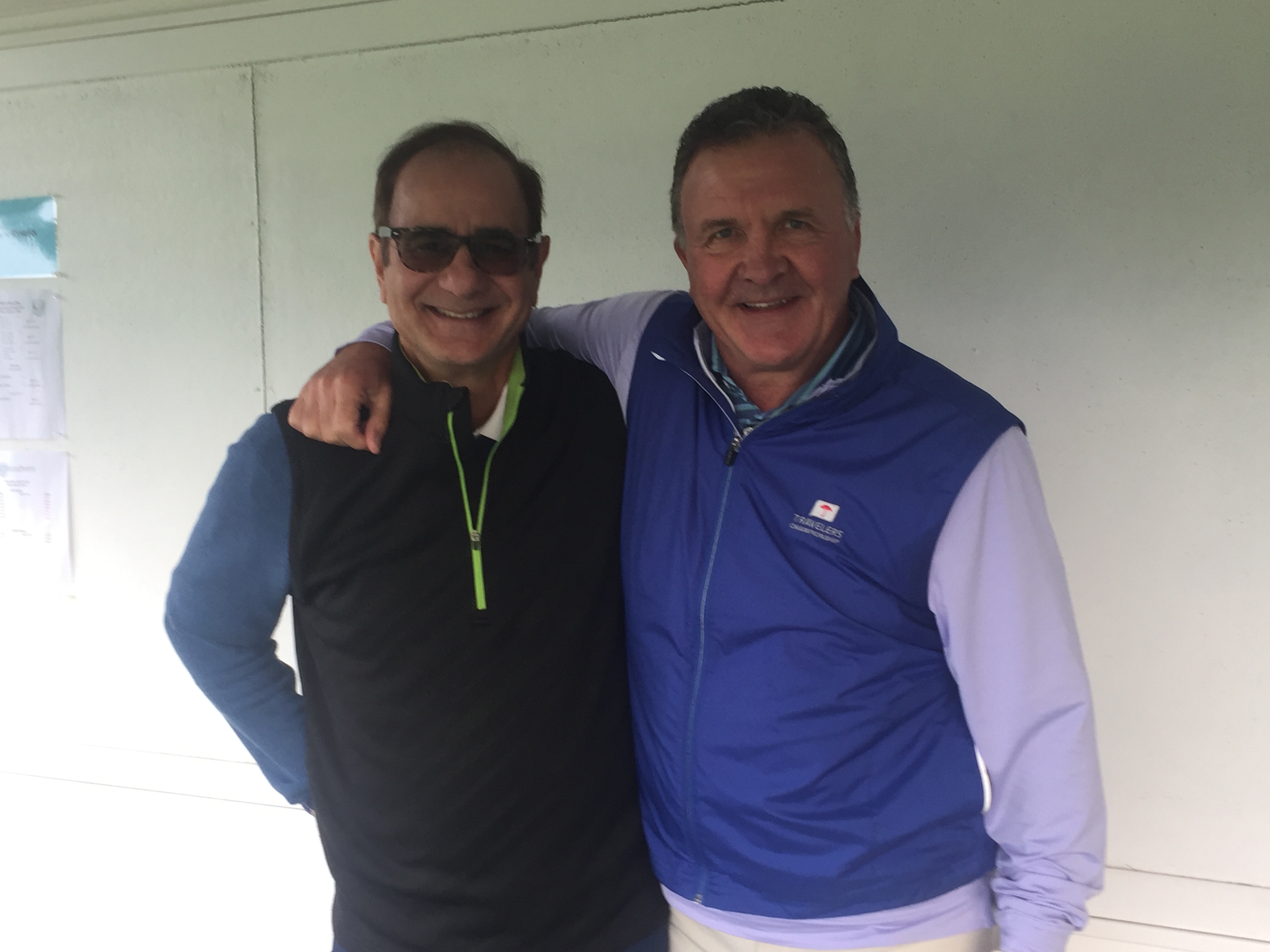 My next breakthrough came under the direction of pro Tim Gavronski at Shuttle Meadow Country Club. Less technology than the Trackman session, Tims lessons emphasized consistency through repitition. The first thing he cleaned up was my pre-shot routine. The goal is to repeat the identical behavior pattern every time you approach the tee.
These lessons paid off when the Hye Boys team entered the Armenian Open at Tallwood Country Club in 2021. Here is a picture of the winning scorecard and the happy teammates, myself, Art Simonian, Serop and Ryan Terdjanian.Our first place score was 59.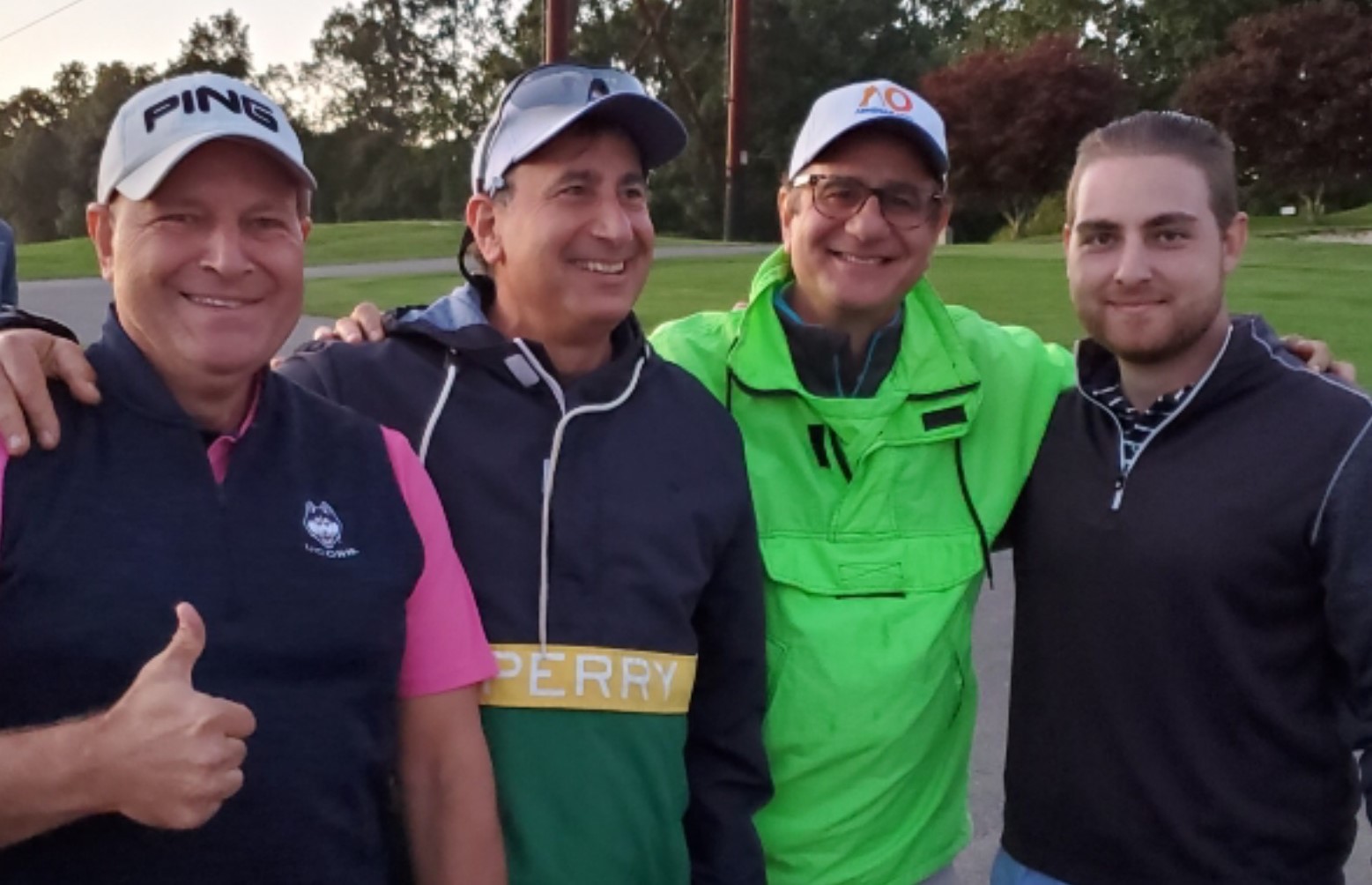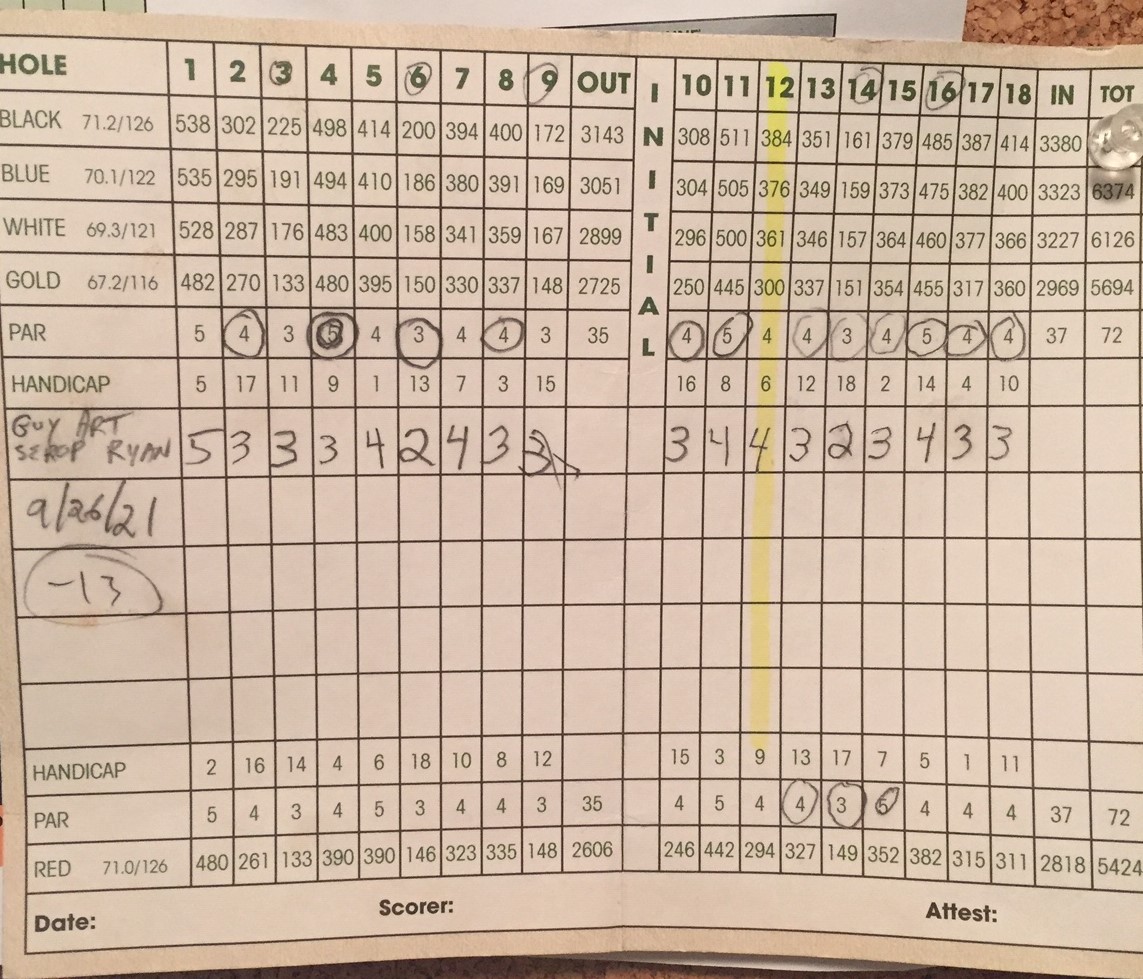 <!img src="/data/ArmenianOpenWinners.jpg" height=300>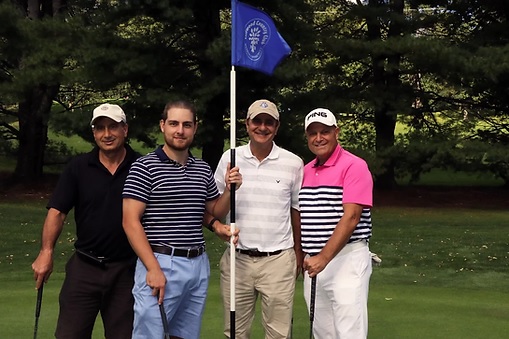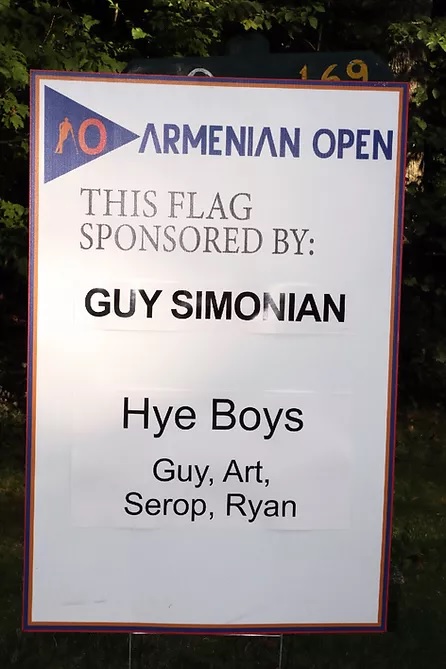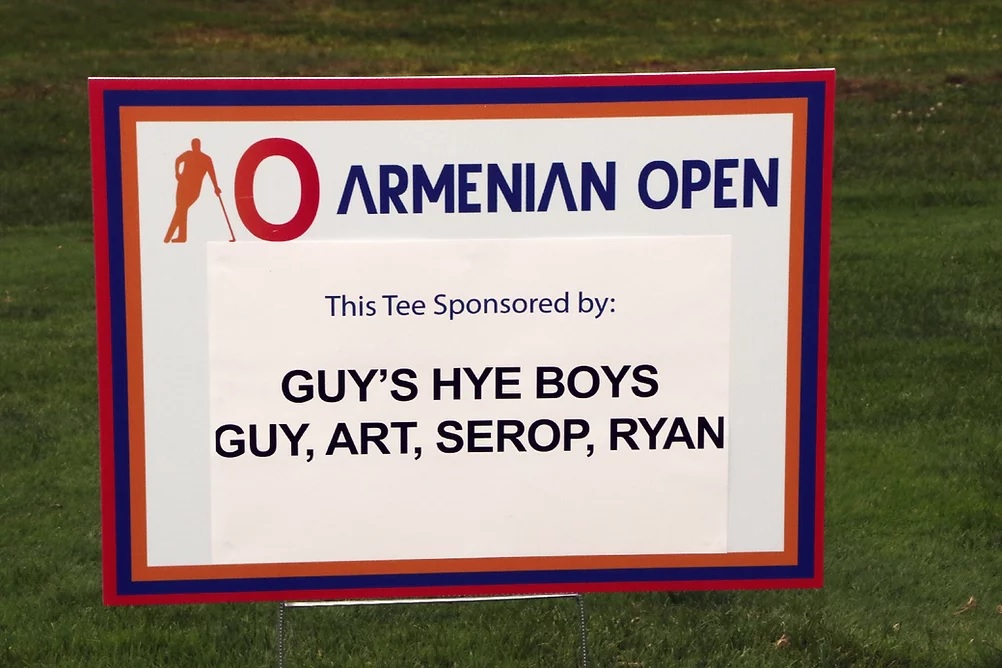 In November of 2022 there was a warm respite in the weather. I participated in a cross country scramble with 5 golf buddies, Bob Lickwar, Check Rek, Dean Spitnale, Art Simonian & Serop Terdjanian. We had a great time and enjoyed the unique format of play.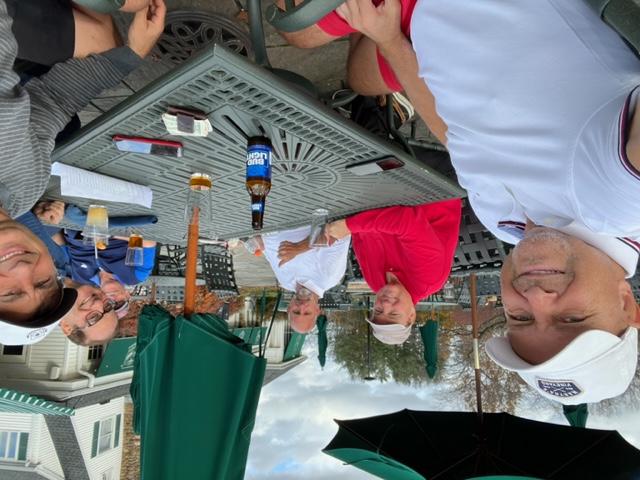 ---
Shooting
Skeet shooting is similar to golf in these 3 ways. It's a social bonding activity. It's done outdoors, and there's a technical skill to be mastered. That's me above being tutored by my coach. I've enjoyed this sport since 2007 when I joined the Rockville Gun Club on the advice of friend and neighbor Joe Mansigian who introduced me to Richard Lee who you see coaching me above. More recently I've been joined there by John Abrahamian and my brother Art. I keep learning new things and try to improve my scores. For example in 2021 at a trip to the Optometrist I confirmed that I am left eye dominant. This affects a right hand shooter. We are trained to keep both eyes open yet a right hand shooter with left eye dominance tends to see the target skewed left of where he is actually pointing. Once I began closing my left eye my scores improved. Here is the same crew from our outing on January 2, 2023.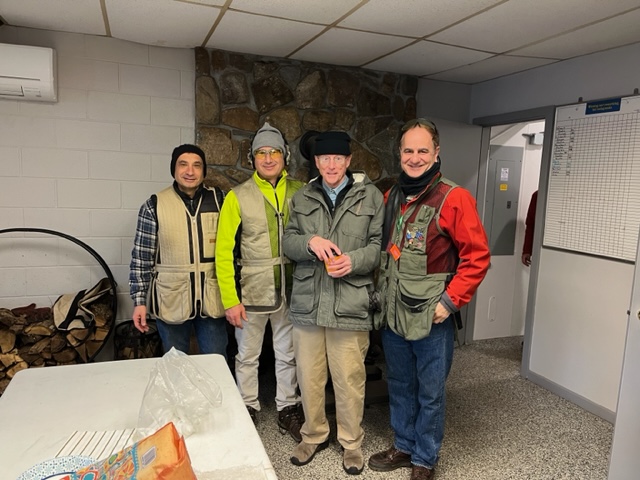 ---
Boating
My first experiences boating were as a child in the 1960's. My parents would rent a beach cottage on the Connecticut shoreline, first in Westbrook and later in Old Lyme. Vacationing with our friends, the Hoosigians, the Hoosigian parents Beverly and Given got along very well with my parents Art and Lucy. My family had three kids (later four) and theirs had three as well. Tommy the oldest was brother Mark's age, Linda was my age, and Cheryl was brother Craig's age. For two and sometimes three weeks both families would pack up their Ford, Mercury, Buick or Chevrolet Station wagons and relocate ourselves to a shack on or near one of the sandy beaches. Here's Craig, Cheryl (or Linda?) and Lee circa 1960 in front of one of those cottages.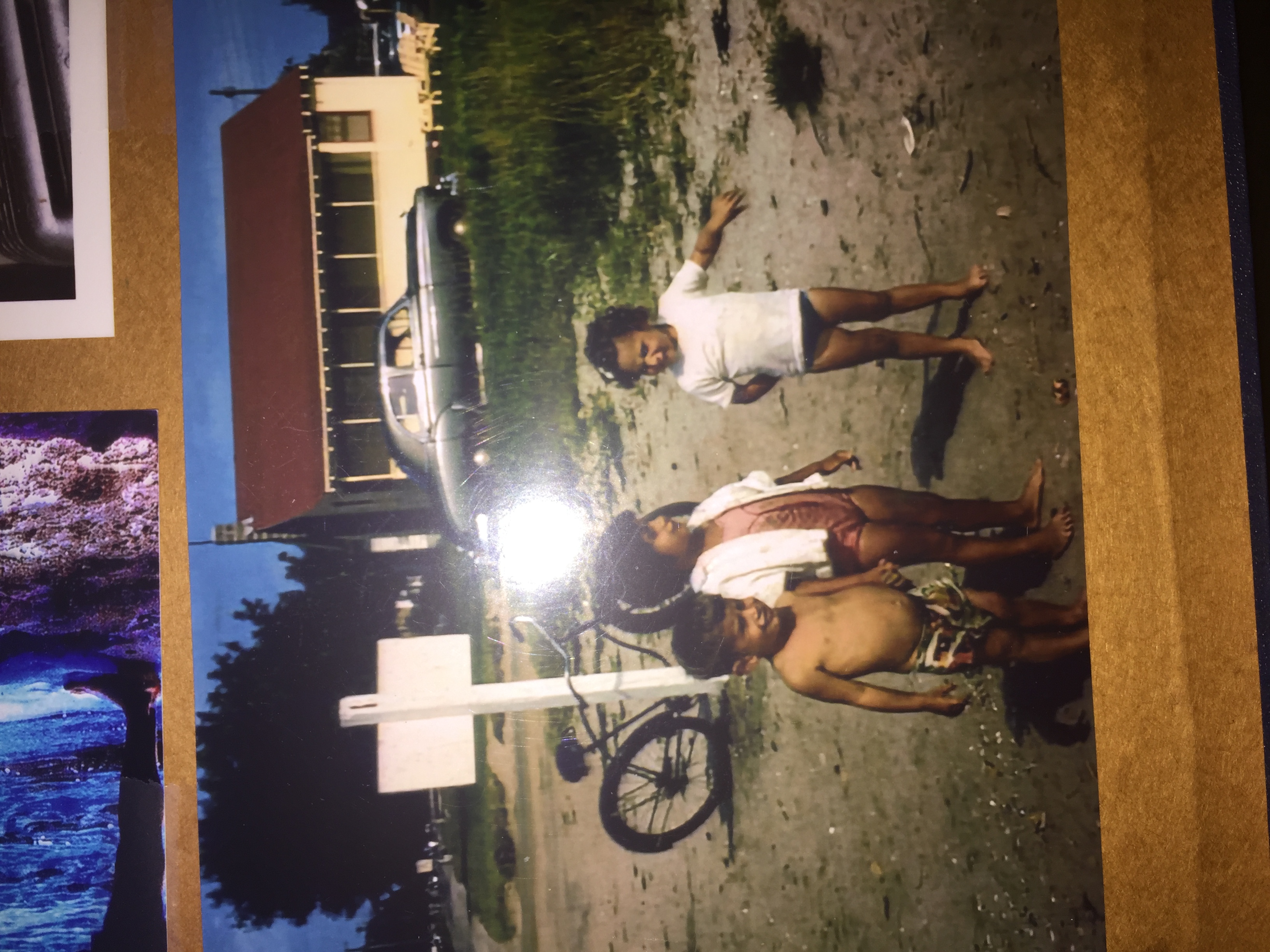 And again a couple of years later, this time myself, Craig, Cheryl, Linda, Tommy: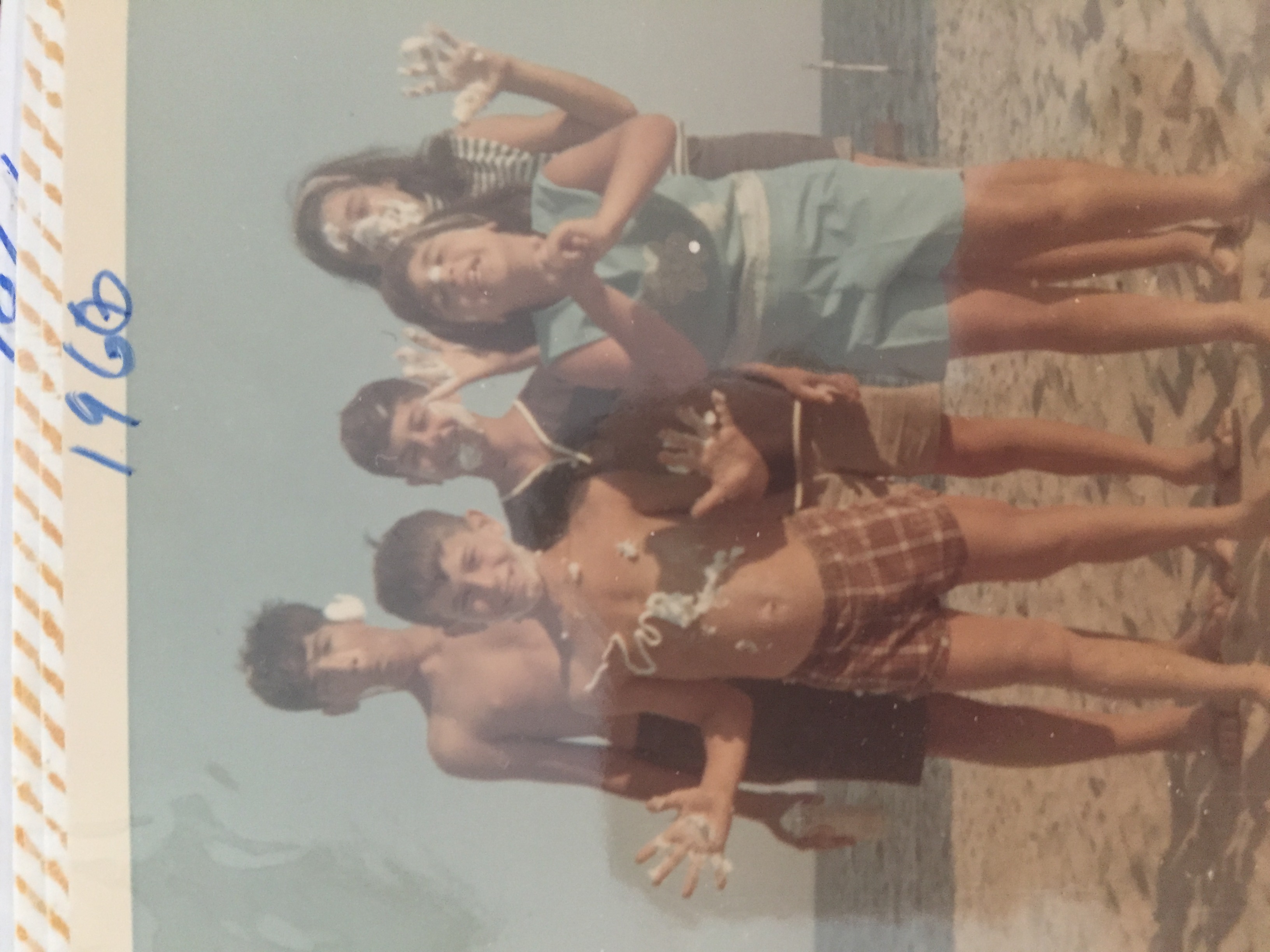 Invariably we would get a visit from, or actually borrow Uncle Paul Abrahamian's outboard powered boat. We had a boat ourselves at one point, but I only remember it as existing underneath a tarp and getting fiberglass repair and bottom painted. Water skiing and fishing were both possible off Uncle Paul's boat. Fishing would take place around Duck Island off the coast of Westbrook.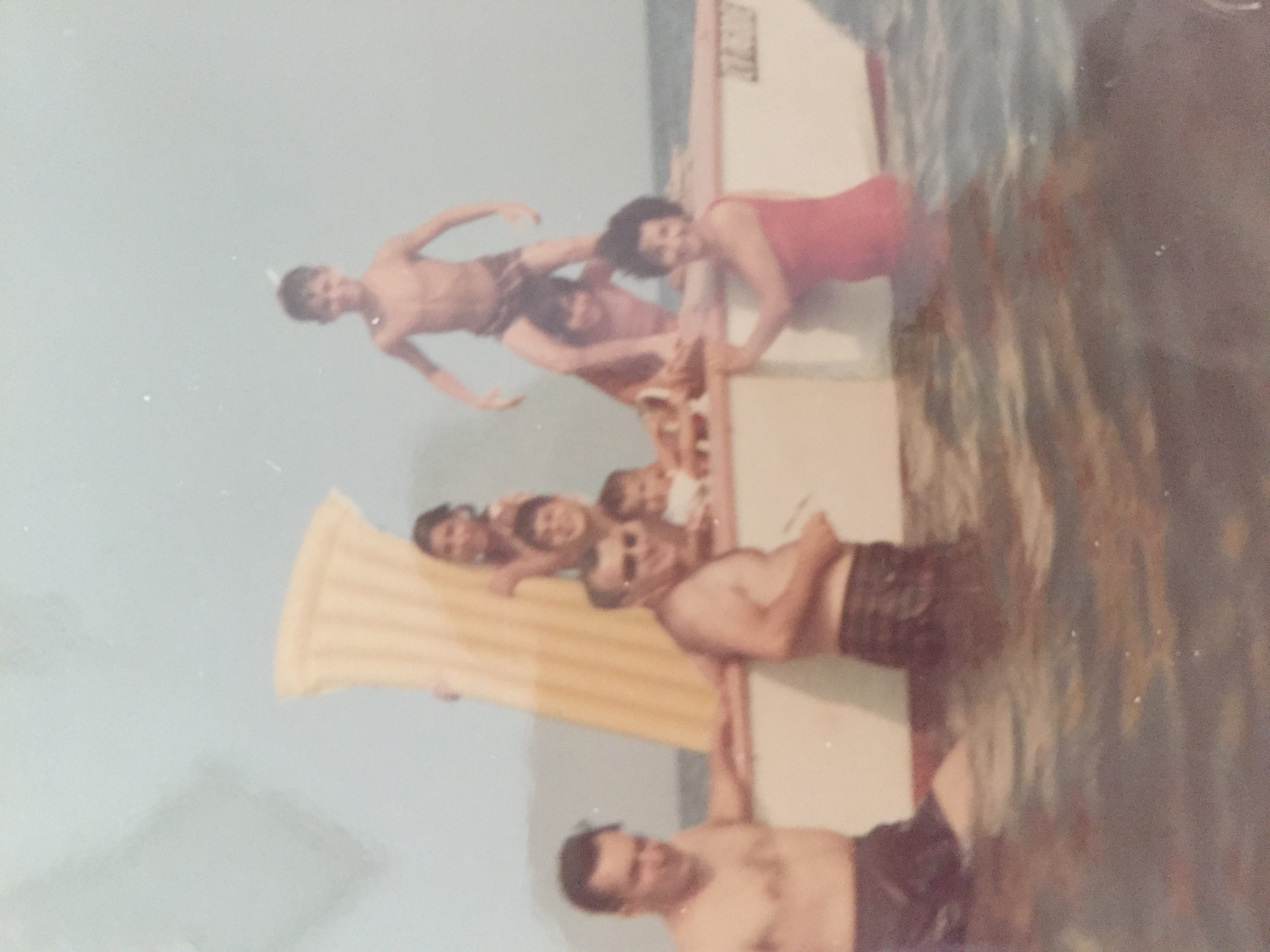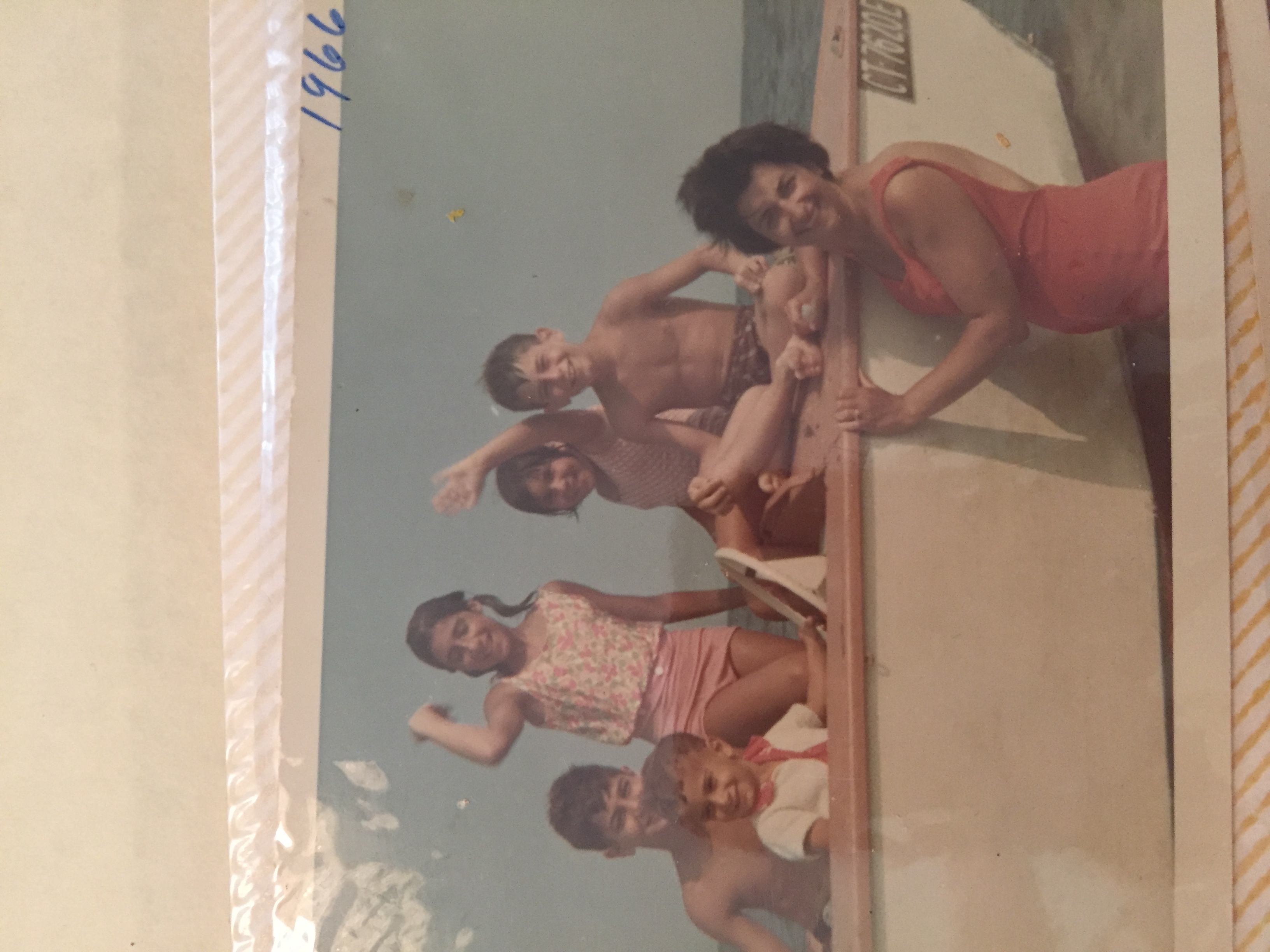 I did learn to water ski off the back of the boat one summer. While Uncle Paul was actually in the U.S. Navy during WWII, he knew and would share his knowledge of boating, knots, and navigation. He was a radio operator on a U.S. Destroyer and would entertain us kids with whistled imitations of signal calls, depth charges, and incoming Kamikaze planes. he also taught us how to play the game 'Battleship' with a pencil and paper. We would draw the grids and place our carriers, battleships, destroyers, and PT boats on the grid then fire away at our opponents. From him we learned to mimic the sound of incoming fire whose end result was either a splash or an explosion. Dad and Uncle Given were not the sailor Paul was. One summer he leant us his boat which we didn't secure properly and it was swept away in a storm. Somehow it was recovered and we were able to retrieve it a couple of days later. Uncle Paul's boat was probably 15 feet long with a 15hp or 25hp outboard. It's probably no coincidence that I am restoring a fiberglass boat with an identical configuration.
In the summer of 1975, Ed Wozniak, myself and two other friends, Christopher Greene and Mark Krazkowski went on a 100 mile canoe excursion through the Allagash Wilderness Waterway. We picked up two canoes in the town of Millinocket Maine and paddled through a series of lakes and streams through the northern woods of Maine, ending our sojourn on the St. Lawrence River. We carried all of our provisions with us as we would go entire days without seeing another soul in this pristine wilderness.
In the late 1980's my brother Art was in his mid to late twenties, and I was in my late 30's. Art convinced my parents to go in on a boat to be used for cruising the CT river, with occasional jaunts to Long Island. Art selected a new 23 1/2 foot Four Winns 235 configured with a Cuddyy Cabin, stern drive driven with a 350 cubic foot Mercury Mercruiser V8. We both attended Coast Guard boating classes, while he completed the class and received a certificate, I dropped out and didn't complete the course until 30 years later in 2017. We spent a lot of wonderful days on the water, with friends, my wife Darlene, our parents and brothers, and even my pet dog Smudge cruised with us. We dropped anchor in Hamburger Cove once where puppy Smudge enjoyed his first swim off the ski deck. I did learn the basics of safety operating a vessel with an enclosed gasoline tank. Docking manuvering was an important skill to be acquired.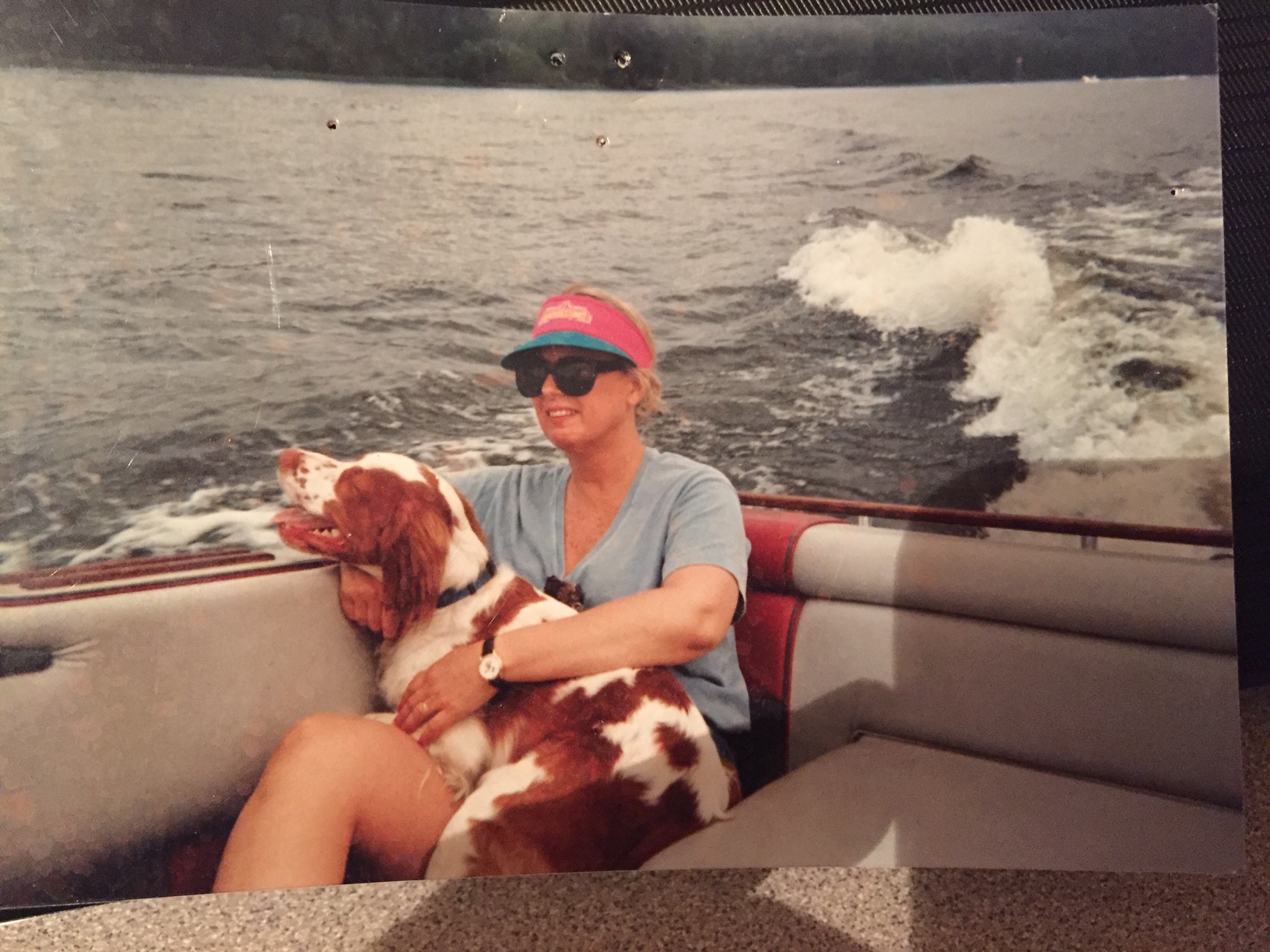 In 2016 I attended a boat show in Hartford and was intrigued by a boat club that was there. Called the Carefree Boat club, they had several new boats docked in Clinton at the Cedar Island Marina. For a small fee to join and regular monthly membership payments, you were able to reserve a boat for a half or full day. They had experienced captains that would train you and test your docking and motoring skills before allowing you to take a boat out on your own. They would even wash and service the boat for you. You just paid for the fuel you consumed. I had several very enjoyable outings on these boats. The challenge for me was getting a crew committed to going out for a cruise. After one or two outings, most of my friends and family members were not that interested any longer. Weather was also a factor. More than half of the scheduled outings were cancelled due to the weather. Even just high seas were enough for the cautionary management team to cancel the days outings.
In 2019 I decided it was time for me to dock a boat closer to home. Behind my house I had a wonderful dock constructed by the Beebee dock and mooring company. it had an aluminum gang way, flo thru decking up top, and Ipe wood on the floating 100 square foot dock. Being 400 feet away from the house, keeping the gulls away was challenging. The best deterent I found was a motion activated water sprayer made by the Orbit company. Later I worked with the Menunkatuck Audubon society and constructed and installed an Osprey platform. For two years, the Osprey kept the gulls off the dock. This past year they did not seem to care as much and the gulls are back. I started out with a rowboat I saw at West Marne. I think it was $800 so I bought it along with some oars, lines, and an anchor and hauled it all away in the back of my truck. My plan was to power it with a trolling motor. I started looking for a used trailer and trolling motor and after a week, I found someone selling a trailer and a trolling motor. The trailer came with a 14 1/2 foot fiberglass boat and a 15HP Johnson. The boat is a 1983 Sunline D144 built in Canada and the motor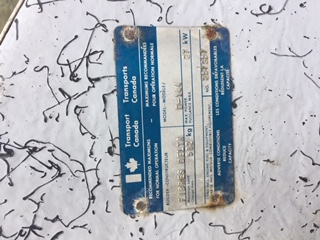 is a 2002 Johnson J15R4SNF. So I returned the dinghy for a refund after never putting it in the water. Set up the motor in a trash can and started it up. It ran, however roughly and it wasn't spitting water. My cousin Greg pulled the lower unit off and replaced the water pump. Ran it a few more times, each time it became harder and harder to start. I figure the fuel pump needed replacement but decided to seek out a marine mechanic. A friend at a local marina knew a small engine mechanic so I called him. He showed up with a truck in October and hauled away the boat, motor, and trailer to parts unknown. It was the end of the season so I wasn't in any hurry, but he was in an even less of a hurry. After bothering him for a few weeks on end, he reported that he made a few safety repairs, but the motor needed a new carburetor. I wasn't convinced the carb was the problem. I got the bat and motor back and the motor was running again, still roughly. He had replaced the fuel pump, updated the gas lines, and installed a new safety swith and throttle assembly. I rebuilt the carb but no change. Now I thought maybe I had a leaky head gasket so I picked up a compression tester from Harbor Freight and tested the compression. Lo and behold it was only 50psi. I started a thread on a boating forum to search for answers.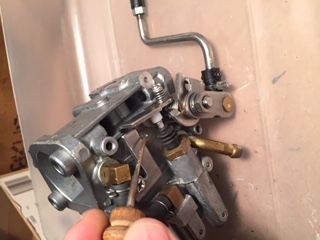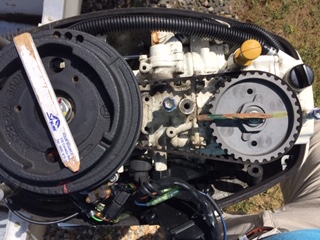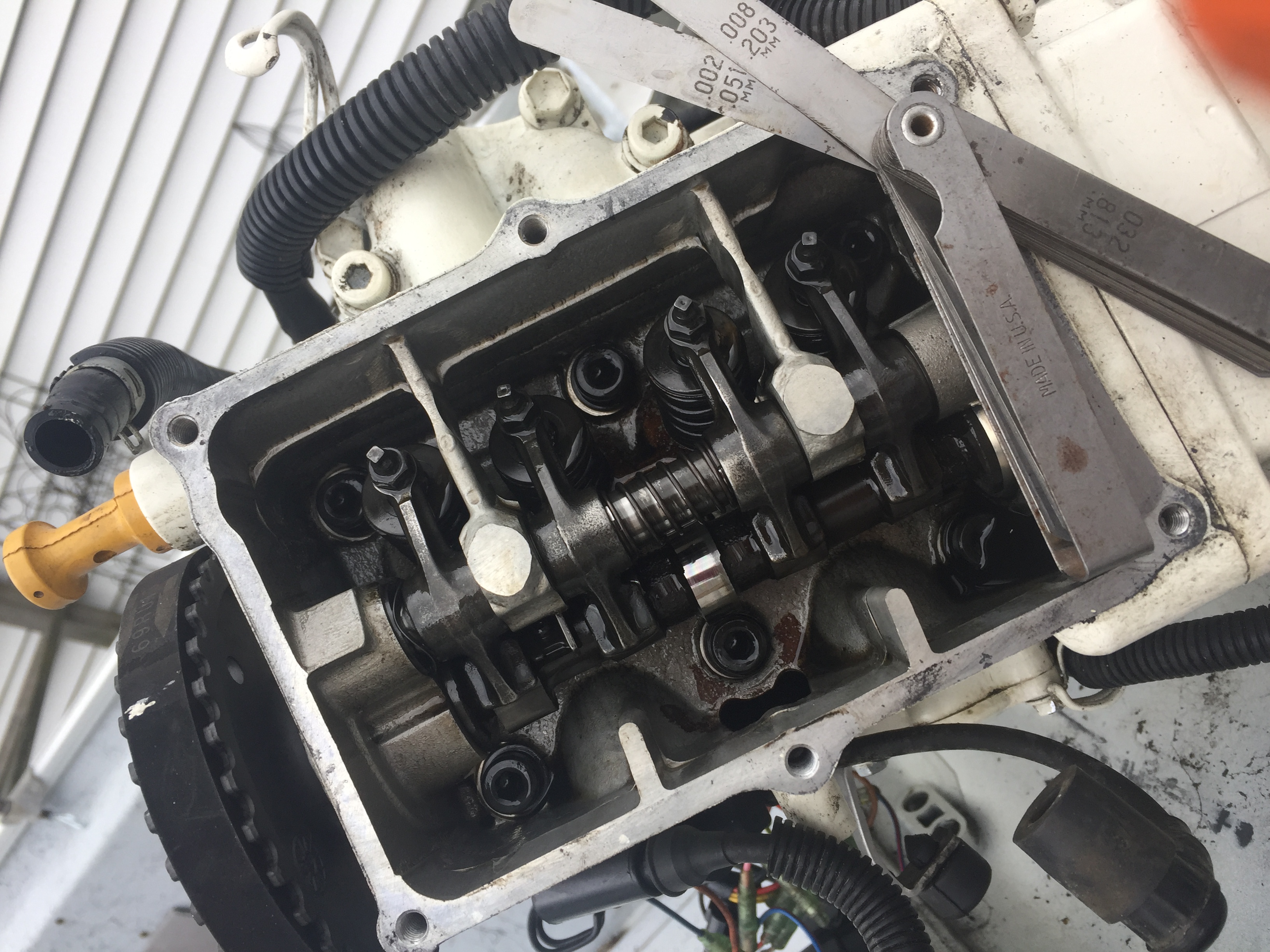 I was able to increase the compression on cylinder #1 from 50 to 70 psi. Still not 100psi but is still a 40% increase. I put the cylinder at top dead center and found the cam was off by 1 notch from TDC of the timing belt. Either the timing belt slipped or was installed incorrectly. What puzzled me the most was why the paid mechanic never mentioned this. Later on I found on that the correct timing should be set at 5 degrees after top dead center (ATDC) so it was set up correctly. I got a hold of a Seloc shop manual from the local library and poured over it from cover to cover. I pulled the valve cover off and tested the gaps on the cam lobes. They were both at .003". The exhaust should really be .006" but I left it alone. Later on I found the repair manual for the equivalent 2005 Suzuki motor the DF9.9 which also covers the DF15 motor which is identical to mine. That manual specifies .007 to .009 inches for both the intake and exhaust valves. I did end up making that adjustment which you can read about on the same Boating Forum post entitled 2002 15hp diagnostic head or carb? The compression was (which was 50 PSI) now measured 75 PSI on #2 cylinder and 90 PSI on #1! Now the motor idled better and revved up beautifully. Watch the video here. I noticed some water logged wood underneath the deck fiberglass so my next project became replacing the plywood from below the deck. Back to my now favorite store I picked up a rotary tool and made a clean cut in the deck. Rolled it back like a sardine can to expose the water logged plywood below decks. I cleaned it all out, sanded and painted the wooden keel exposed in the bilge and replaced the soggy plywood with some Trex decking boards and some other waterproof materials. At first I spaced out the planks.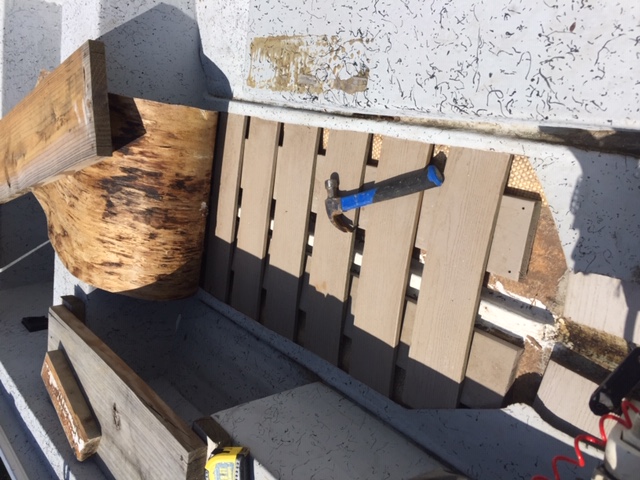 Later I added more materials and tightened up the grid. I could just leave it like this and cut out the fiberglass decking surface.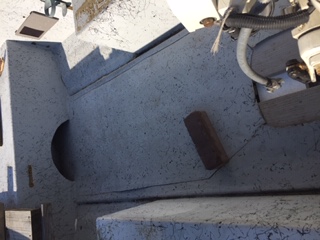 The finished product is a lot stiffer and sturdier than before. I even reinforced the exposed bilge near the stern with some small cut sections of Trex that can be removed. I'll probably mix up some marine epoxy to glue the deck surface back down along the seams I had cut.
My brother Art and I launched Marsha on August 29, 2020 mostly to assure myself that she floated before I invested much more time in the rebuild. We wired up the Minn Kota Endura 40 and off we went. Of course as we were returning to the launch the motor completely shut down. We frantically paddled ourselves back to shore and wondered what went wrong. I did some reading and found out the electronic controls often went out. After a couple of days went by, I got around to pulling the head cover off and put my meter on the leads. The controller seemed to behave properly. Once in a while the shaft would spin as well. Eventually I dis-assembled the motor housing and after what I saw, I was surprised that the motor worked at all. The commutator wires were fried, one was burned all the way through. The main bearing was so bound up you could barely spin the prop by hand. While I was unable to reach the Minn Kota support people on the phone, their website was an excellent resource. The parts digram and ordering system worked flawlessly. For about $30 I ordered everything I needed, washers, commutators, commutator housing, the main bearing and some washers. The rebuild went smoothly except for the fact that despite buying a gear puller for the job. I was unable to pull the main bearing off the shaft. Fortunately, my friend Rich had a friend John who is a go-to mechanic. On a Sunday morning, John was able to pull the bearing with a very specialized mini-puller. He installed the new bearing as well. I gifted John the new gear pullers which he appreciated. By Sunday afternoon, I had the rig up and running again. The housing design is interesting. You actually control how much tension is placed on the bearing by tightening two long shaft screws that run inside the space in between the magnets. I ran the motor while adjusting these two screws to optimize their performance.I did locate a service & repair manual online which calls for a 25 to35ft lb torque spec on the thru bolts for a 3.25" diameter armature.Will torque to that spec. Am ready to test on the water again!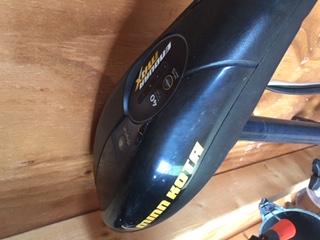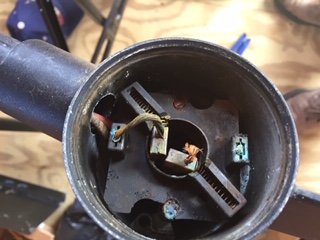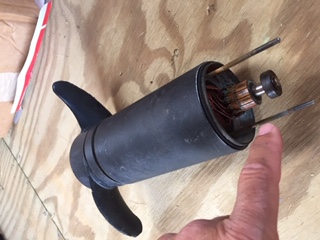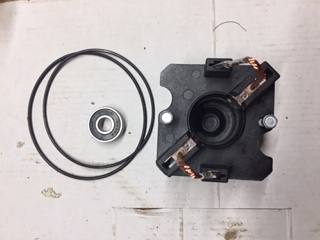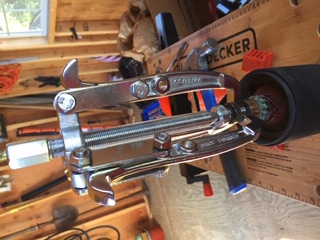 Of course the Dilly brand trailer needed some work. After visiting the CT DMV to register the boat, it turns out to be much simpler to keep the VT registration for the trailer.The toe hitch was rusted which I replaced anew, and the center roller was worn down which I replaced as well. With a new center roller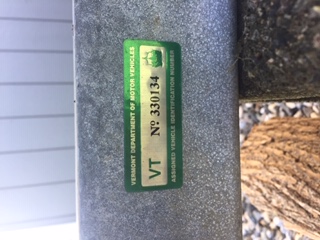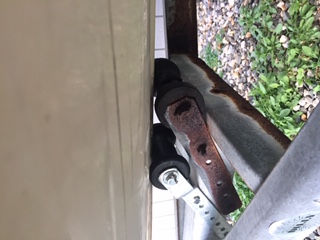 in front of the old roller, the boat sits a few inches taller on the trailer so it rides above the bow roller. Normally you might just adjust the height of the bow roller but in this case there is no adjustment room left. I could get an oversized bow roller, but best would be to remove the old center roller, and move the new one into its position. Over the winter of 2021 I removed the wheels. Once re-installed in the springtime, the bearings were frozen from lack of use and needed some encouragement to start spinning again.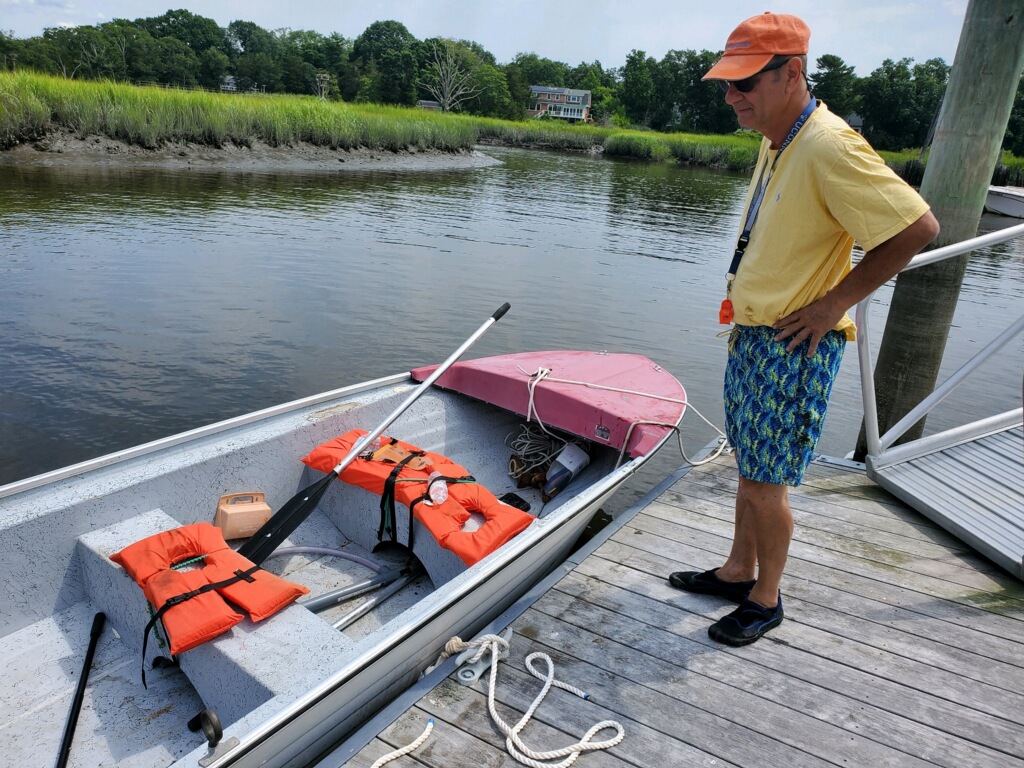 My brother Art and I re-launched Marsha on August 1, 2021 again mostly to assure myself that she floated and to try out the repaired motor. We launched without incident and was able to move her from the launch to the dock behind my house on the marsh. An hour or so later I went out again with three of my cousins. Noticeable underpowered and exhibiting vibration, Greg showed me by disconnecting one then the other spark plug wire that she was only operating on one of two cylinders. We got her back to the launch and trailered back home. We pulled each spark plug wire and held it close to the cylinder head and listened for the spark. #2 was definitely not sparking. We could also run on either cylinder by moving the good plug wire from one to the other. Apparently the coil is designed to fire both plug wires without any accomodation for timing differences between cylinders. The Suzuki DF15 manual spelled out the diagnostic steps involved with testing the ignition coil. The cross plug wire called the secondary side resistance should show 7 to 10K of resistance but tested open. We toyed with the idea of splicing two plug connections from the one working side, but opted to replace the coil instead.
August 7 update: Cousin Greg and I (mostly Greg) replaced the coil and worked on the motor for the better part of a day. Even after replacing the coil the engine kept hunting at low speed and had trouble maintaining a low speed idle. Convinced it was a carburetor issue, we had the carburetor off at least 3 times, cleaning every possible jet and rebuilt the float assembly. We then focused on the electronic timing. We adjusted the timing by moving the timing belt by one notch each time then running the motor. Each notch of change seemed to affect about 15 degrees of timing. First we advanced the timing one notch, this made it worse. Then we retarded one notch, then two. Retarding by one notch presented the best performance. See 2002 Suzuki DF15 timing specifications and timing advance post. We did get onto the water and despite the low speed woes we did enjoy seeing the motor and boat perform extremely well at top speed.
Shortly after this experience I decided enough was enough and ordered a new motor. Found a good deal at West Marine on a 20HP Mercury with EFI fuel injection and electric start. Online it said the delivery was in 2 weeks. Once ordered, that slipped to October 8, 2022. October 8 came and went. Finally in December the motor arrived. Ironically, the day I called West Marine to check its status, the clerk notified me that there the motor had arrived that same day! My friend Serop and I went to pick it up on a rainy Saturday morning. I called in while en route just to check that all was in order. The customer service rep that helped me there assured me that all was in order and after going through a safety checklist, they would wrap the motor box in plastice so it wouldn't shred in the rain. Upon arrival we met with a different clerk who was ready to move the motor into our truck, with or without the box it came in! Fortunately, the nice woman who I spoke with on the phone took over and went through the checklist and had me fill out the warranty card. Nicely wrapped in plastic we carted the motor off, not without a nice stop at Christy's breakfast nook where we enjoyed some omelets the size of footballs! After unloading the motor using truck ramps, we did some chores at the beach house, then went off with Darlene to a wonderful dinner at Cafe Allegra before enjoying a 3D installment of the Hobbit movie. Next day we were back at Christy's in Madison this time. On the way out we observed these people taking their weekly plunge in the Sound.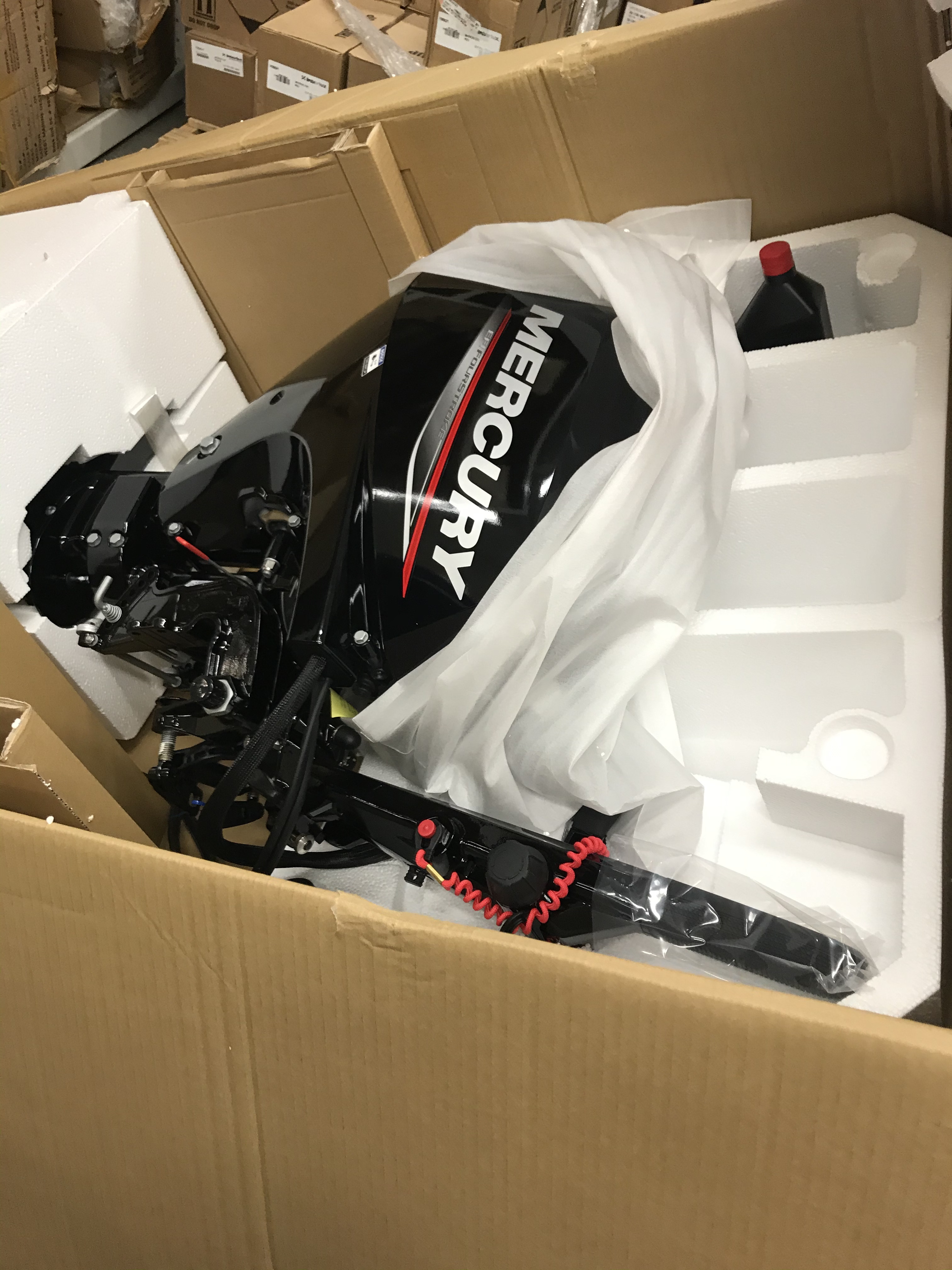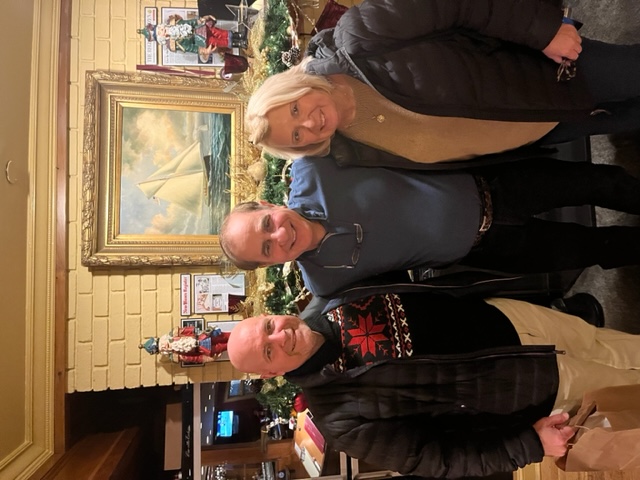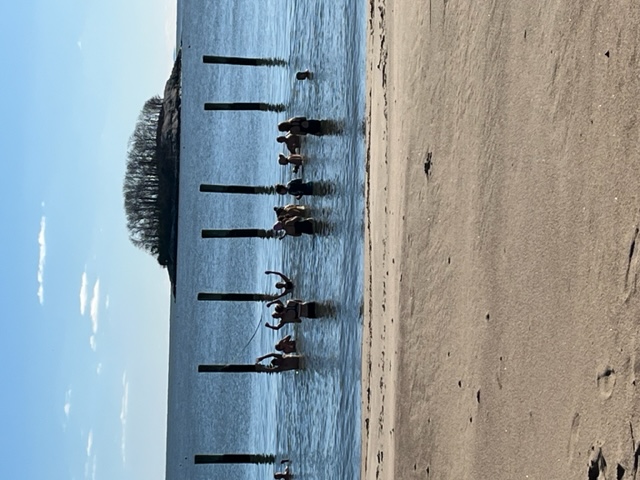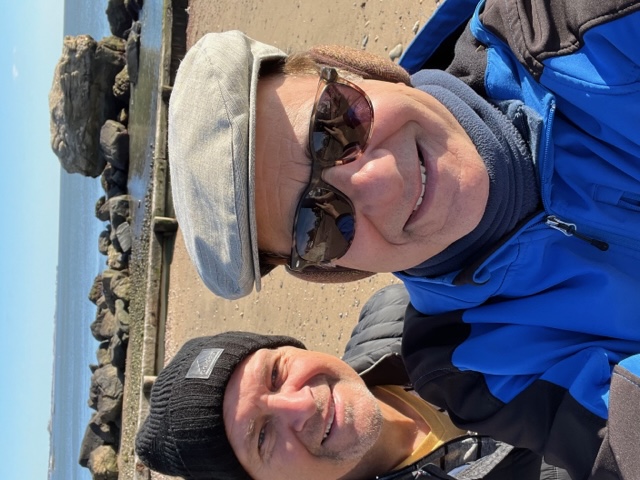 ---
Shoreline Property
We had been vacationing at different beach properties for most summers since we were married in 1989. While the RI shoreline, especially the South Kingston area was aesthetically the most appealing to us, we found that overnight or daily visitors from friends and family were few and far between. We then tried several CT shoreline areas including the Old Lyme area where I spent many summer weeks as a child. We settled on an area on the Madison Guilford border. After renting for a few seasons, in 2008 we started looking for a place to call our own. I liked the Saybrook Point area as it offered large houses with a golf course meandering through the complex. The property I like was large and dated, actually an old hotel. Each bedroom had its own bathroom complete with clawfoot tubs. As romantic as this appeal was to me, my spouse was not as interested in taking on this rehab project. We ended up buying a place on a salt marsh in an area we had been renting for about three years. Salt marshes are critical ecological environments. Flora and fauna abound. We helped contribute to this habitat by permitting and constructing an elevated nesting platform for Osprey. Here are a few photos and a video of some of the nesting Osprey.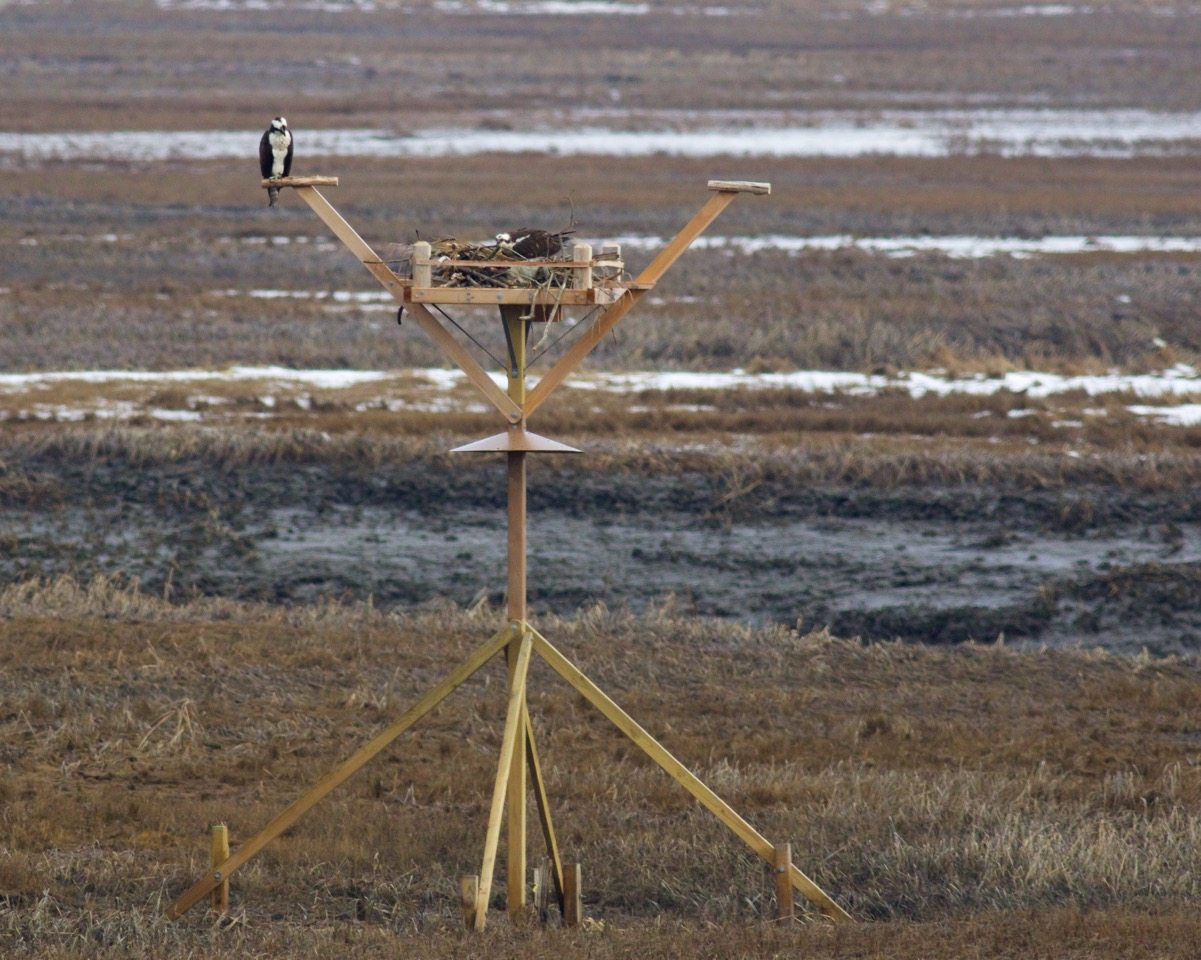 One of our friends also had a family cottage in the area which provided an attractive social component as well. Ironically a few years later, these friends disrupted this social connection when they outgrew their house and purchased a different shoreline property 20 miles away. In some ways I regretted the decision to purchase what we did, on the other hand had we not acted, we might never had done so and would still be looking today.

The area we purchased in included membership in a beach association that owned a small beach best compared to a postage stamp. As this was going to be inadequate for our needs, we undertook a project to construct an outdoor living space that would cater to the large summer parties we planned on hosting. About three years between concept and full implementation, I actually enjoyed the process. I started by hiring some designers to sketch out the concept. Some were just pen or pencil on paper but the more interesting aspect was when I hired a graphic artist in 2011 to render the concept into a three dimensional simulator. We met by chance when I attended a kind of graduation reception for a friends daughter at the Hartford School of Design. Each graduate had a booth where they showed off their projects. He used software called Home Architect. Here are two screen shots of the design prototype.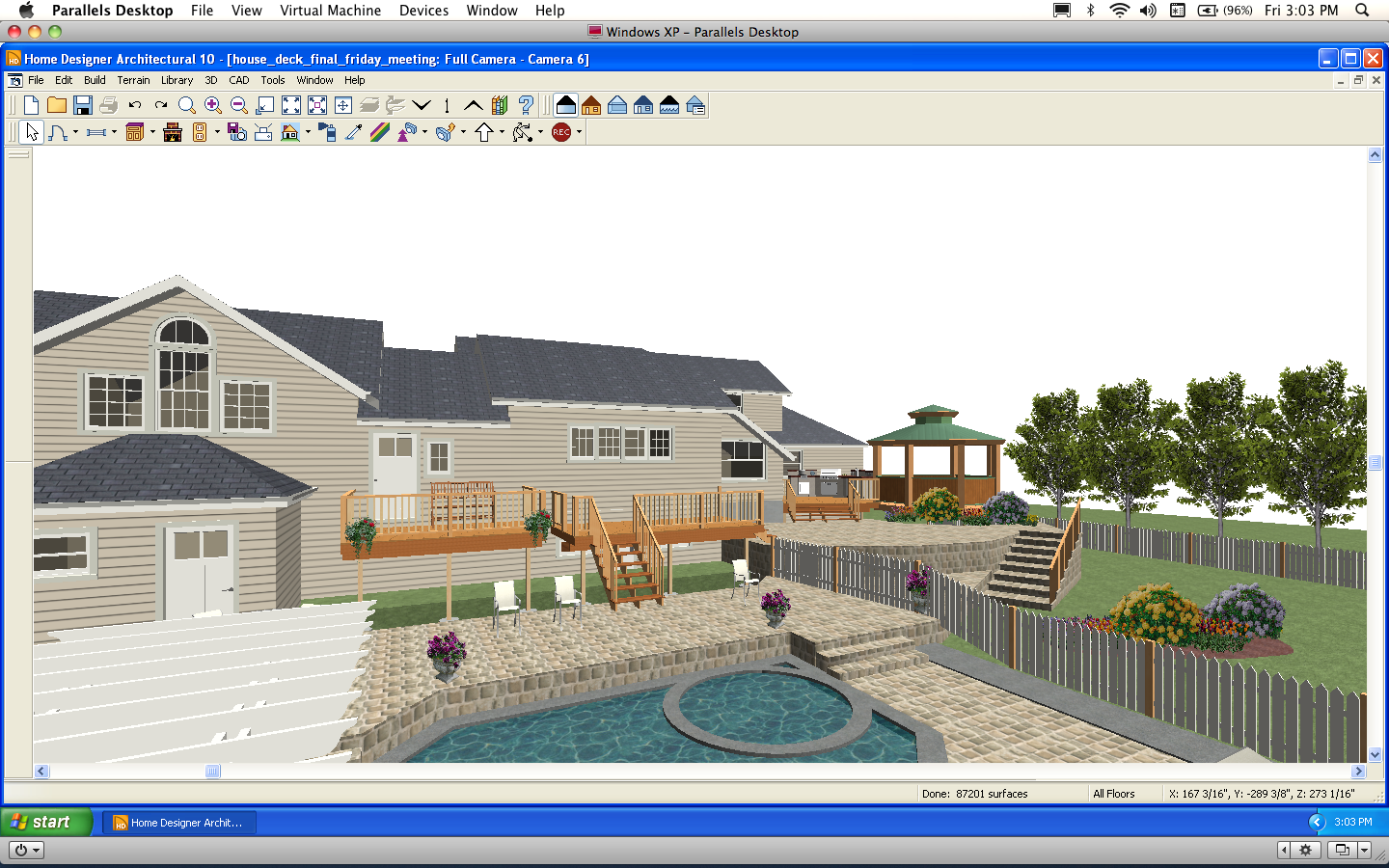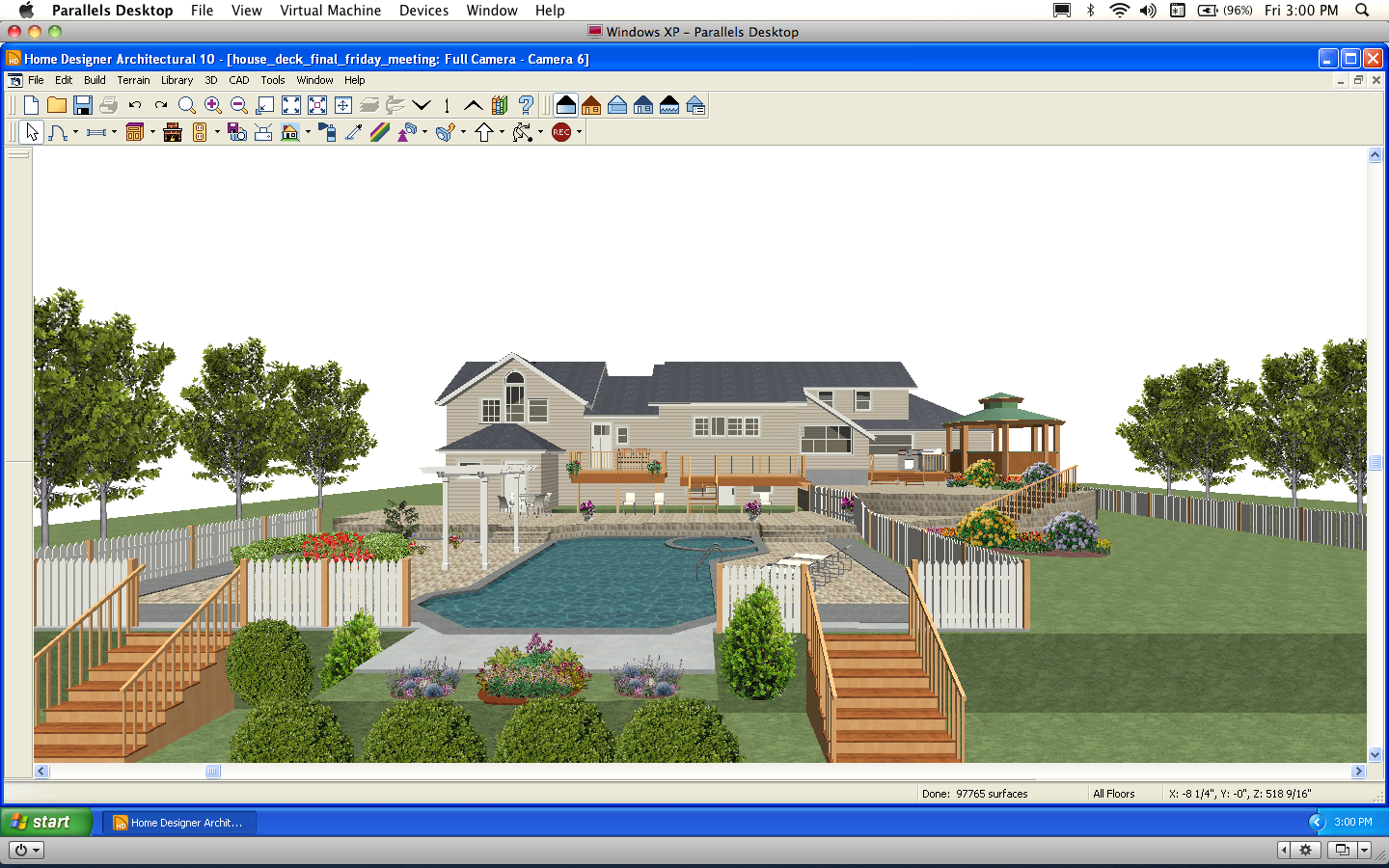 He struggled with the software but to his credit got it working including this video simulation of a walk-thru. Interactively we could actually through the computer interface "walk" around the project as well as walk inside the house and look outside through the window of what the view would look like. It wasn't exactly what we ended up with but was an important part of the design process. Despite the horror stories you hear about construction projects, dealing with contractors, etc. I had a very positive experience. Aside for one ornery electrician, all the contractors were very pleasant to deal with, they all took pride in their work, and showed appreciation for the business we gave them. In rough estimates the project cost was measured in hundreds of thousands of dollars with 1/3 going to the masons, 1/3 to the pool contractor, and 1/3 to the general construction (designers, carpenters , plumbers, gas technicians, electricians, water and septic, and project engineers). Here is a picture of the prep work being done and the Shotcrete aka Gunite being poured, more accurately being squirted out of a large hose. Notice how many workers it takes to carry the heavy hose while others trowel what is to become the hottub. They don't have much time to work it as after about 15 minutes the liquified concrete formed up to the point where they were able to stand and walk on it! That's master carpenter, contractor and friend Rich Gagliardi observing the work.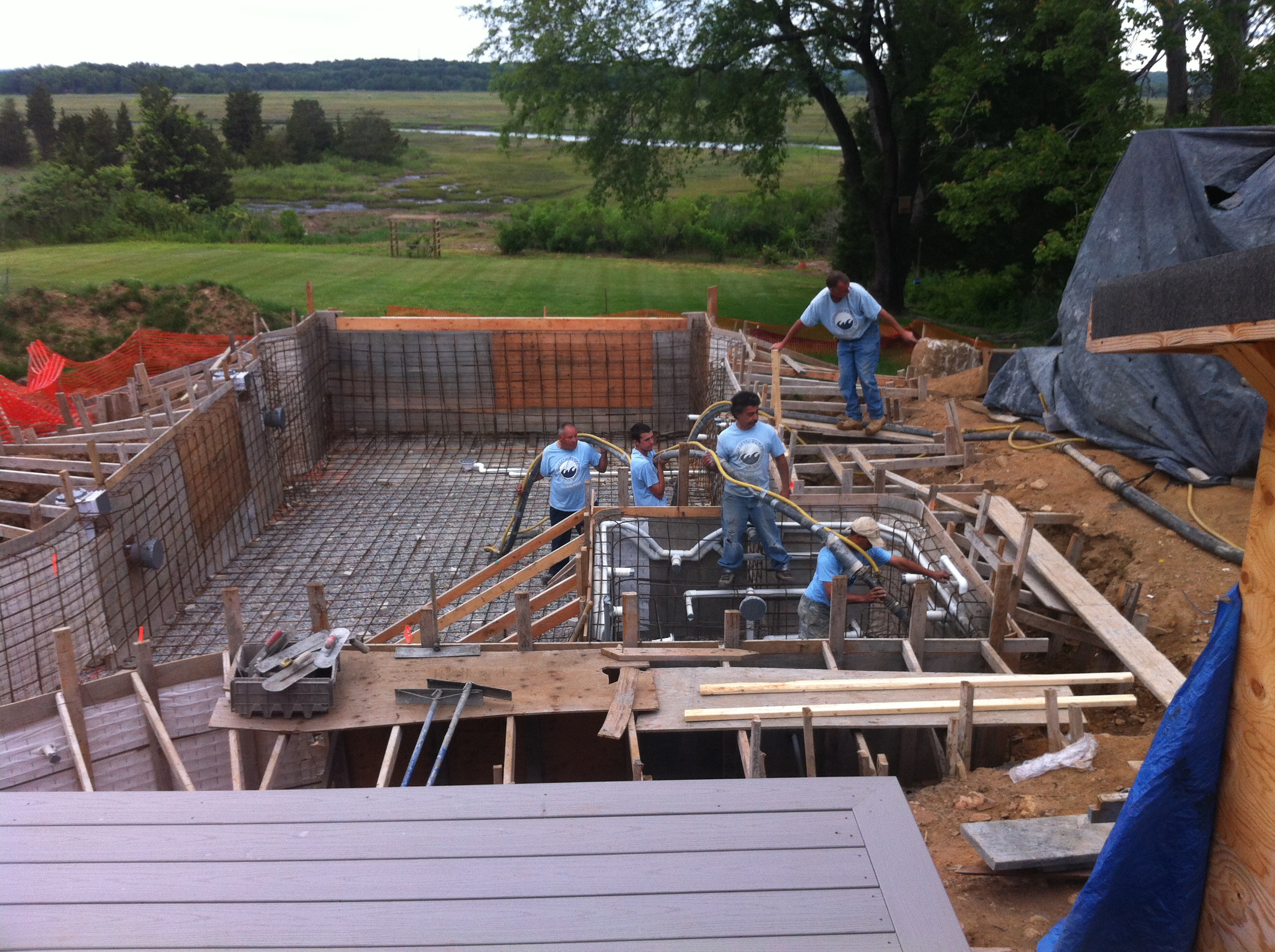 <!IMG SRC=/data/Pool-ShotCrete1-2012.jpg height=300>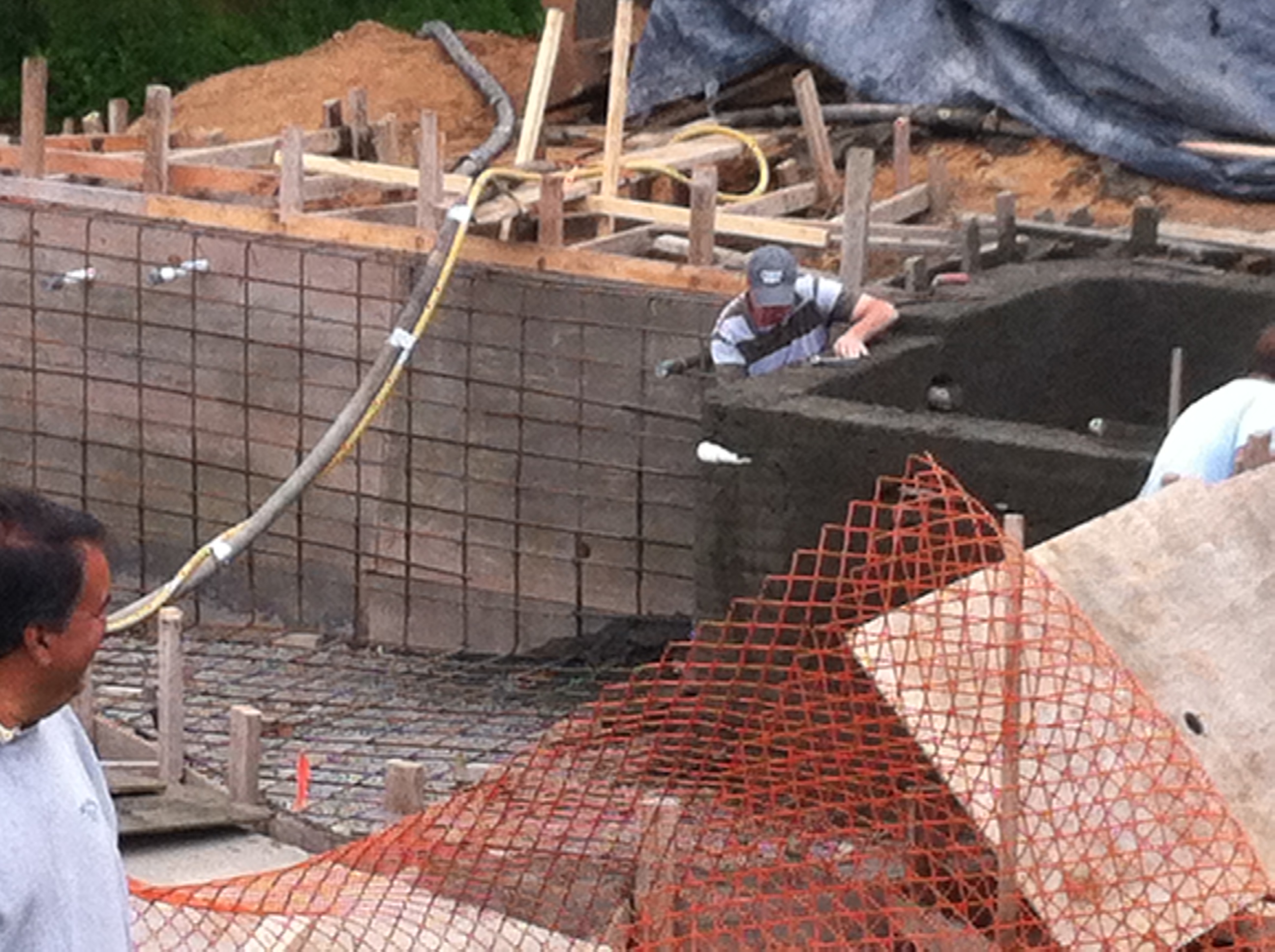 Here is a video from July 14, 2013 when we hosted our first pool party. And here we are two years later hosting the same event I always loved this photo.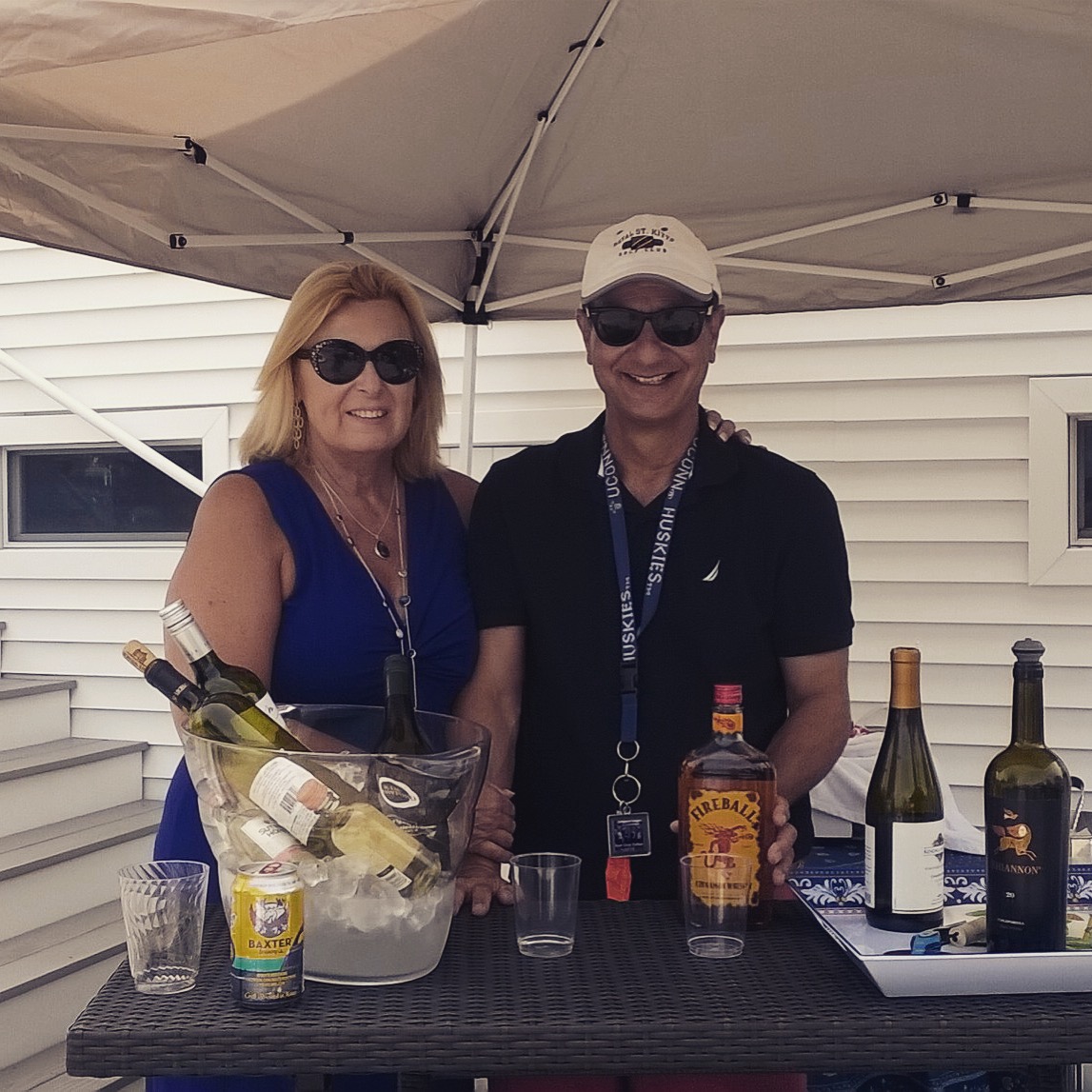 Here we are at the Chamard vineyard in Clinton with a few friends.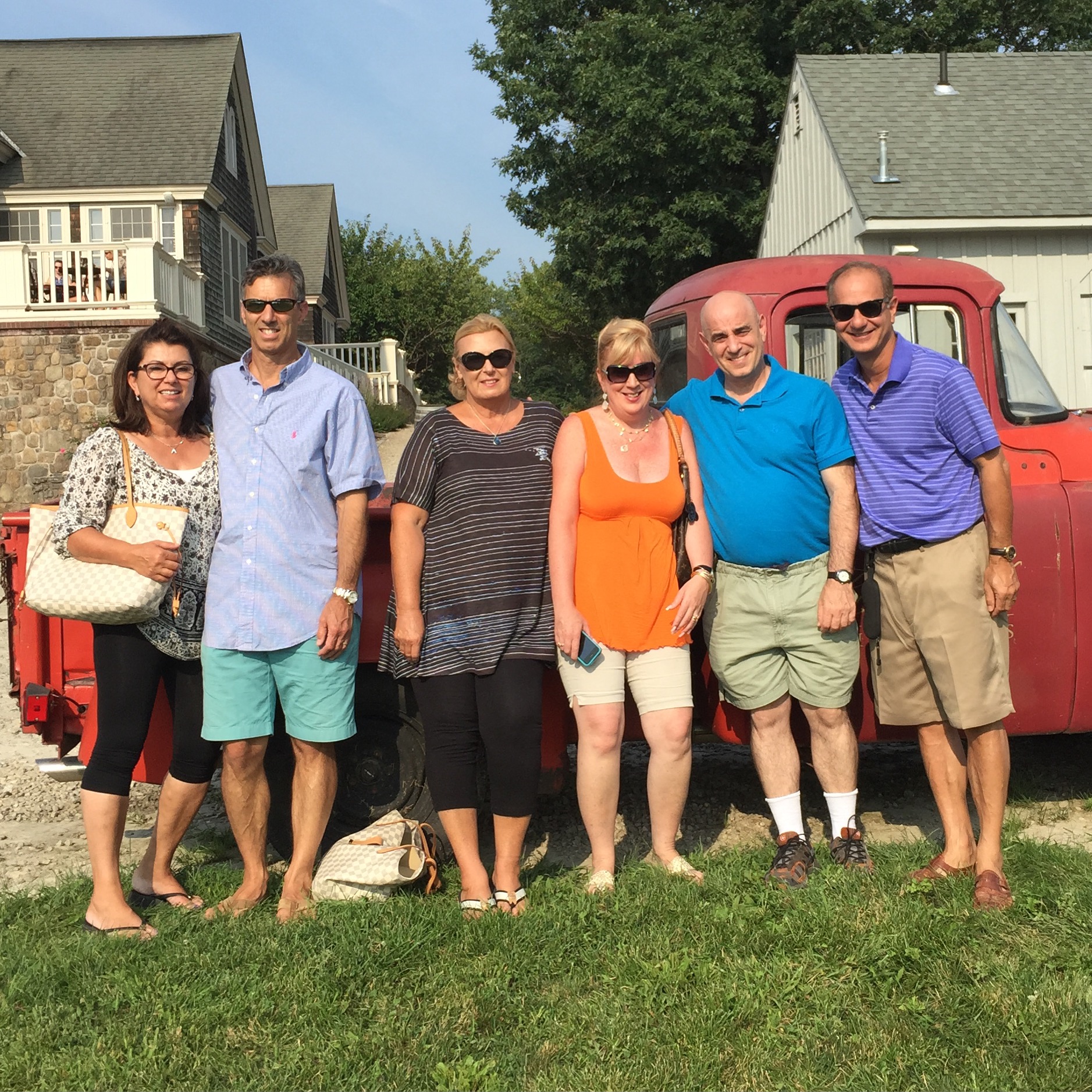 My other project was to obtain a permit to install a dock in the river behind the house. About 400 feet of marshland separated our back yard from the river. DEEP frowned on constructing a walkway for that length so I abandoned the walkway idea and got the dock built. Here's a picture of the dock from the back porch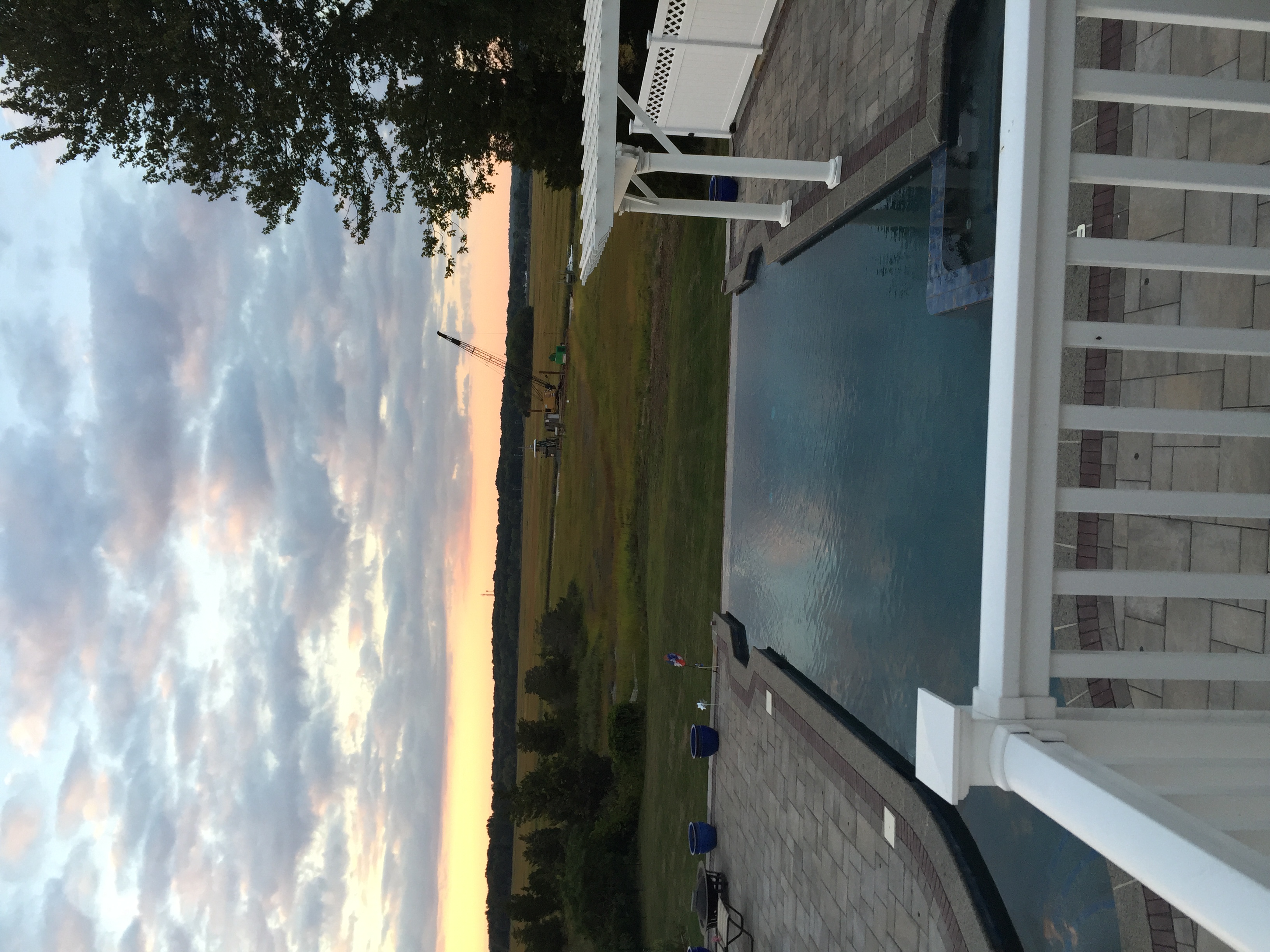 under construction featuring the floating barge that drove the pylons.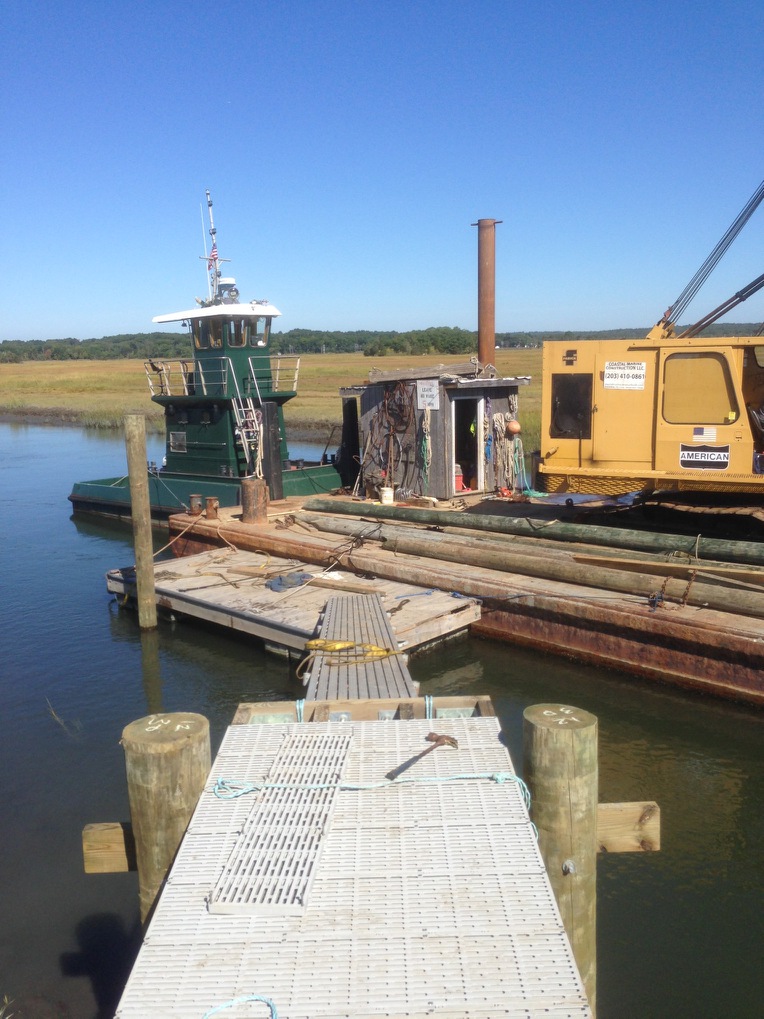 It was extremely well constructed using epay wood for the floating dock, flow thru composite for the walking surfaces, and some very large timbers that were driven down into the wetlands. Here's a video of me trying to hail whoever may be on board while the sun sets on the marsh, and at high tide the next morning. I did eventually thank the barge operator and tossed him a can of beer when I ran to the end of the street and caught him rounding the bend of the river.
Meanwhile the beach association was faced with a series of setbacks. Hurricane Irene in 2011 followed by Storm Sandy in 2012 wiped out part of the beach wall and all of the retaining wall behind the small sandy beach. Many of the homes along the shoreline were seriously damaged. The Federal government eased restrictions on reconstruction but it was still a costly restoration expense. The association also maintained two wooden groins, one adjacent to the beach to the east, and one about 60 feet away to the west. The west groin as it became known was constructed in 1969 and had become dilapidated by 1995 according to the aerial photos we had. Attempts were made in vain to restore it as it was exposed directly to the open ocean with no rocks to protect it. It was falling apart so badly, most of the members wanted to remove it just to reduce the hazard factor and many wanted to reconstruct it as well. While no actual study or expert opinions were proffered, the justification for the rebuild was made by someone who produced a hand drawing showing how the west groin preserved sand despite the fact that the beach was 60 feet away and on its downdrift side. The president of the association was in favor of the proposal, so a vote was quickly taken to approve spending money on the engineering needed to reconstruct the west groin and pursue its permit. This seemed counter intuitive to me so I spent some time over the next few months researching what groins were and how they worked. I presented my findings to the board in June 2016 and convinced them to recommend proceeding with the removal, but deferring the reconstruction. Much of the documentation and correspondence can be seen here. The other project I volunteered for was an effort to improve the condition of the roughly 1/4 acre beach lot. This was an interesting botanical research project. It was fascinating to observe the balance of vegetation change over the course of the season. Red fescue, Kentucky bluegrass, ragweed, curly dock, plantains, and dandelions, clover, creeping Charlie take their turns dominating the environment with ragweed the overall dominant variety. I did make a series of 5 videos on the topic you can view here. Lot Investigator Videos 1- 2- 3- 4- 5. While I dd have some success with chemical treatments of the beach lot, the majority opinion was not to spend $5 on the effort. The lesson for next time is not to run a committee without a defined objective and more importantly a budget to spend! The next committee I joined is a capital allocation group who has a charter to do long range capital planning (25 years). The large capital projects include rebuilding the west groin, maintain the east groin, reconstruct the roads (about 1800 linear feet), and maintain the sandy beach, portions of a sea wall, rock abutments and a stone retaining wall. I constructed a calculator specific to these projects.
---
Family
I have a wonderful extended family, some of whom are no longer with us. Here is a video of my Dad from his birthday party Jan. 26, 2013., and a year later with a few of us around. Here is brother Craig in one of his happier moments making a split in bowling at Darlene's birthday party March 16, 2013. Here he is coaching son Douglas through a strike at the same event and again with some crazy antics he was known for. Here's two of the last photos from the fall of 2014 of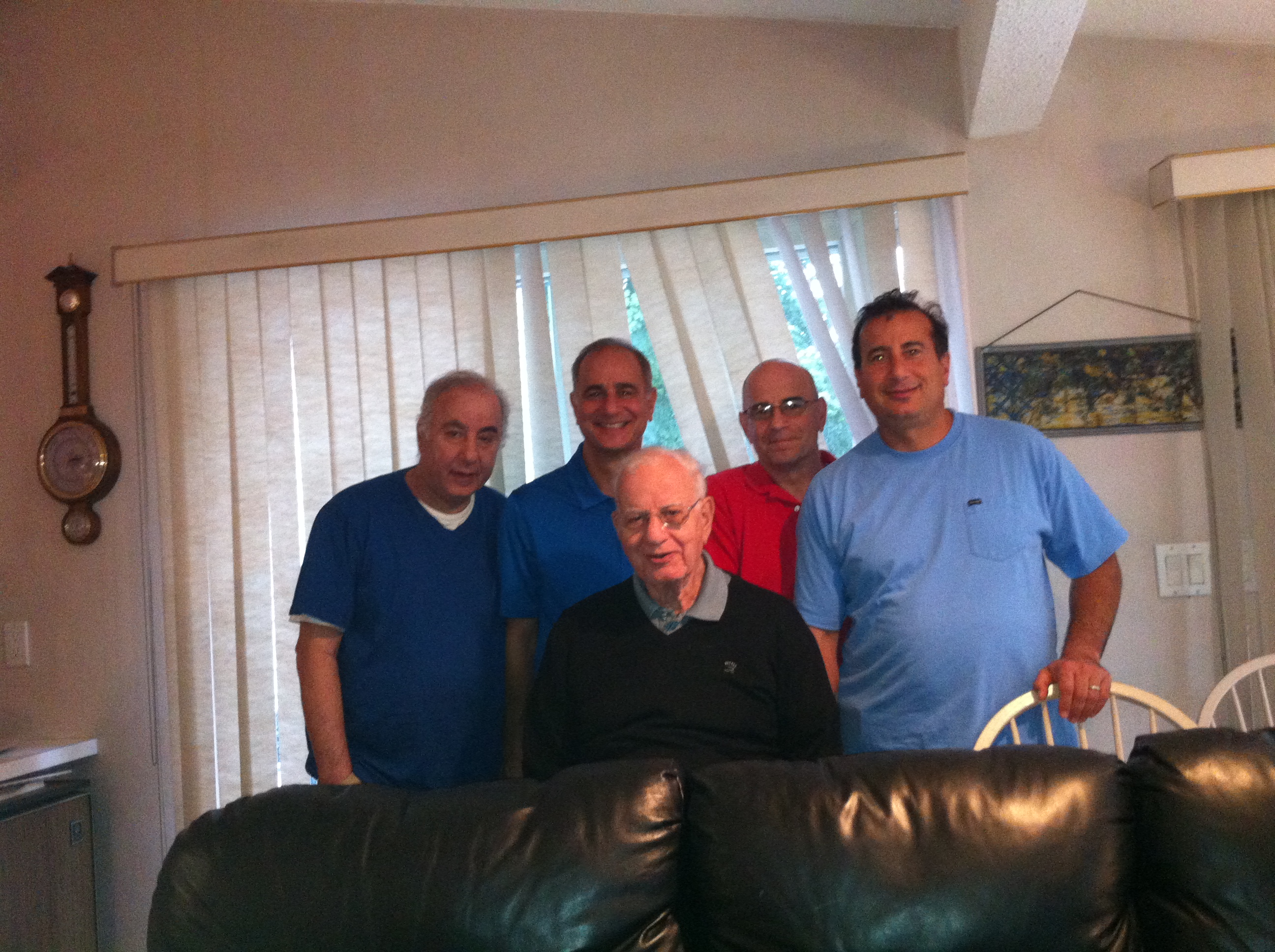 Dad with his
4 sons when we were mostly healthy and finally Craig at his birthday party in 2014.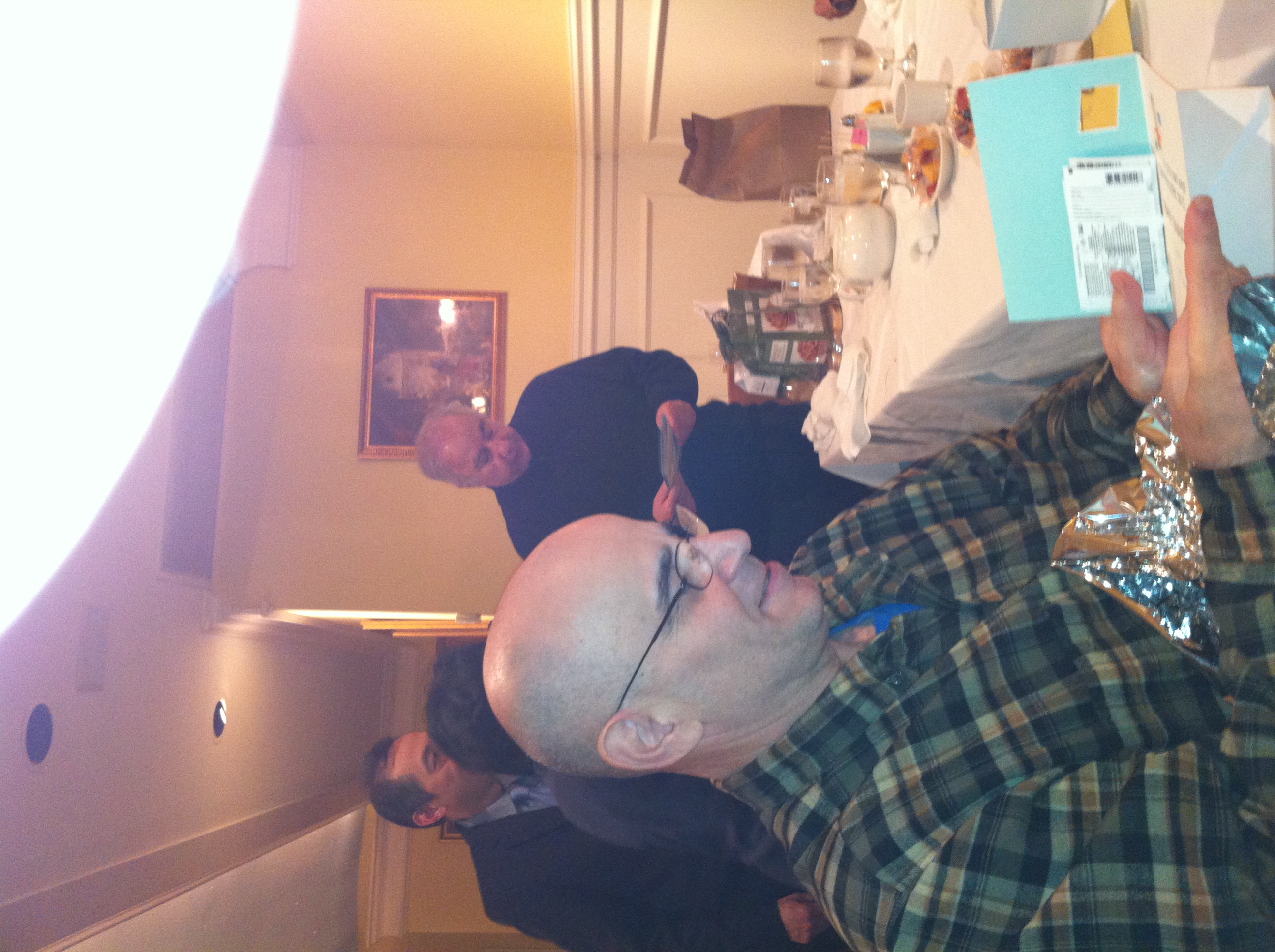 and seemingly enjoying a new beginning in the new year.
, and with me as the Godfather of the cross with his fellow deacons.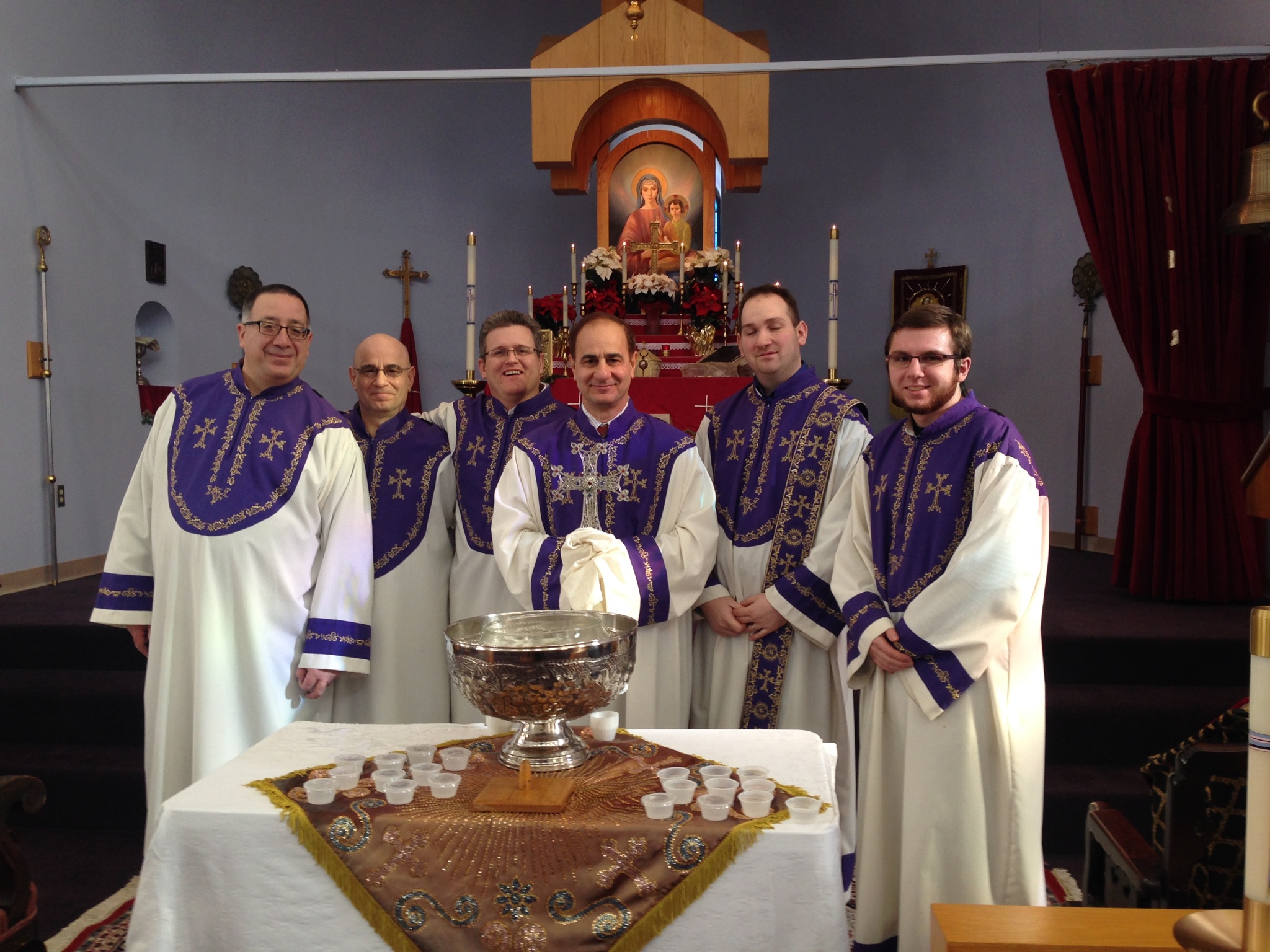 and a funny winter image a few weeks later.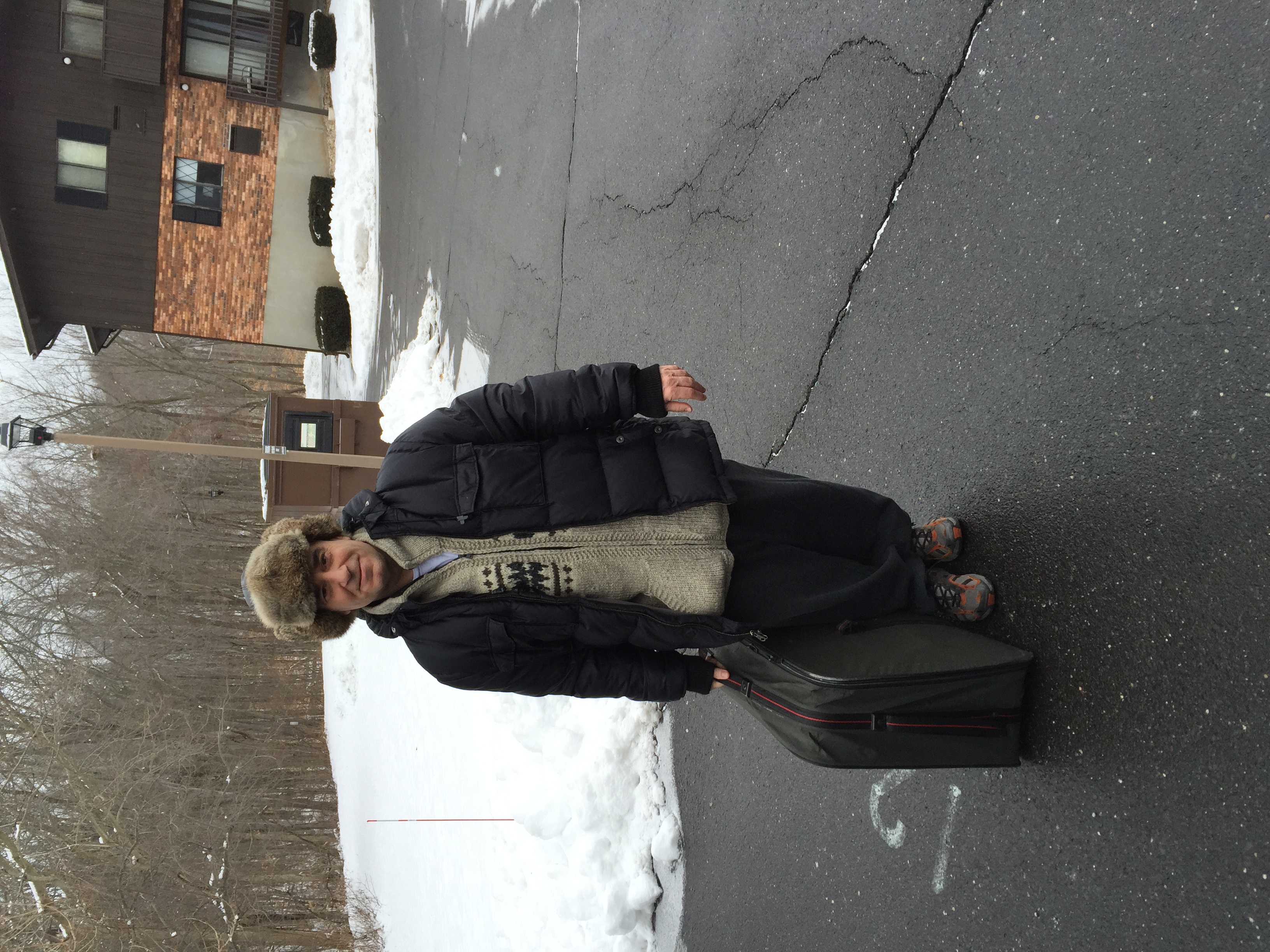 . Here's a gathering of a few Simonians at Uncle Georges 90th birthday party in July of 2015.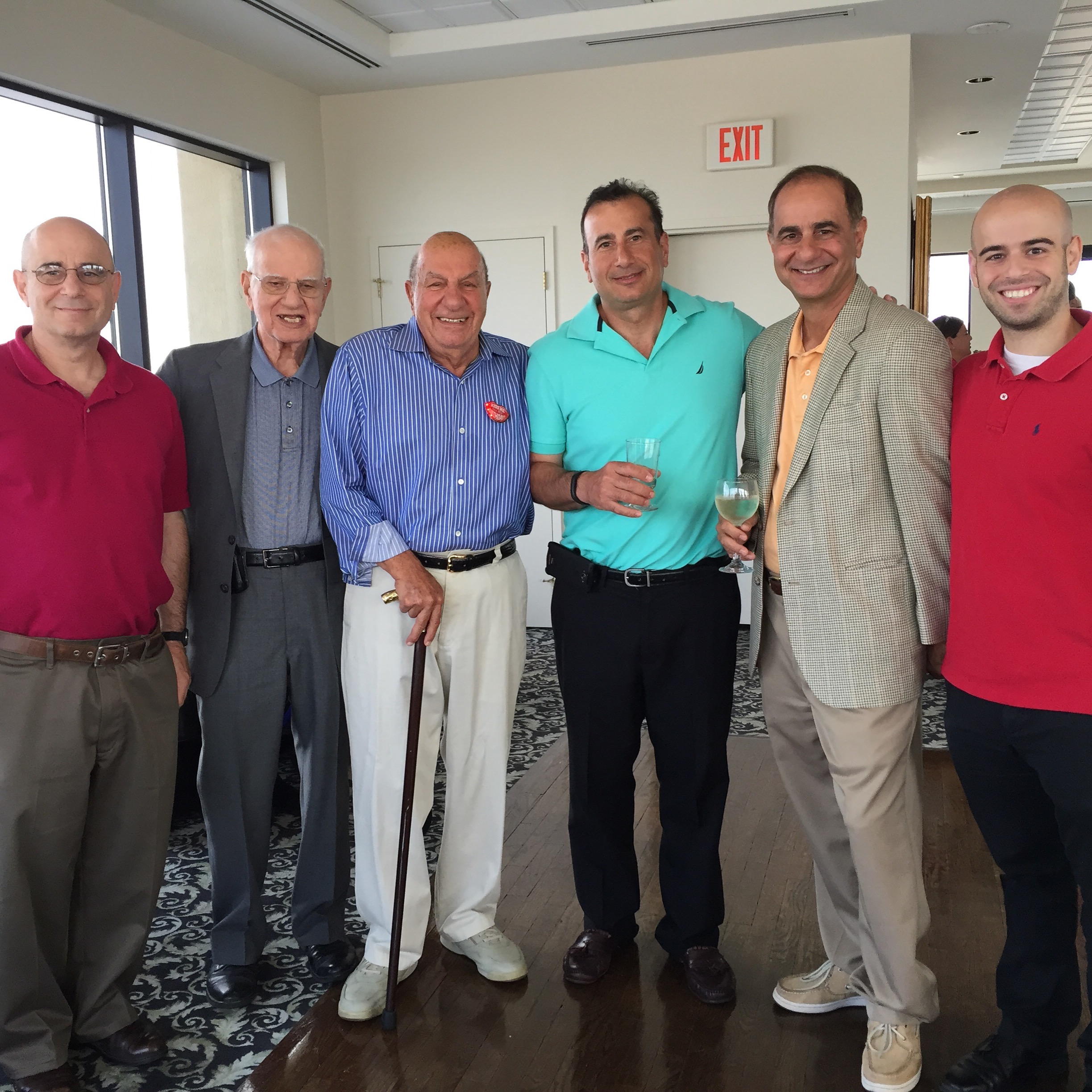 along with a few of Dad and Georges kids and grandkids.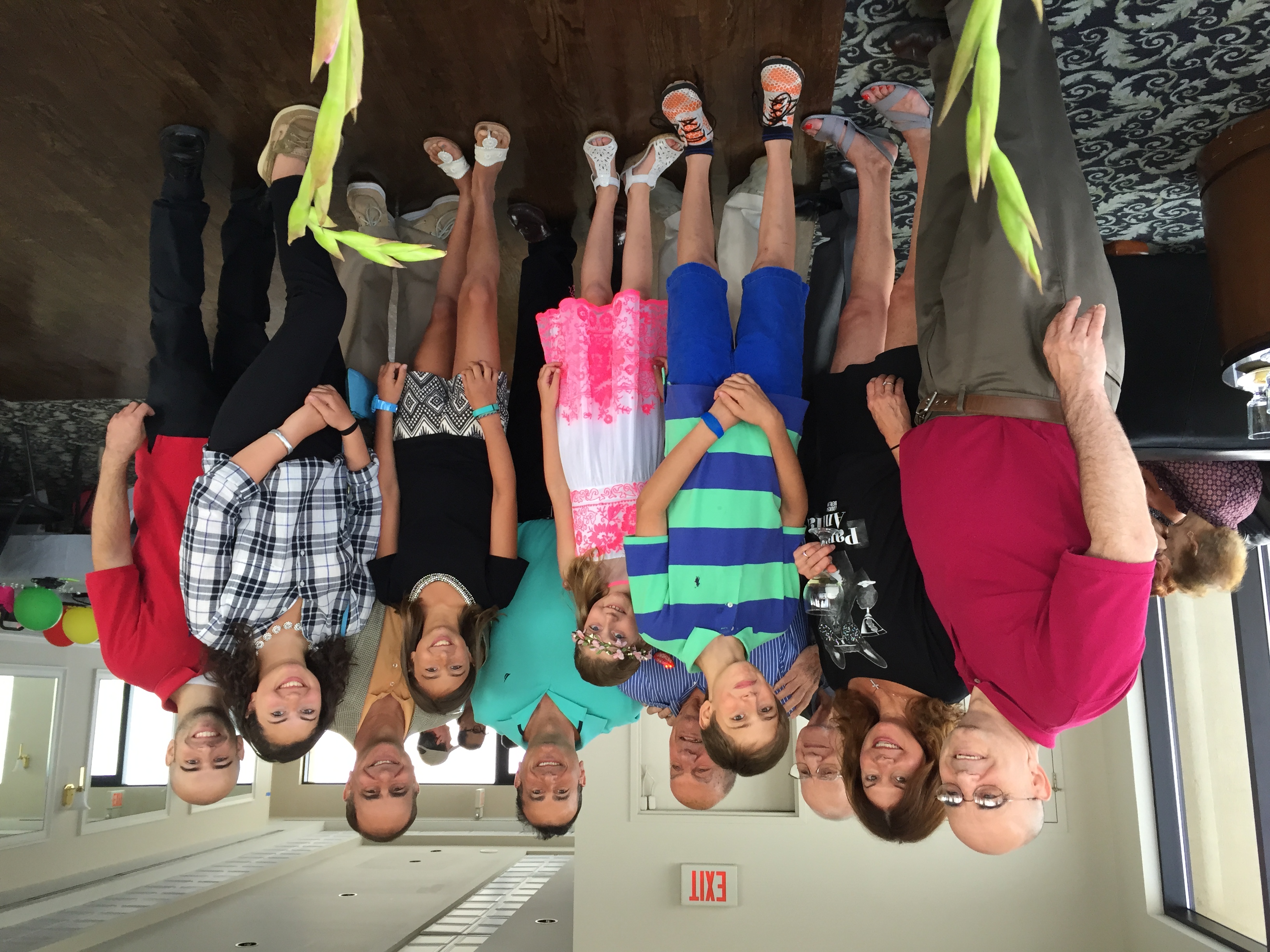 Here is some family history on my Mother's side of the family. Here's one of the only known photos of me with my Mom's Dad, Joseph Yessian, circa 1956. and on the right at cousin Debbie's 1st birthday party, circa September 27, 1958. That's me center frame, brother Mark to my right, brother Craig across from me and cousin Lee in the foreground. So at this point in time, Grandma Rose Vartouhi Yessian had 5 grandchildren.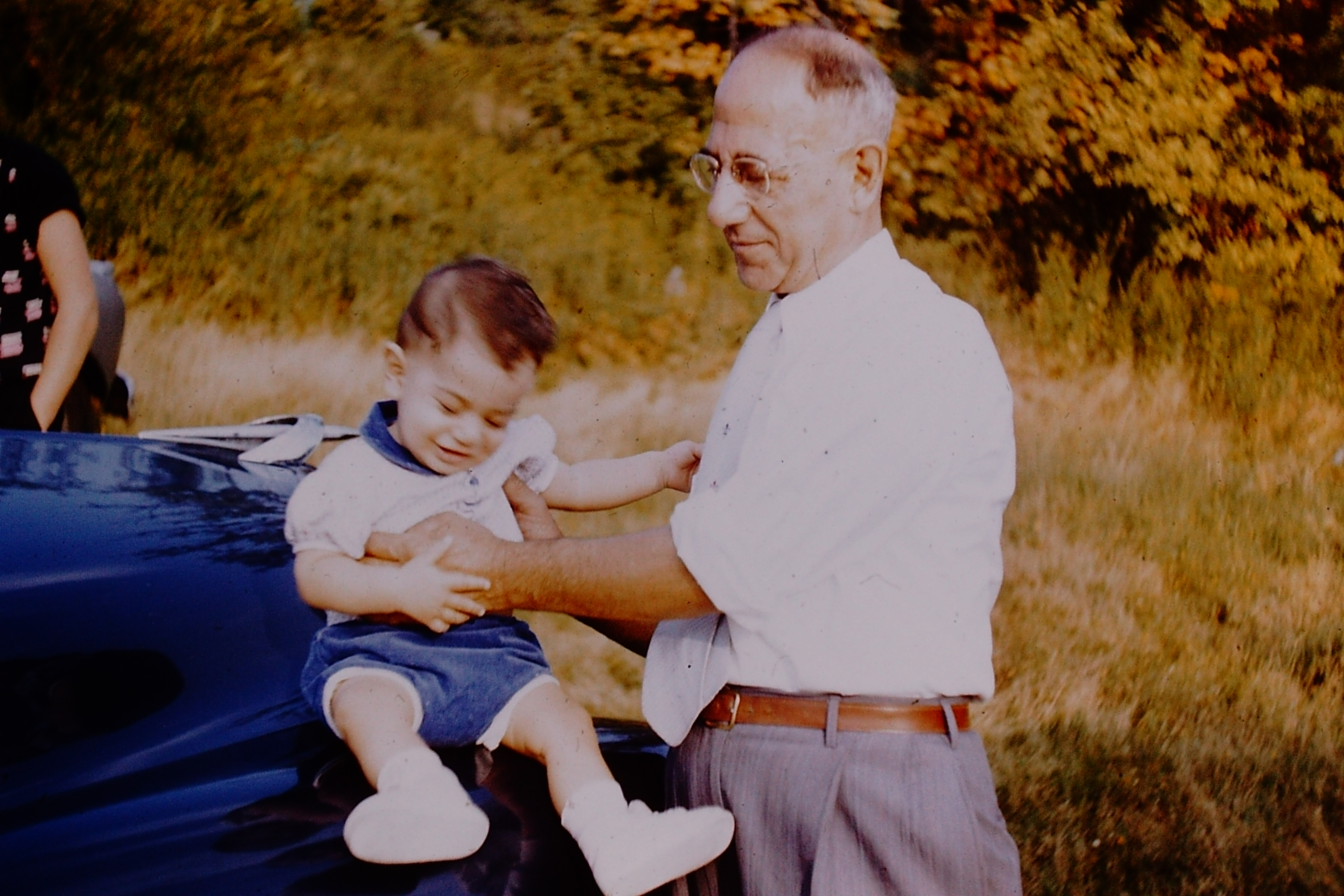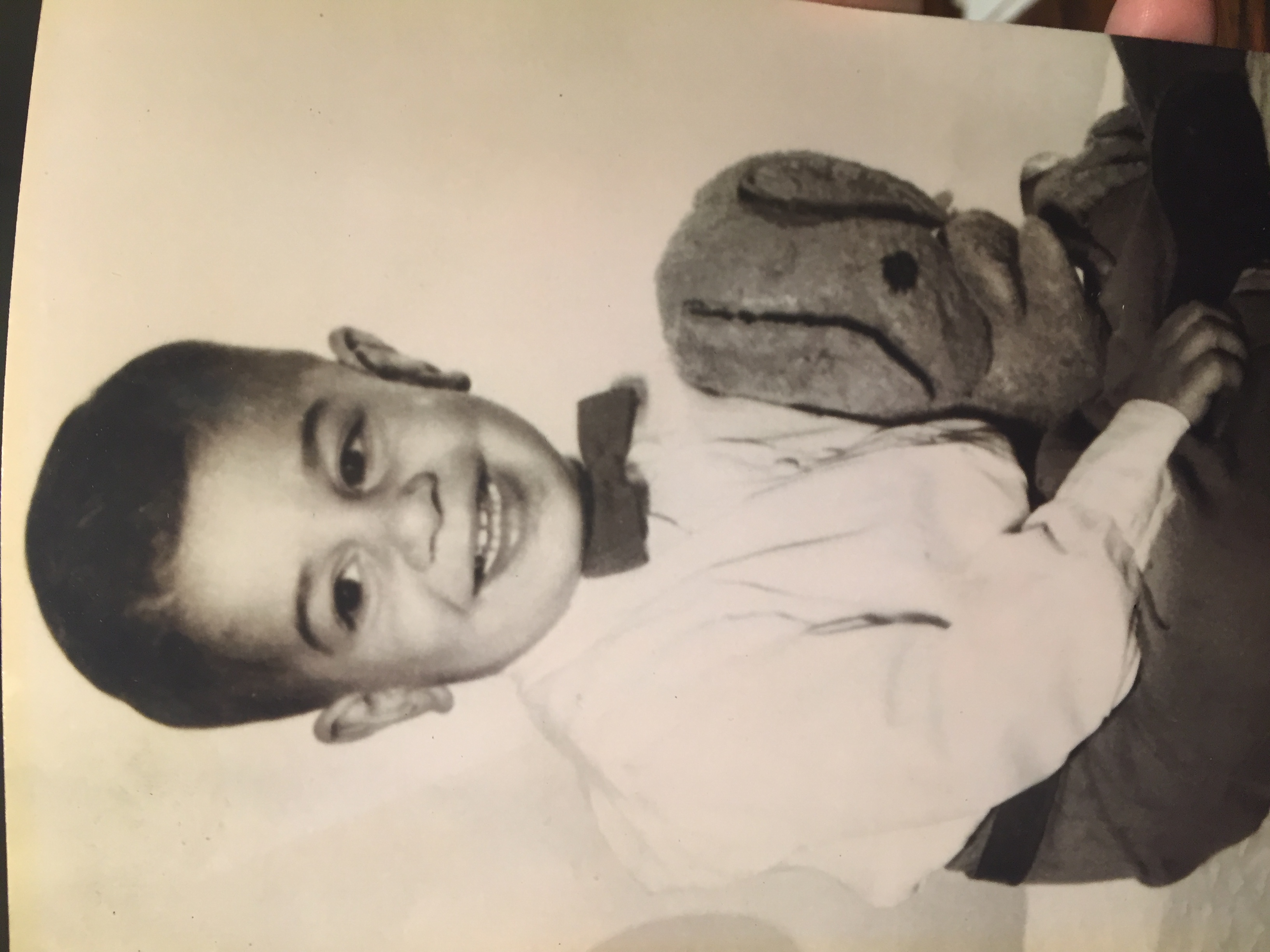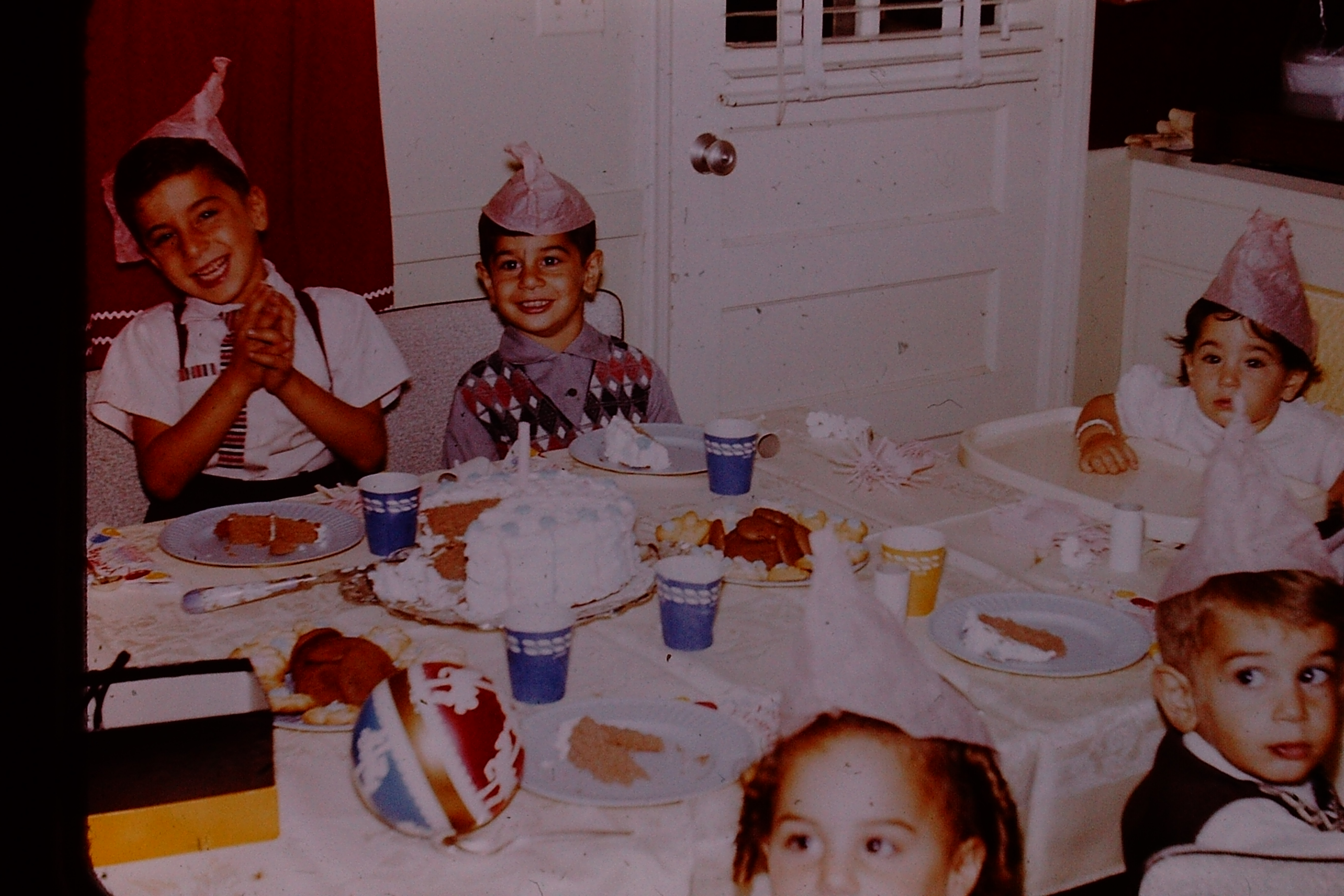 Here is a video some from the 1964 Christmas Party, Armenian Church Of The Holy Resurrection, courtesy of Gary & Donanld Azarigian who recovered this 8mm record from their uncle Harry Azarigian's archives. Look carefully and you will recognize many familiar faces including. The static photo is Armen Bagdigian. At 42 seconds that's brother Craig in suspenders enjoying a treat. At second 44 is cousin Lee in a red skirt and white top seated next to Linda Hoosigian. Ed Haddad appears at the 1:01 mark. I appear at the 1:10 mark with arms outstretched about to jump off the stage. That's Sharon Vartanian hugging Mary Ann Ohanian at the 1:30 mark with Sheila Mosey jumping in to join them Cheryl Hoosigian joins at the 1:48 mark. Long haired Linda Ohanian in a yellow dress appears at the 2:01 mark. Brother Mark in a brown jacket is at 3:46. Later on you see the "older" generation, Betty Vartanian at 7:15, Arshall Hoosigian at 7:19, Granda Vartoohi possibly at 7:28, Berj Kallajian at 7:31. Santa who is played by Harry Azarigian walks past Lu & Art Simonian at 7:41. Alice Bagdigian gives a big smile at 8:06. Sheila again playfully scolding someone smoking a pretend cigarette. Cousin Debbie Maljanian in a blue dress with white sleeves and matching headband has a cameo at 8:35. Susie Maljanian appears in the final lineup right at 9:10.
Fast forward to the present, here is my Mom playing Vartan at our 2021 Christmas party. Sister Roxie is leading the dancing.
---
Cycling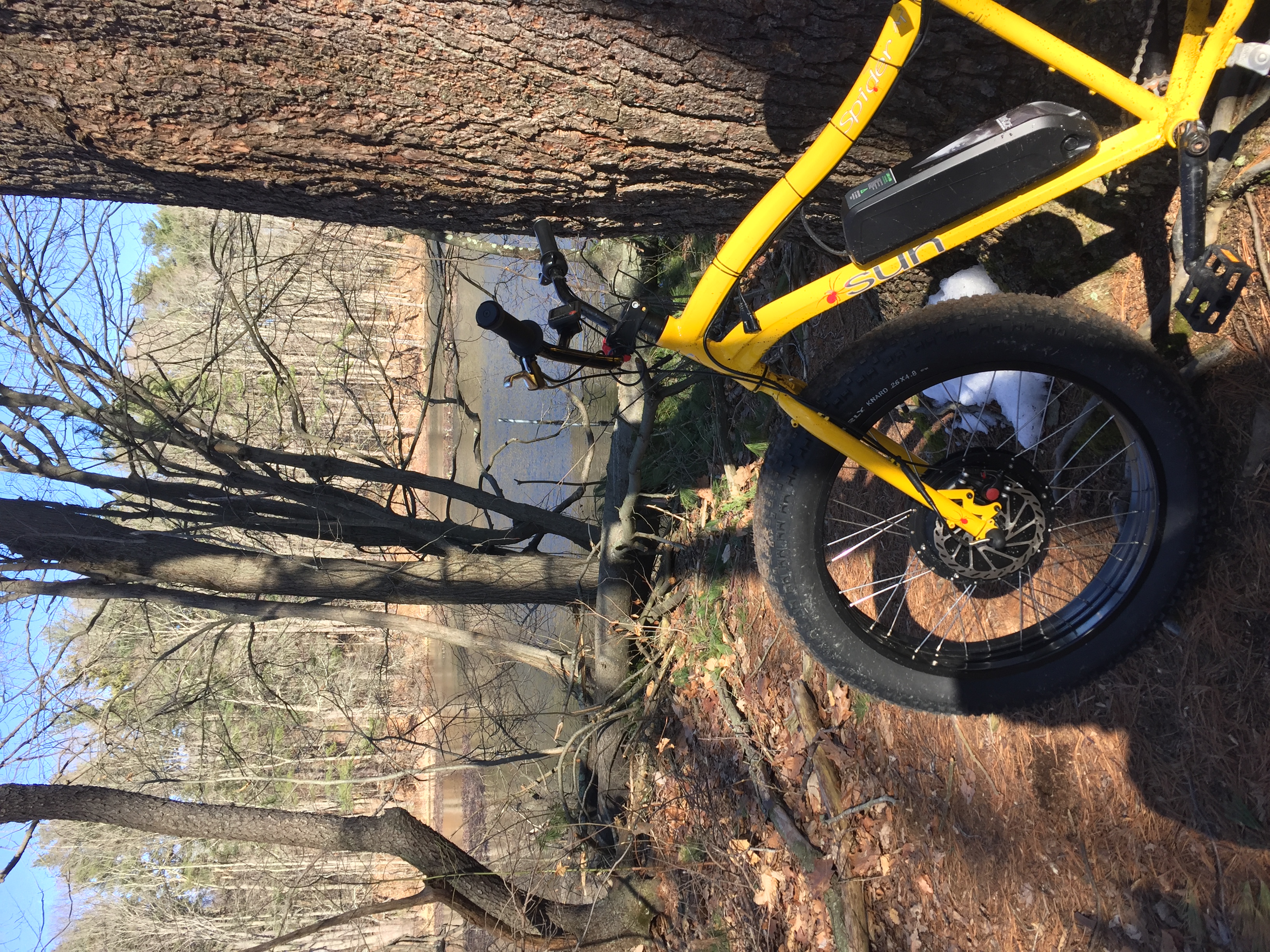 Everyone rode bicycles as kids as did I. It was a great way as a kid to explore our surroundings with my childhood friends. My first recollection riding was my father teaching me how to ride. We didn't use training wheels. We lived on a steep hill called Country Club road. Dad would run alongside of me holding the bike vertical while I pedaled and worked on my balance. My recollection is that I learned in one day how to ride. Dad was running alongside of me when I realized he wasn't holding me upright any longer. He slowed down while I kept going and just said, "Ok you've got it! ". Our next house was more suburban. There were houses around a block and a half dozen kids my age or my brothers ages we played with. Bikes got us quickly from one house to the next. Each yard had its preferred use. Gary Napierskis back yard was ideal for softball or touch football. Our house had a tree fort built inside an old and very large maple tree in the middle of the yard. Here's a photo of the tree fort.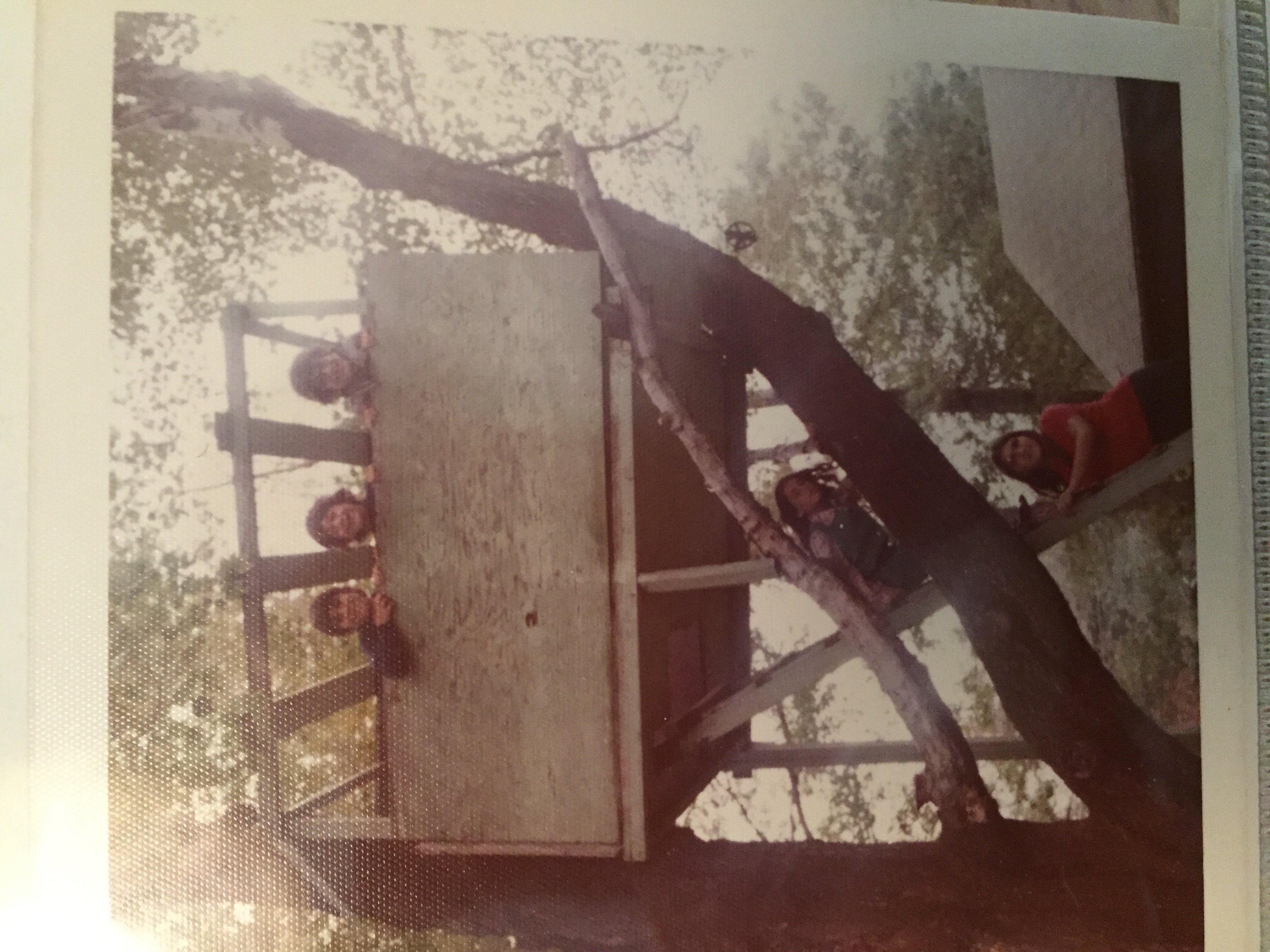 This provided for hours and hours of fun for me from the age of 9 years old and up. In front of Feigenbaums house was a flat section of road well lit that was the kickball venue. My friend Tony has an inground swimming pool that the new owners still use today, 60 years later. We rode our bikes to the college to watch football games. We rode to some dirt hills where we played army. We rode to the Belvedere pizza shop to get grinders and to Max's five and dime to buy silly putty and candy. Even to the drug store next door where they sold us cigarettes we said were for our mothers. In 5th and 6th grade we rode our bikes to school stopping at Mel's garage on the way back to buy 5 cents worth of red pistachio nuts from the vending jar. No one had or used a bike lock. The concept of locking your bicycle was foreign to us. At the schoolyard we would just leave them on the ground or lean them next to a tree. There weren't any bicycle racks anyway. Here's a photo with a sting-ray bike which is what someone might ride to school in the mid 1960's.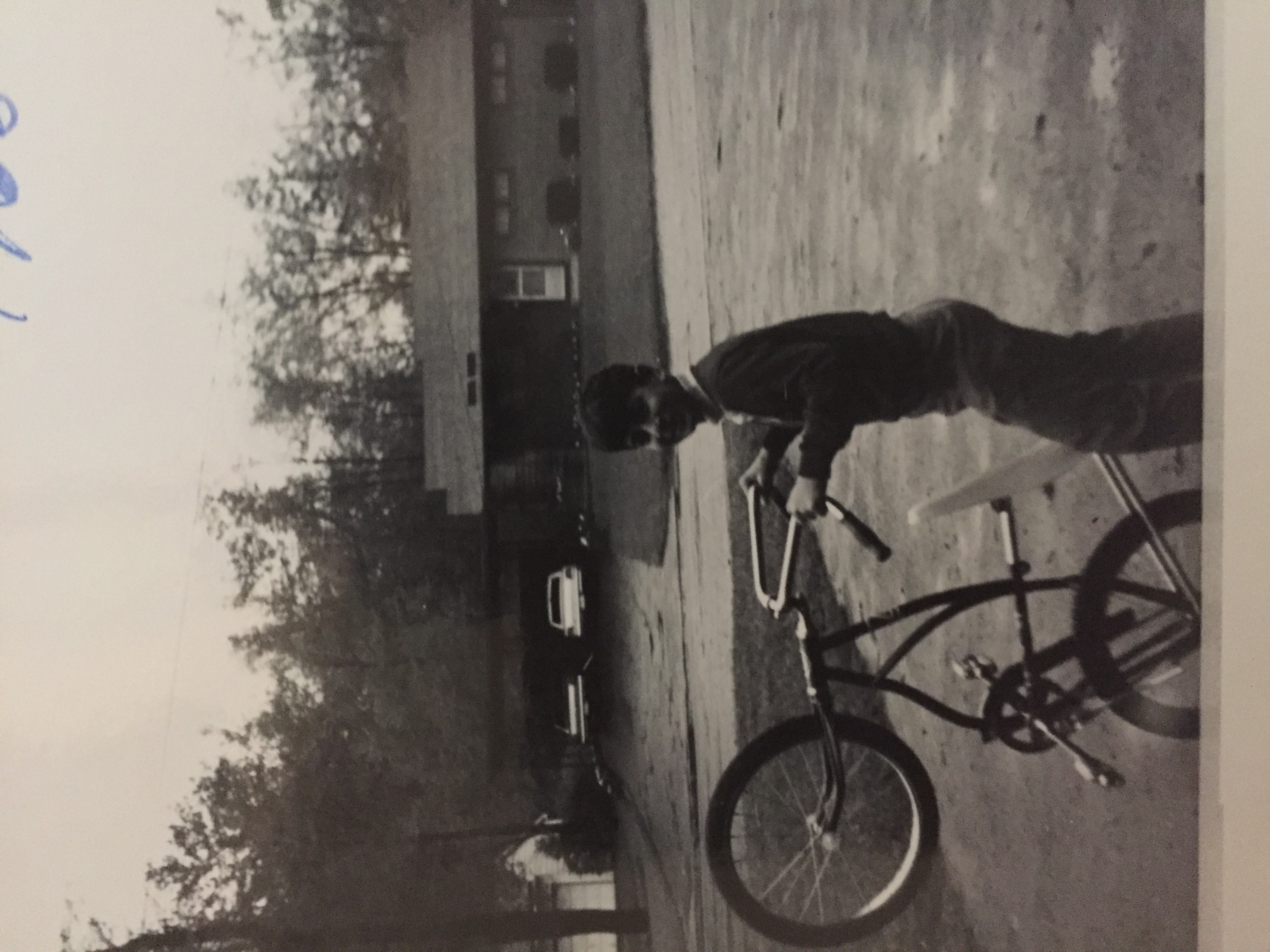 We also rode or jumped repeatedly over the air tube in front of the fuel pumps that rang a loud bell inside the garage until Mel himself came out shouting at us the send us off running and laughing. During the summer as young teenagers we rode to the park to meet our friends at the tennis courts where sometimes the girls would show up as well. Here's me on a bike from that timeframe.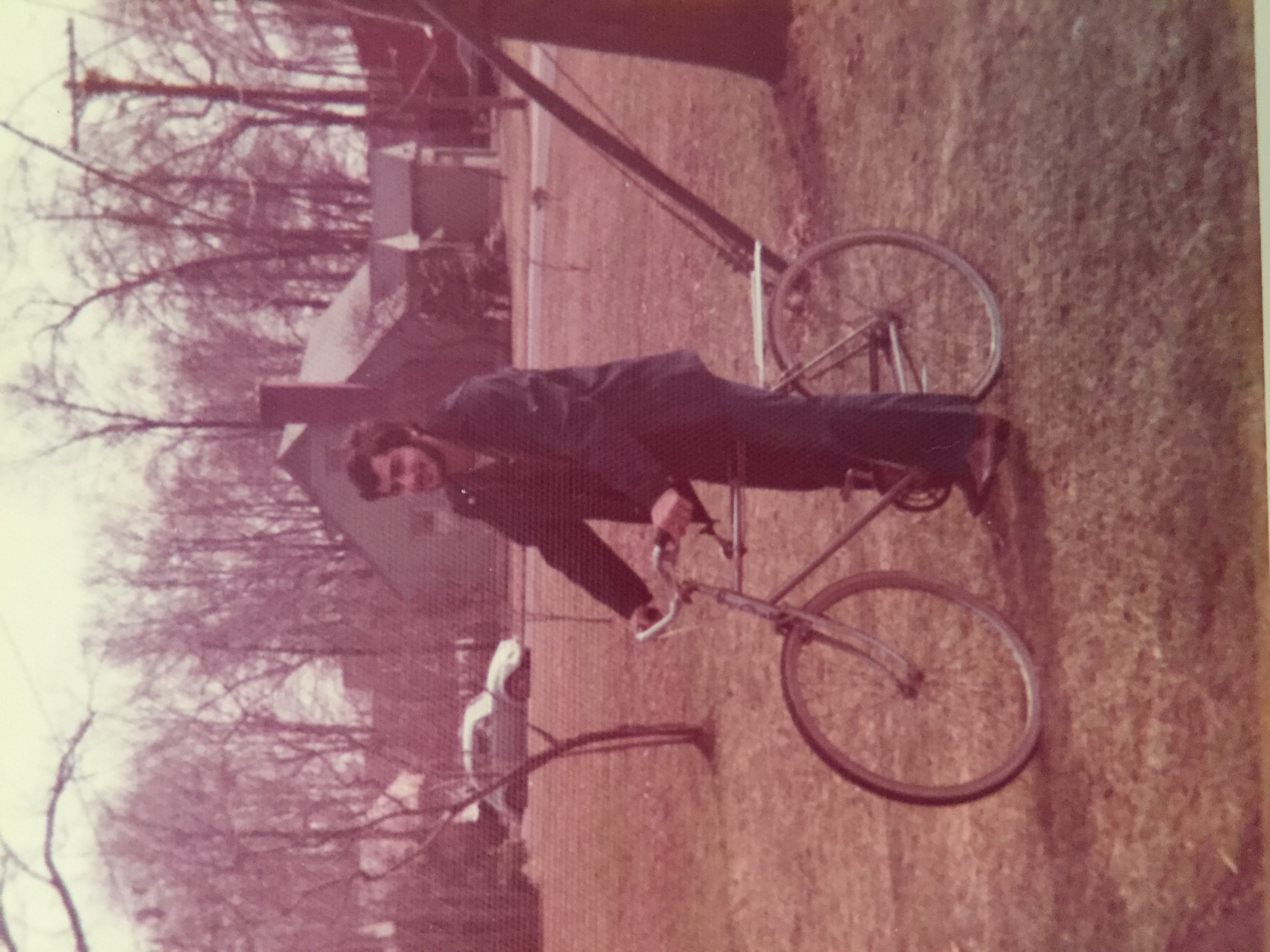 During high school we had a bike club. I recall showing my classmates how to replace a tires, patch inner tubes, adjust brakes and gear derailers. Three of us did quite a bit of riding, predominantly as I recall riding in the wintertime. We rode 10-speed bikes, Schwinn, Raleigh, and Peugeot were the top brands. As long as the roads were relatively dry we would take long rides in the countryside and around the reservoirs in the area. Fast forward to present day, my latest foray into cycling was turning two fat tire bikes into electric bikes, one in 2017 the other two years later. Along the shoreline I wanted a cycle with two wheel drive. This would get me through sand and surf when I rode along the shoreline, and through snow patch when I took to the land trust trails in the wintertime. The first bike I converted was a two speed Sun Tour Spider cycle. I found the bike at a Berlin area bike shop and bought it used for next to nothing. I purchased a motorized 1000 watt fat tire front wheel, controller and battery pack from a company called Luna Cycle. Here's a video of one of my winter jaunts using this setup. The two speed hub was limiting what I could do. Once I engaged the motor, I couldn't pedal fast enough to keep up. I looked into upgrading the hub to a multi speed. Found out the German made Rohloff was top of the line. A 14 speed hub would set you back $1400. Shimano makes one called a Nexus which comes in 7 or 8 speeds. I ended up purchasing an 8 speed Sturmey Archer (remember the old 3 speeds?) hub and sprocket kit. My plan was to upgrade the Sun Spider bike, but I soon learned that the rear hub of this bike and frame were designed with a unique beveled sprocket so that a replacement hub was incompatible with that design. I ended up donating the hub I bought so the nice people at Zanes bike shop could put it in one of their charity cycles. Zanes dedicated bike mechanics, I ended up customizing a new Specialized fat tire bike that had two cranks so I had plenty of range to work with. Greg there mated the steel fork and electric front hub I had onto the Specialized frame. Now I have a much lighter fat tire cycle with plenty of pedaling range for my off road ventures. Here I am a year later in March 2019 with another off road winter jaunt this time with the customized Specialized cycle.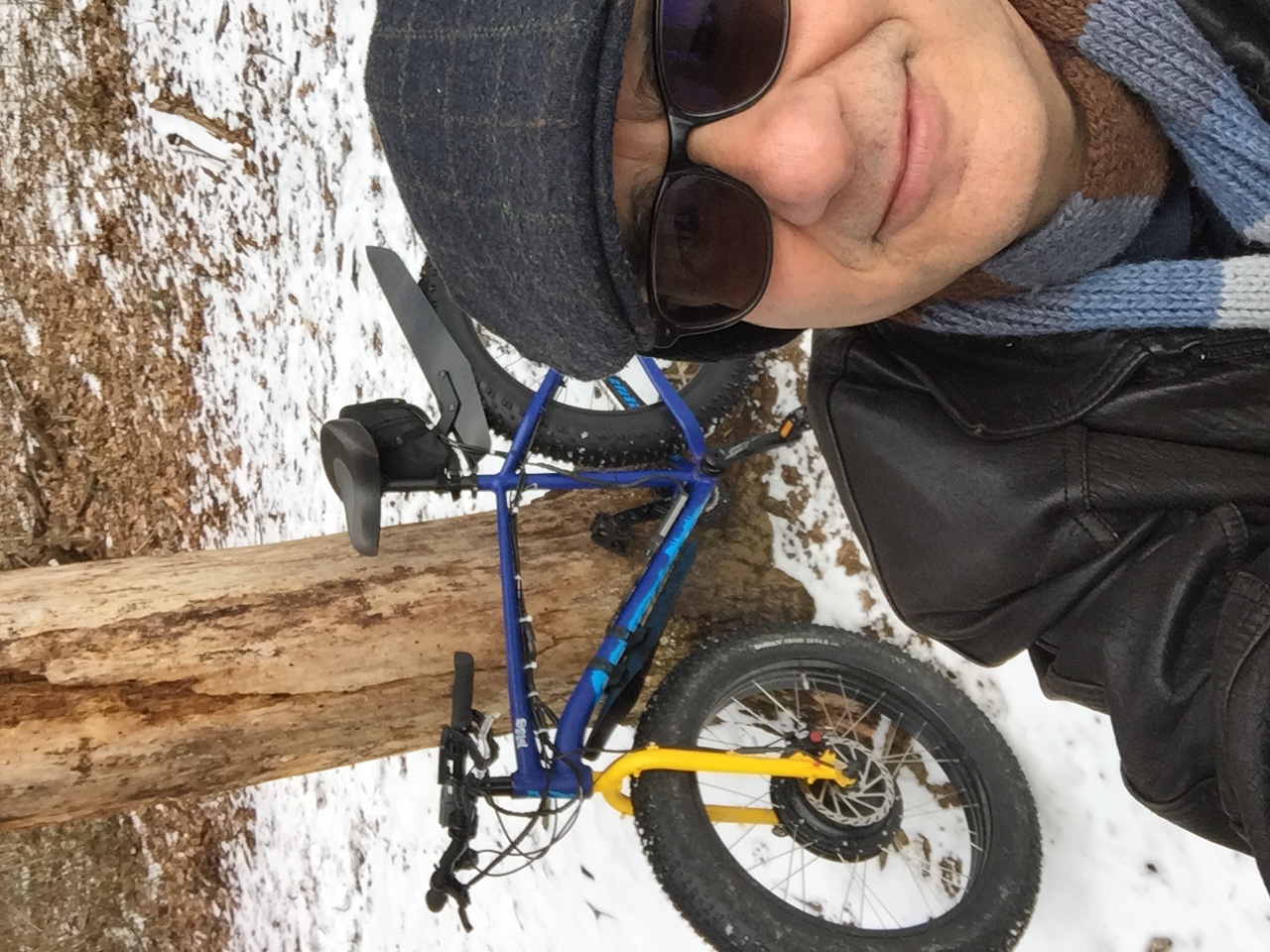 More recently in October of 2021, 6 of us had a cycling and hiking jaunt to Hammonasset Beach. We started at the nature center lot then cycled down to the beach. Leaving the bikes we hiked out to Meig's Point along the rocky shoreline. We returned to enjoy a nice cookout followed by some laughs around the fire pit.
Go-Carts & Mini-Bikes
Driving cars for me was a natural progression after building and working on go-carts and mini-bikes. The motors that powered go-carts and min-bikes worked on the same principals as the motors in cars. They were also the same ones that powered lawn mowers. My best friend and neighbor Tony Morris and I worked on lawn motors as well. In fact a very early business venture for the two of us was repairing small motors for our neighbors. They probably realized that keeping us busy repairing their lawn equipment was the best way from keep us away from wreaking havoc riding up and down our neighborhood streets in our latest two or four wheel creations. We also learned pretty quickly that making friends with real mechanics and welders was a necessary ticket to keeping your contraptions on the road. On these pursuits, speed was the ultimate goal, so excess weight and metal would be excised away, as were such other unnecessary add-ons including air filters, high limit speed governors, and of course mufflers. There were not a lot of moving parts on mini-bikes and go-carts. The motor was typically a horizontal shafted 4 cycle motor. 3 1/2 Horse Power was the entry level drive, anything greater was a bonus. The motor was connected to the rear drive wheel by a simple device called a centrifugal clutch. This device allowed to to sit at idle without driving the rear wheel. As you applied throttle, the increased RPM's spun the spring loaded clutch inside to engage the sprocket which engaged the rear wheel. A throttle and cable was nice to have, but often times, especially when building or testing a new bike or cart, just reach down or back and control the throttle by hand. Brakes could be a a hand gripped cable or as simple as a pad that rubbed on the wheel when you pressed down with your foot. I don't recall ever seeing a drum brake, some of the bikes we rode had disc brakes. Shock absorbers came with a manufactured rig, like one from Rupp. The go-carts tended to at least start out as retail purchases, most of the mini-bikes were just tubular frames that a welder threw together and was bartered or handed down from one scrappy pre-teen boy to the next. The seat was typically a rectangular pad of foam rubber covered in vinyl. I learned a lot of valuable lessons on mini-bikes. Safety for example. It turns out an ignition kill switches and mufflers did serve a very valuable purpose. At my ripe age of 12 years old, I learned this valuable lesson one day at the expense of my somewhat younger 7 year old neighbor Ira Feigenbaum who to his misfortune eagerly took his turn at being my passenger for a quick ride around the block. Here is what happened.
I was showing off my mini-bike with a new chrome gas tank installed on top of my rig by giving rides to the kids in the neighborhood. Unfortuanely the gas line wasn't quite as secure as it should have been as I took young Ira for a ride. Much to our dismay, about halfway around the block now travelling at top speed, I looked down to notice that the gas line has come free from the carburetor. Fearing the worst for the both of us sitting on this gasoline time bomb we were both sitting atop, I grabbed Ira with my left arm and applied what passed for a brake as best I could. Still rolling I shouted in his ear repeatedly saying, Ira get off, get off! Maybe he didn't understand me or illogical request may have just caught young Ira by surprise. He was hanging on very tightly enjoying this speed thrilled ride of his life. Maybe he was just holding or or maybe he did hear me and was not going to volunteer to remove himself from his joy-ride. Either way he had a very tight grip of the handlebars. Did you ever try to pry a determined 7 year old loose from a seated position in front of you with one hand? Quickly I weighed my options. Abandoning my first objective of simply getting Ira to get off, my next thought was to keep riding with him until the carburetor ran dry. Even my 12 year old brain knew that sitting atop a sitting fireball was going to be slightly better than sitting atop a moving one. So I slowed us to a stop in the middle of Dennis Drive. Remember how I mentioned that speed robbing devices like mufflers were anathema to Tony's and my objective of speed at all costs? Well it turns out that a muffler also serves the purpose of spark arrestor. While hot exhaust spewing below was not enough to ignite the gasoline dripping on our legs and feet, the next backfire certainly was, which is exactly what happened. Just as I thought we were home free, a backfire popped and ignited the fresh fuel that had been dripping dow. We were free of our two wheeled chariot but were both very much on fire. Miraculously, I managed to smother out the fire on us, Ira's left shin was the largest casualty. Within a minute nice shiny chrome tank now sat in the middle of the road with a 10 foot tower of fire coming out of it. Ira ran home to be tended by his mother. While people can be loving and passionate, at the scene of this disaster I learned that people can be dispassionate and selfish as well.While I don't recall the one neighbor who emerged at the scene asking about our condition, I do recall that he most emphatically prevented my from taking some top-soil he just had delivered to put onto the flames of my buring relic! I did visit Ira daily afterwards while his mother Gladys tended to his burn. To her credit she never raised her voice or showed any anger or blame towards me. She know that my lesson was best learned by leting me feel the guilt and witness with my own eyes what his burn looked like and how he winced when she applied the antiseptics and burn cream to his wound. To this day I still recall every detail of this accident and the aftermath as clear as if it happened yesterday.
Cars
I did progress to working on cars. Let me regress to driving for one moment. I do remember probably age 5 sitting on the lap of my father and uncles Greg and Paul grabbing the wheel, I mention this in passing to remind you that back then seat belts were either non-existent or optional and a 21st century child seat would have been considered cruel punishment for a child riding in an automobile by the standards we had in the 1950's and 1960's. The first car I recall driving without parental intervention was when I was about 12 years old. Back to friend Tony Morris. Tony's sister Roseanne, like Tony was rather spoiled by Mom Anne & Dad Julius. For Roseanne's birthday, they surprised her with a brand new 1964 Mustang Coupe. It had a six cylinder engine with a manual transmission. They kept it in their garage to keep it safe. Well on several occasions, the garage door opened and the gearshift placed in the neutral position. This allowed it to be rolled out of the garage, down the driveway, and with young hands and legs engaged, it could be pushed away to quite a safe distance before the starter was finally engaged and the six cylinders roared to life. To our credit we did not venture very far or hit anything solid enough to leave a mark. Learning to drive at night with a manual transmission can be quite challenging. At that age a large challenge was seeing over the steering wheel, reaching the pedals and being so far removed from the road surface to make intelligent decisions. I do recall having a lot of trouble dealing with the concept of stop signs. What was the point? Why stop at all when there weren't any other vehicles at the other intersections. Besides scofflaws like us would be in a much larger world of trouble if we were confronted by law enforcement. With that perspective, the idea of stopping at a red octagonal sign was a rather trivial matter. The picture you see above is me standing in front of our two family cars at the time. The car on the right is a green 1964 Ford Falcon. I did learn to drive that car as did my brother Mark. It had a three speed transmission with the gear shift on the column. The car on the left is a 1967 Mercury Colony Park. This is the ride that took the six of us to California, and seven of us back in the summer of 1968 on a three week extravaganza. Mark was old enough to drive so we had three drivers in all. Stops included the Fireworks factories in Ohio, Mammoth Caverns in Kentucky, the Budweiser Factory and Arch in St. Louis, Petrified Forest in Arizona, the Mormon Tabernacle and Choir in Salt Lake City, Haight-Ashbury in San Francisco, Desert Jeep riding with relatives in Apple Valley, California, a few very special days with the Donabedian cousins in Los Angeles.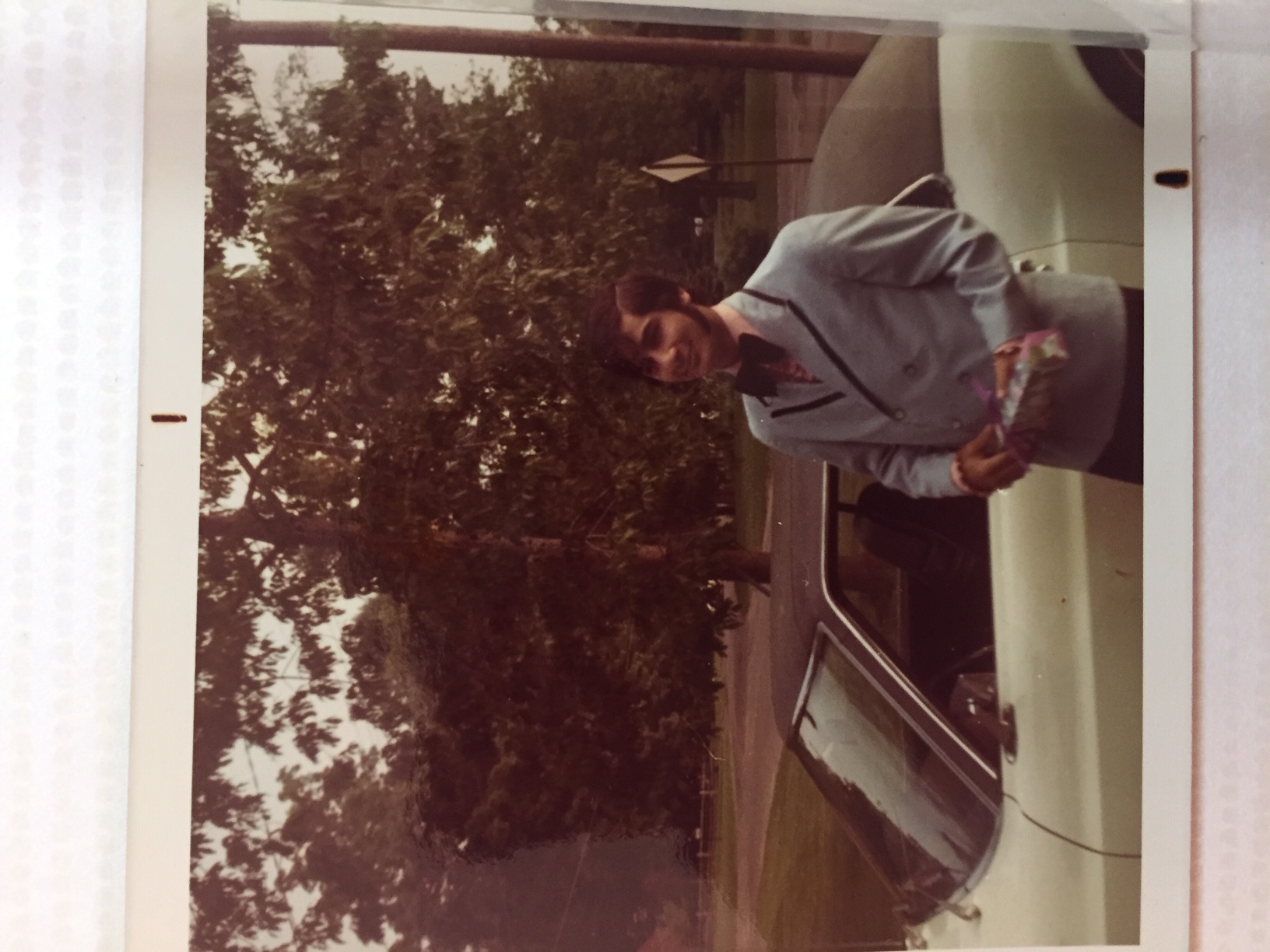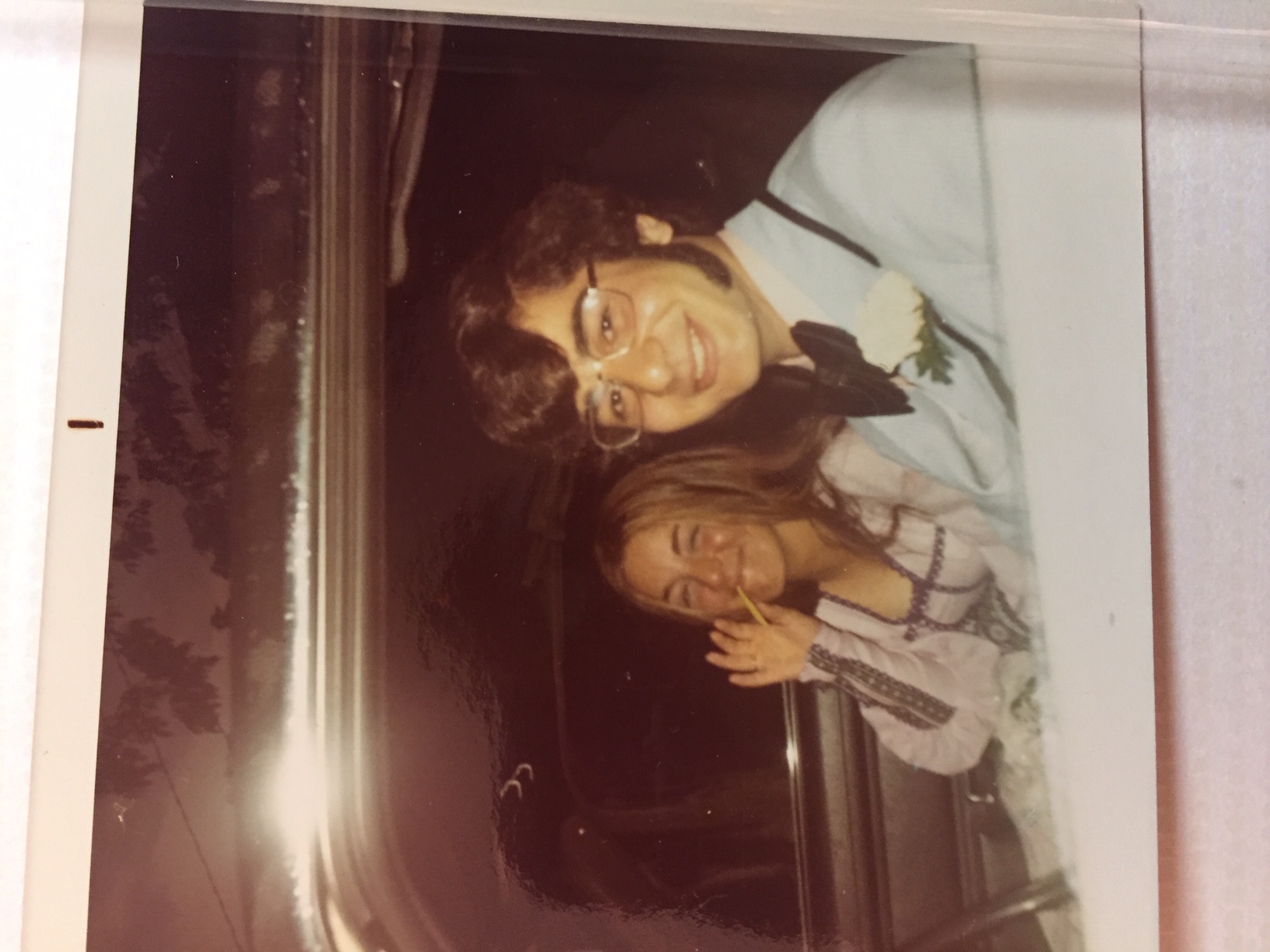 The car I took my driving test on and drove during my high school years was a 1970 Light Blue Mustang Coupe with a black interior, black landau roof, a 302 Cu. In. engine with bucket seats and an floor mounted automatic. Here I am on the way to pick up my Senior Prom date. Later, Suzanne and I left the house party Mom and Dad threw for a few of us before we headed out to dinner and the senior Prom. My Dad purchased the 1970 Mustang new from the dealer. My brother Mark drove the car during his last year of high school. Mark threw a lot of wild parties at our house when my parent were out at their own friend's parties. During one of these events on a snowy night, one of his friends borrowed the car to drive his date home, and promptly smashed the front quarter panel while trying to turn at a light. This car is rear wheel drive and the rear end was very loose. I remember driving home from one of my dates, down the long hill at Blake road. Touching the brakes to slow down sent the car into a 360 degree spin. I spun around three or four times before coming to a stop. Fortunately I didn't hit anything and no cars were travelling in the other direction.
The bucket seats were very comfortable I remember taking my dates to the drive-in movies in that car. Since they charged based on the # of people you had, I also remember going to the drive-in using the 10 passenger now 5 year old Colony Park. Rosemary and I drove in quietly the front seat, just a quiet very young couple going to the drive-in. Little did the attendant know we smuggled 5 other people in, one below her feet in the passenger side, two hiding below the fold down rear seat, and two more under the side facing folding seats in the rear!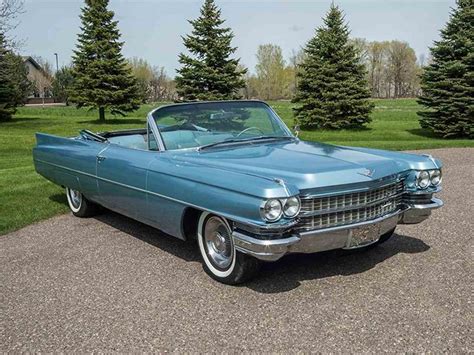 My first car purchase was in 1972 while I was a senior in high school of a 1963 powder blue Cadillac convertible. Tony Morris and I went to look at it. The transmission was leaking and the top wouldn't go down. I bought it for $200. We replaced the transmission's gasket which stopped the leak and fixed the convertible top by flushing the hydraulic fluid reservoir for the pump that drove the top open and shut. My father loved that Caddy as well. When I took the Mustang out to go racing, he would tool around in convertible Caddy. I remember him taking midafternoon naps in the rear leather seat. I also remember filling the trunk with beer and driving to a lake house party. With the car full of beer and people you could literally watch the gas gauge move as you drove down the highway. This model had a unique feature for the car, it had a dash mounted sensor which could dim your high beams when it detected oncoming headlights. I don't remember selling the Caddy but I didn't have it when I went away to college.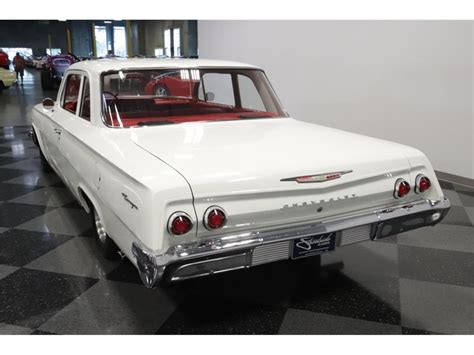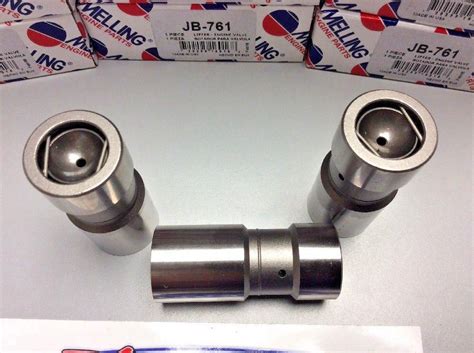 I didn't find my next car, it rather found me. In the summer between my sophomore and junior years of college I got into a special program at Pratt & Whitney for aspiring Engineers. I worked as a mechanics assistant in the Jet Engine special assembly plant. We assembled test engines and experimental components that the Pratt engineers where experimenting with. I learned a lot on that job, but lucked out on the car because one of my working associates was a kid from Michigan who by the end of summer was in a hurry to fly home to be with his family and girlfriend. He tried to sell his car for a couple of weeks but had no offers. I did him a favor so to speak and for $30 got his car and a nice cassette player which was worth as much as the car. I remember he was in such a hurry to leave I had to chase him down to give him his license plates back. Similar to the more commonly collected Chevy Impala the Biscayne like the Impala was extremely easy to work on. It had an in-line 6 cylinder motor, manual steering, drum brakes, and a two speed automatic transmission. Tune ups consisted of changing the spark plugs, points, condenser, rotor and distributor cap, also air filters. There was so much room under the hood you could practically stand between the motor and fenders. I replaced the brake pads, and did all the fluid changes. The tapping lifters were fixed by replacing the hydraulic lifter pumps that sat below each solid lifter rod. The lifter rods had a hole down the middle of them which the oil was pumped up by these small mechanical pumps. There were access panels on the side of the motor that made the job very easy to do. Here is what they looked like. I drove this car all over Boston. The roads did a number on the suspension, but other than having the undercarriage oiled up and lubricated, I never changed out any suspension components. The Michigan winters must have done a number on the undercarriage though because it was rotted out beyond repair. The three years of driving in Boston probably didn't help. The car was stolen once in my Junior year (1975). While it was found shortly thereafter with only minor damage, it took dozens of calls to the area police to locate it at the storage lot. Amongst my senior year friends at Tufts were some rather radical peace loving vegans. While I didn't consume mind altering drugs one of them did and he wasn't very happy one day sitting in the back seat when he noticed that he could see the roadway very clearly through a hole in the floor. This was on a trip driving back to Medford from a concert on the Boston green. Somehow I ended up with nine passengers, four in the front bench seat and five in the back seat. When I saw a hitchhiker on Mass Ave, I knew we had to stop and pick him up as well. Where are we going to put him my other riders asked? So I opened the trunk and he was happy to hop in and have the lift so late at night. While the car ran well, the floors were too much of a liability. I actually drove the car to a junkyard with the paperwork inside, got out with the engine running, and handed the keys to a bewildered worker who has a very astonished look on his face, and kept mumbling to me as I walked away, "but wait, you can't just leave the car and walk out!!!".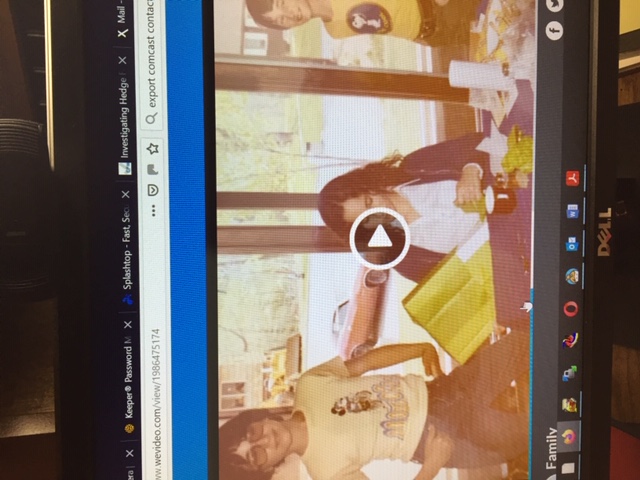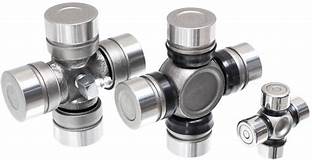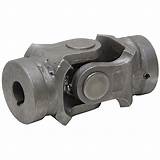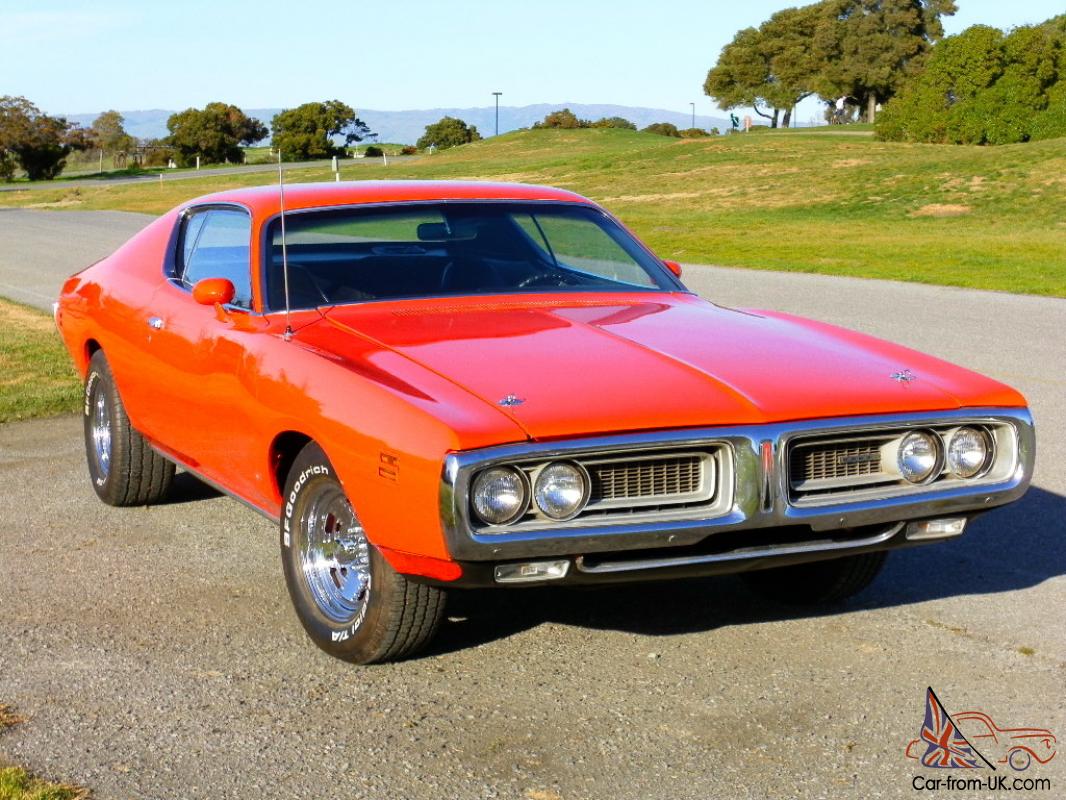 My next car was a 1971 Red Dodge Charger with a black roof. Actually it was green when I bought it, but I had it painted red after repairing some of the body damage. I bought it right after junking my 62 Biscayne I believe in the summer after I graduated in 1976. I do recall paying $400 for it and selling it a few years later for the same amount. In addition to the body damage, the front end needed some work and it took me a few months to realize that the brake master cylinder only applied brakes to the front wheels. I realized this one day while driving on a flat icy road. I had the brake pedal fully engaged and yet the rear (power) wheels just kept spinning. For maintenance I did normal tune-ups, oil changes and at one point replaced the rear universal joint. I did this not a lift but lying on my back on the ground under the vehicle. The universal joint connects the drive shaft to the rear end which in turn turns the rear wheels. The car you see in the background of the picture you see above on the left is the only photo I have of my car. The event appears to be the birthday of my cousin Lee flanked by cousins Greg and David, so the date is most likely May of 1977. I had this car in Boston as well. It never got stolen because I had a steel collar that went around the keyswitch.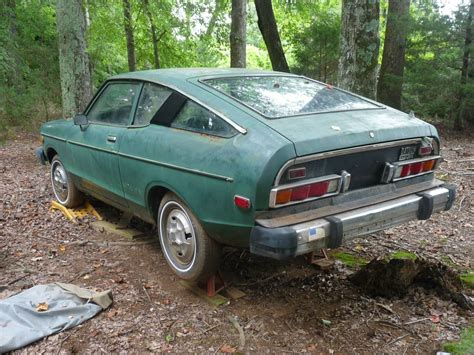 The year was 1980 and I was 26 years old. My next car purchase after the Charger was paying my brother Craig $1 for his 1972 Datsun B210. This car was also green. I do remember travelling in upstate New York with my girlfriend at the time and getting stranded because the fuel filter had clogged up. Another notable event was that I had replaced one of the headlights and failed to put back a circular shield that went around the bulb. It turns out this was an important piece. While travelling in a very heavy rainstorm the electrical system kept shorting out. Try driving in a heavy rainstorm at night and have your headlights turn off! I visited my old roomates on Commonwealth Avenue in Boston with this car. Instead of parking in the alley, I chose to park in the street in front of the building. This car was stolen that night. It was recovered within a few days, but a lot of photographs from my trip to Armenia were in the car at the time and never recovered. Since then I learned to never leave items you were not able to replace where they could get stolen. If you are following this story to here you will realize that in 20 years of owning cars to htis point the most I ever paid for a car was $400.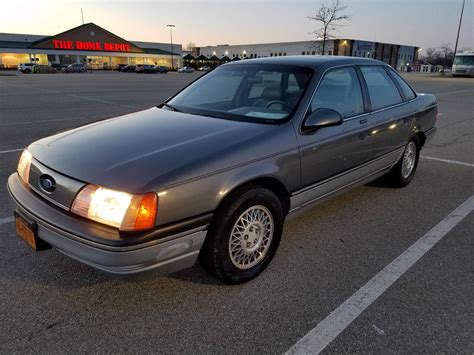 <!img src="/data/1990avalon.jpg" height=300>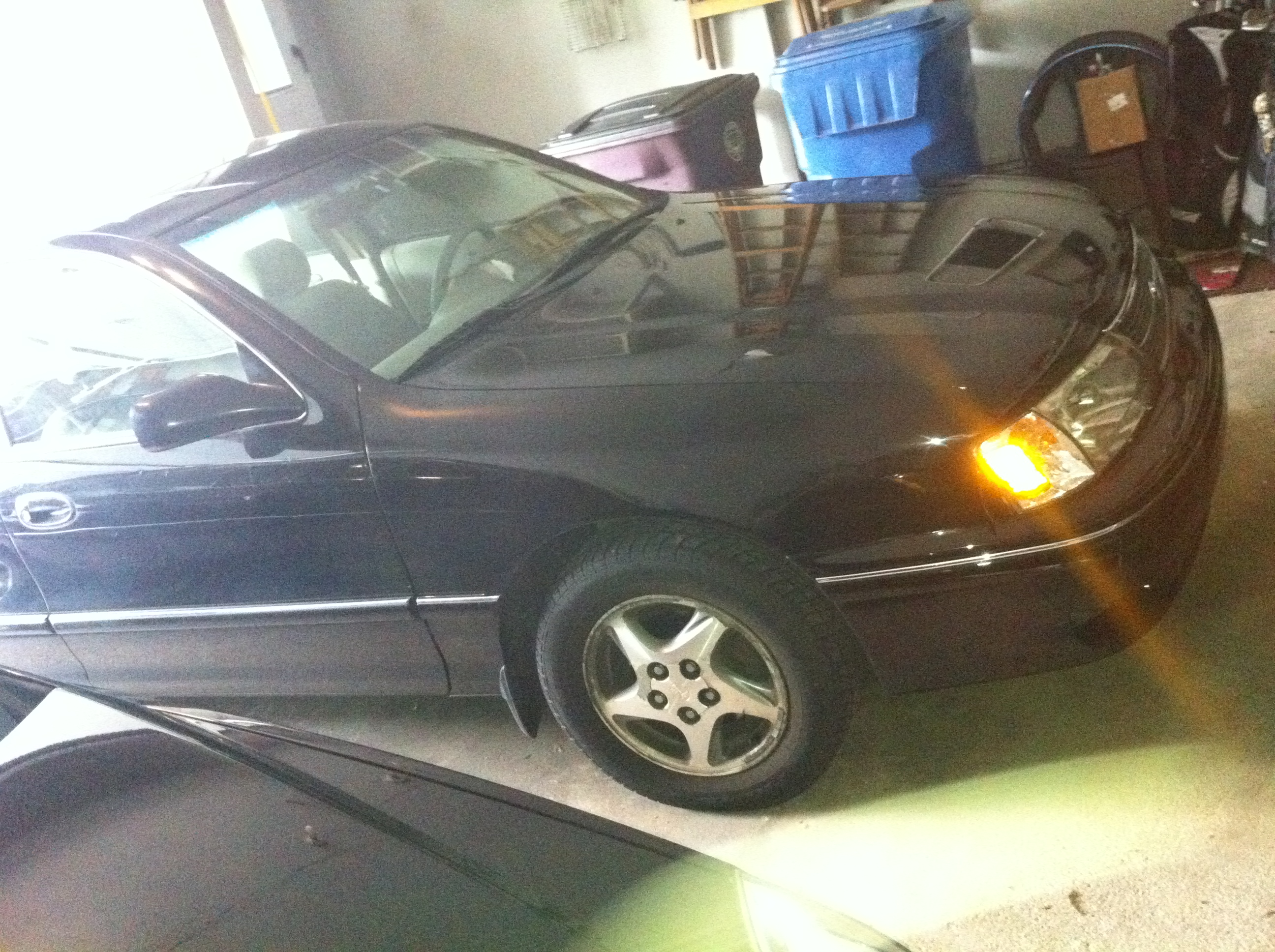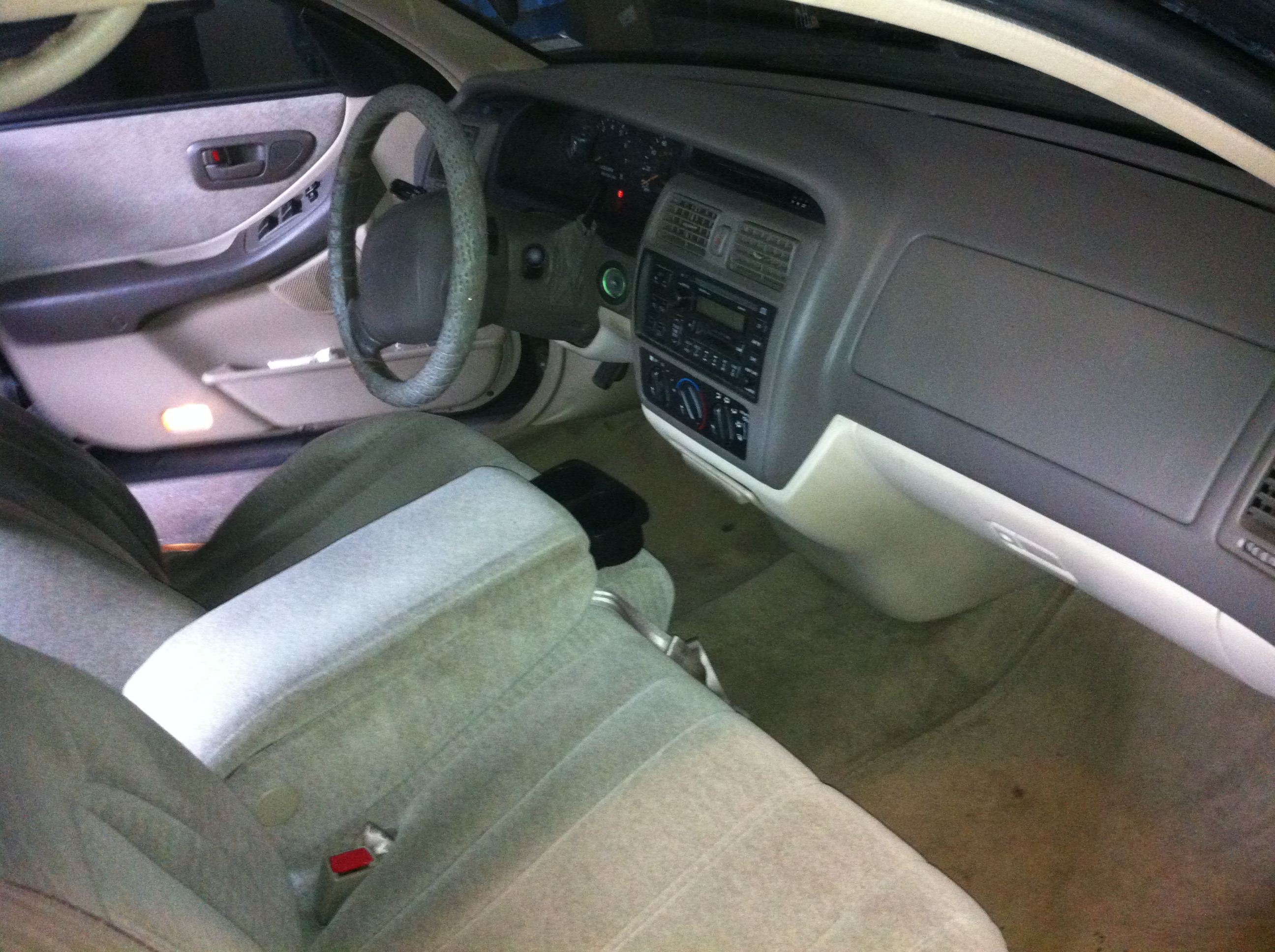 The next car I drove was a 1986 Ford Taurus. This vehicle was a perk I received that came along with working for Digital Equipment Corporation, as was the next car, a 1990 Toyota Avalon.While not exactly head turners, what good fortune for me to be driving a brand new vehicle, and it didn't cost me a dime! I used these cars on business driving to my clients offices and to meetings mostly in Connecticut, New Hampshire and Massachusetts. During my 9 year tenure at Digital, I bought two houses, got married, and moved three times. When I left in 1994 I bought the company car from my now floundering employer and deducted the payment from my six month severance package. Within a month I was working again, this time as an idependant software consultant for the very same customers my employer just severed me from. The maintenance on both cars was covered. I may have changed an air filter on the Avalon after I bought it out, but from 1985 on I never again changed any engine oil or perform any tune ups. The Avalon went to my mother after I moved on to my next car.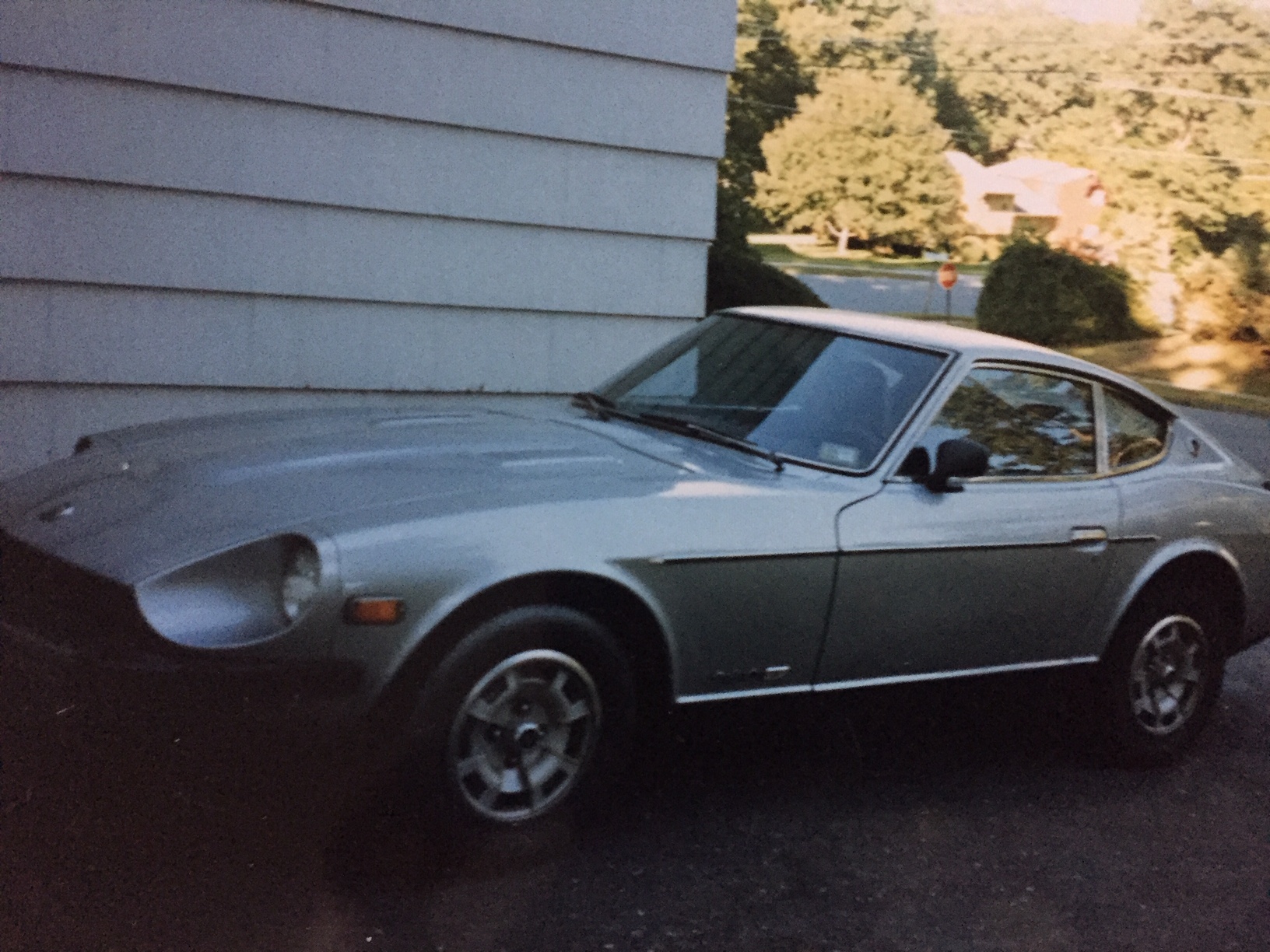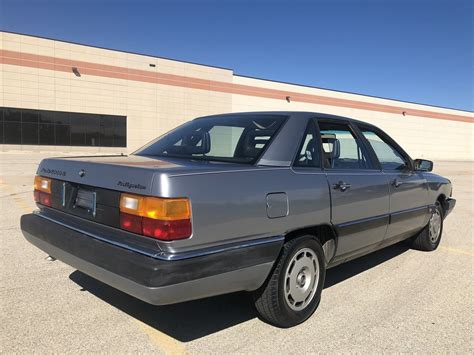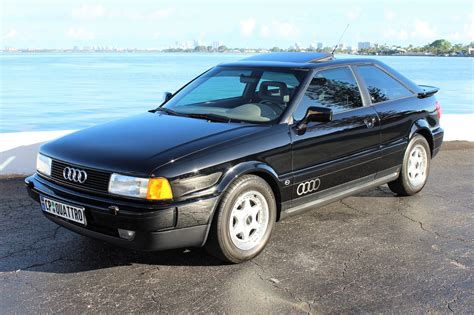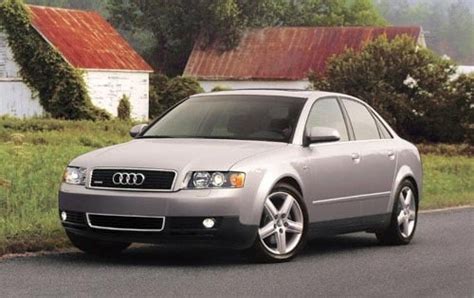 My spouse Darlene owned some nice cars beginning with a 1976 Datsun 280Z.. Here is the affectionately named "Silver Bullet" parked outside our apartment on Maplewood Ave in West Hartford. Other cars she drove after that included three Audis and three BMW's.
We bought a used 1985 Audi 5000S for her which came with a shoe box sized cell phone installed. After that was a new 1990 Audi Quatro with a 5 cylinder engine and all wheel drive. These cars were very reliable, the only major work I had done was changing out the catalytic converter on the later model. In the mid 1980's many owners of automatic Audi's complained that they would suddenly accelerate on their own. You can read about this problem here. This depressed ALL Audi sales, despite the fact that the only models so afflicted were those with automatic transmissions. The third Audi Darlene drove was a new 2002 A4.The BMW's included a 2008 Gray 328XI, a 2016 Blue 328XI GT, and a 2018 330 XIGT.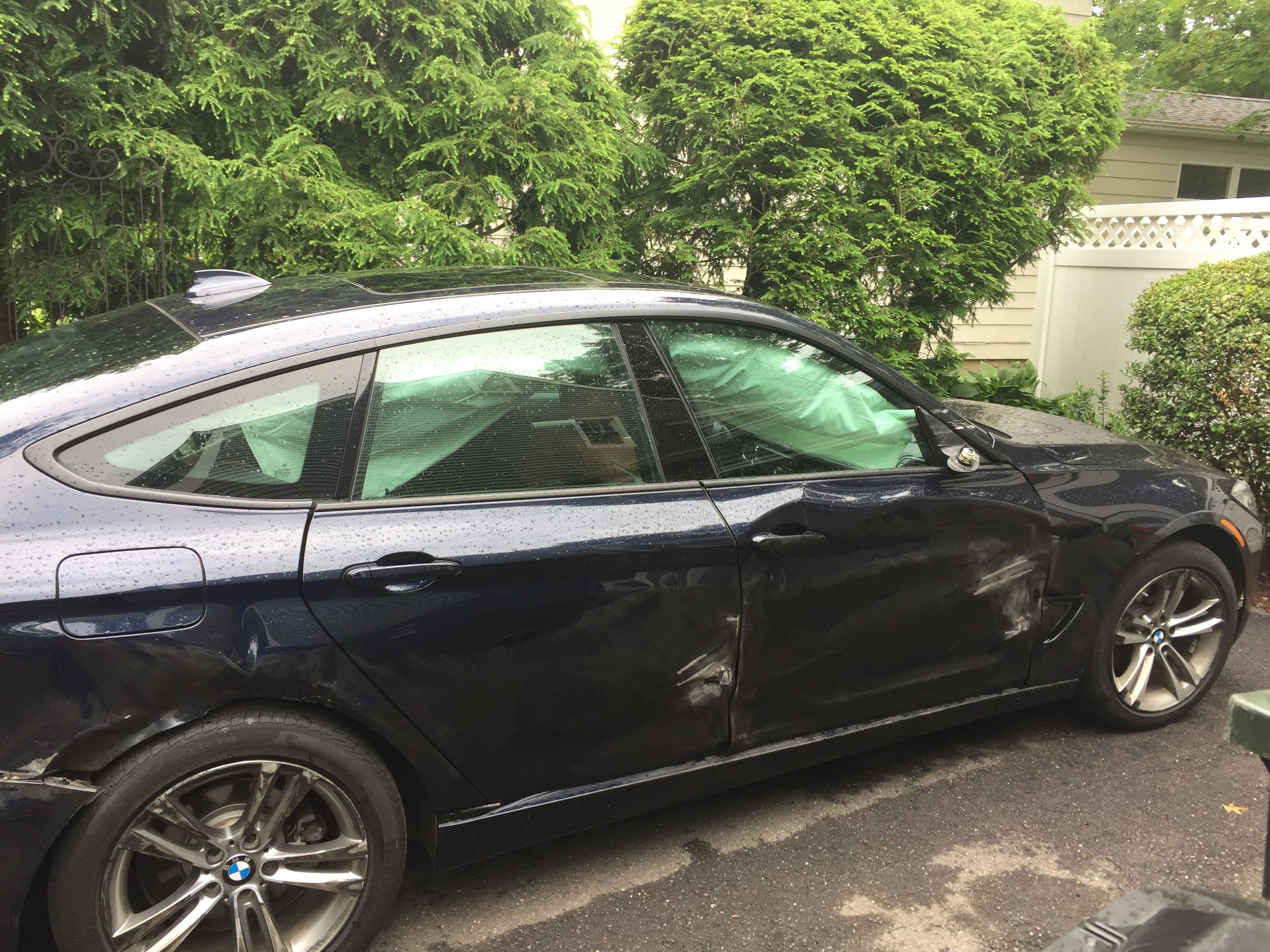 <!img src="/data/1990avalon.jpg" height=300>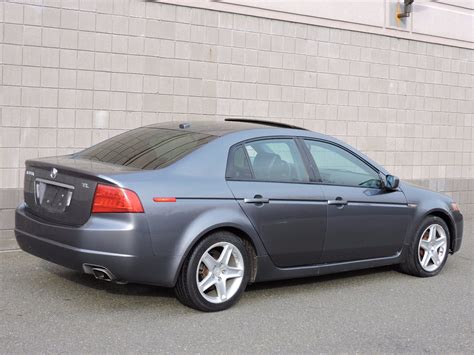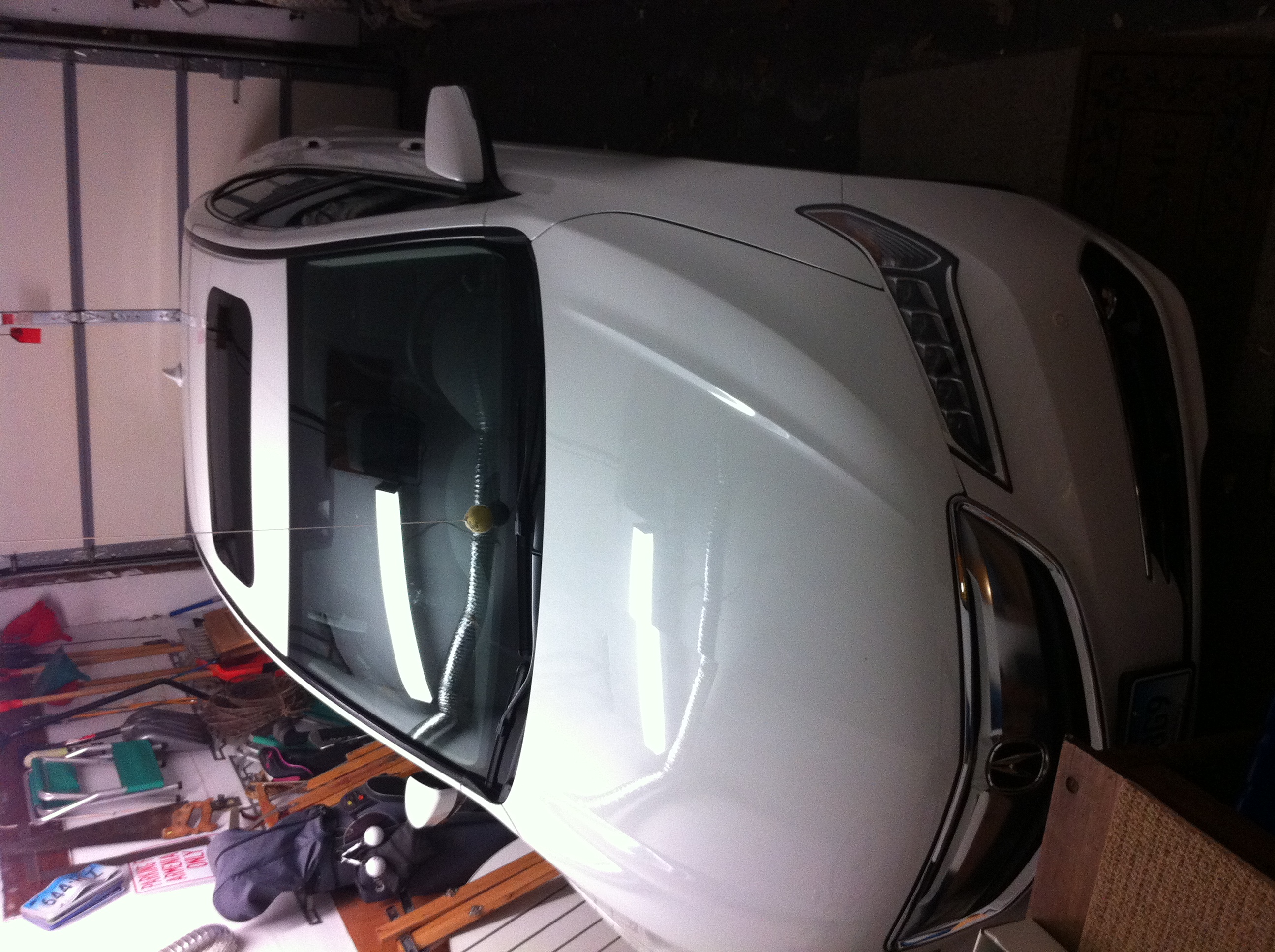 Once I let my Avalon go I needed an everyday driver. For the next 14 years I drove Acuras. Acura was the luxury division of Honda. The newly designed 2006 Acura TL was the first, followed by the 2015 Acura TLX which boasted tons of electronics including Blind Side Warning detection, Lane Keep Assist, and Adaptive Cruise Control.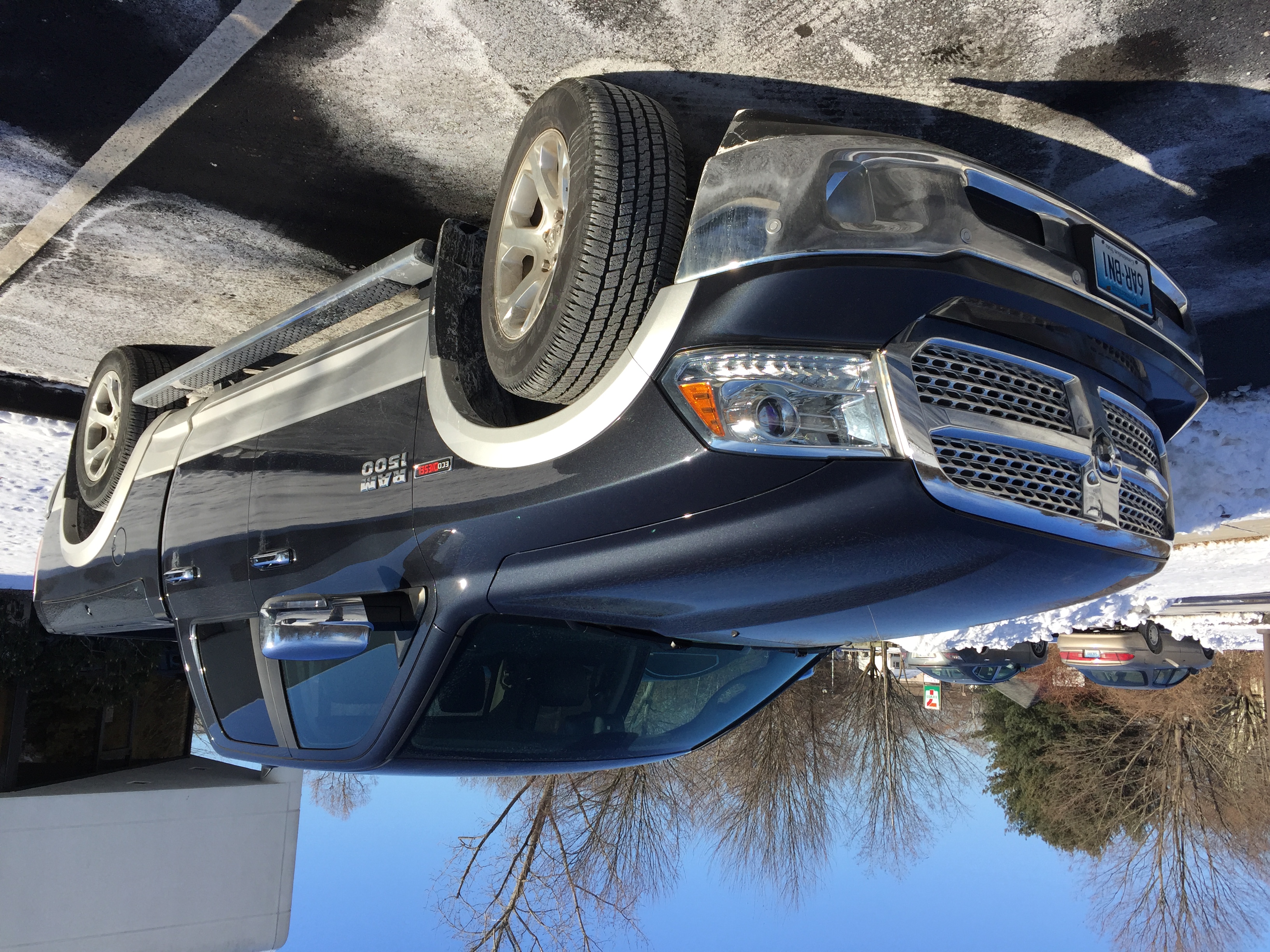 I also purchased three trucks. First a 2003 Ram 1500 work truck with a bench seat, automatic transmission, and air conditioning. The next time around I upgraded and got all the bells & whistles in a 2015 Ram 1500 with a V6 Turbo EcoDiesel, its a 2015 Ram 1500 Laramie. I got a bench seat in front so we can seat 6. The best feature are the two "Ram Boxes" which are lockable compartments located above each rear fender. Unfortunately in 2022 the EcoDiesel developed a lot of emmissions problems. It was at the Papas dealership for almost 3 months. They finally tracked the emmissions issue to a crimped supply line feeding the new Diesel Particulant Filter, but by then I had been overwhelmed by a cab full of diesel fumes. Fortunately the repair was covered under the extended emmissions warranty due to the class action settlemen, but by then I had had enough. Didn't help that diesel fuel was close to $6 per gallon in late 2022 while regular gas was almost half the cost. So I traded the truck for a BMW. The BMW dealer was so hot on closing the deal by month end in September 2022 that they accepted the trade even though the truck was still being repaired at the RAM dealership. So I acquired both a 2022 Honda Ridgeline and a 2023 BMW 420ix in the same week and almost on the same day!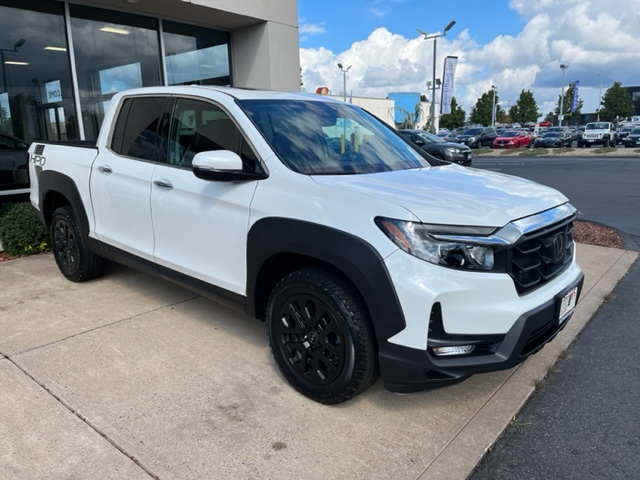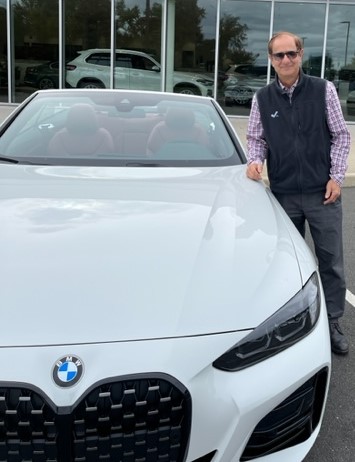 School Reunions
In 2022 I became nostalgic for my high school, junior high school, and even elementary school chums. Here's a
Link to the Pulaski High reunion
photos, videos, and dialog of activities.