Screamers Documentary Movie Appearance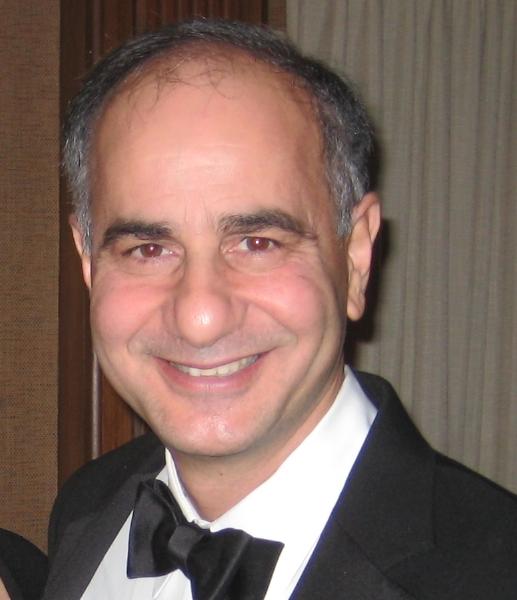 For several years beginning in 2004 I was an activist in a community group that gathered each year in the Connecticut State Capitol House chambers around April 24 to commemorate the anniversary of the Armenian Genocide of 1915. This gathering memorialized those that perished and honored in person the survivors still with us. It's not often that one gets to participate in something "greater than oneself" but that's exactly what transpired. Our efforts to honor a living survivor resulted in her appearance and mine in a documentary movie. Screamers was produced by Peter McAlevey and directed by Carla Garapedian. The film exposes Genocide denial and why genocides have continued to occur in modern day history. Following the release of the film I received an invitation to the US premier.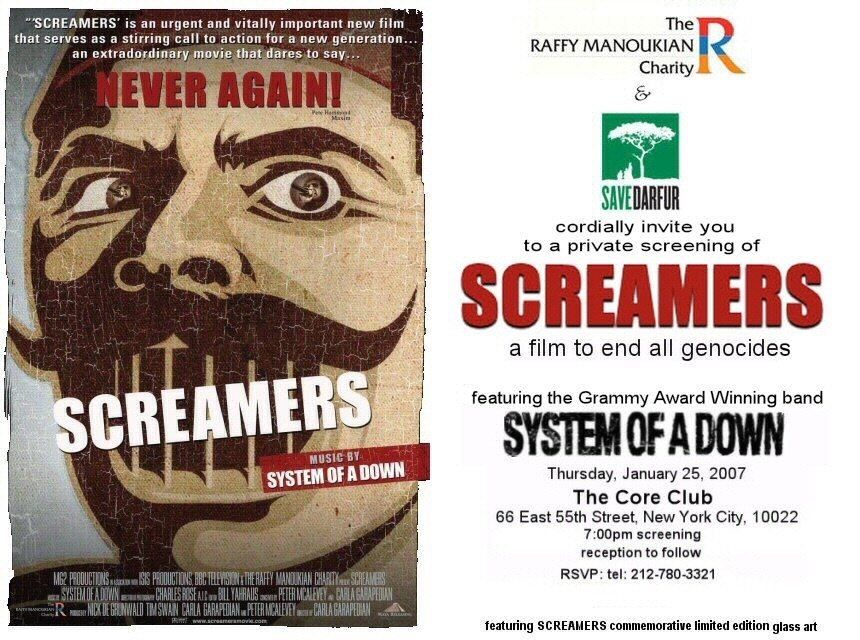 I was invited to attend the first screening of the film at the Core Club in New York on January 25, 2007. Here is a picture piece of jewelry that was commissioned for the film that was given to me at the screening for my involvement.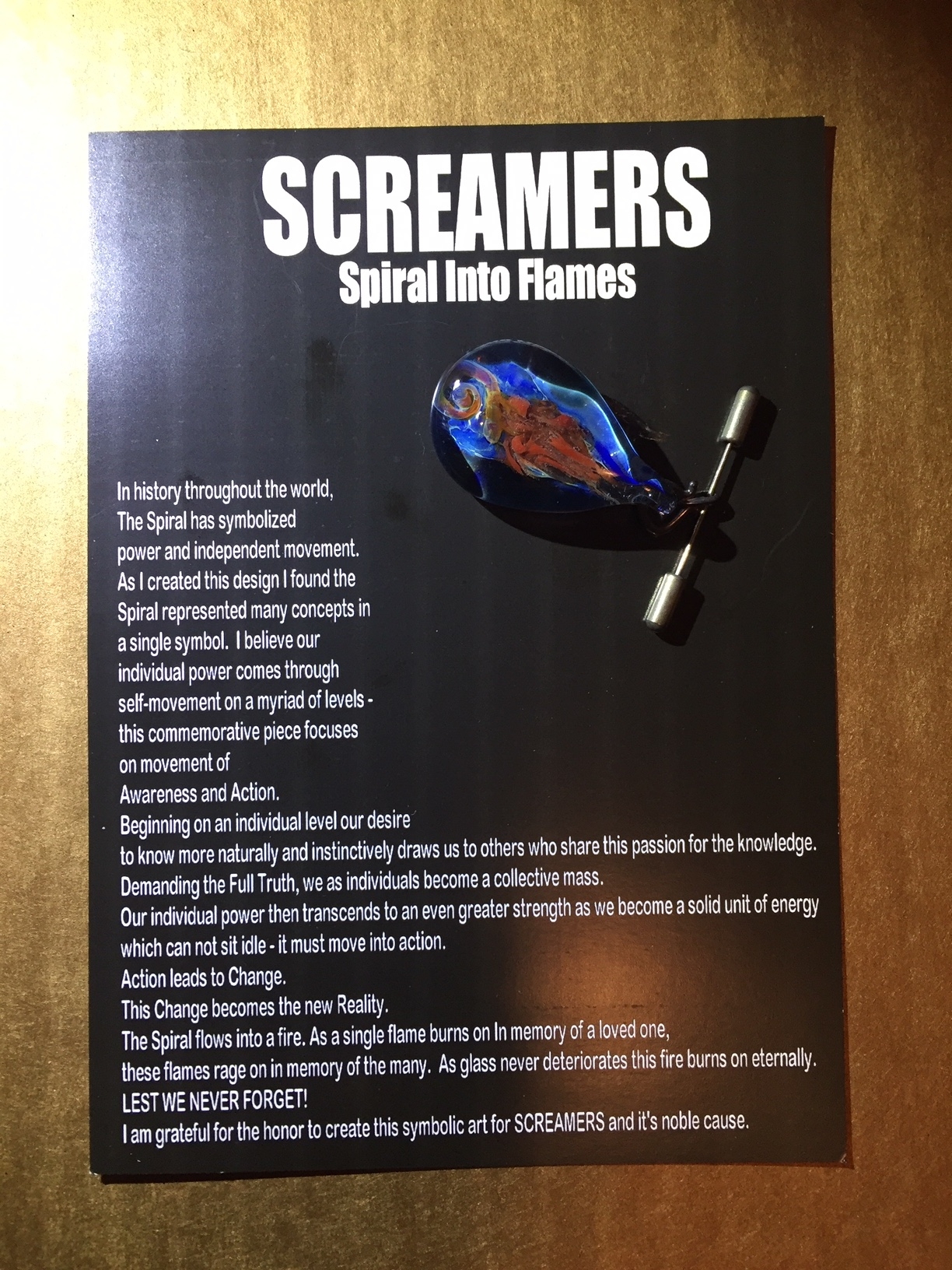 I was contacted and interviewed on camera because I arranged a meeting for the Screamers film crew with our local 100 year old Genocide survivor after having facilitated what turned out to be a controversial congratulatory birthday letter from then Vice President Dick Cheney. Here is a link to the remarks I shared with staff and friends and my staff about the movie screening, and below are more details on what transpired.
Events Leading to Controversial Letter
The oldest living Genocide survivor lived in my local community. As her 100th birthday was approaching, we thought it would be an opportunity to recognize Maritza Ohanesian in person at the annual gathering and with written letters from state and national leaders. While many of my correspondences went unanswered, my letter of request to Vice President Dick Cheney met with a favorable response. You can listen to the voice message I received from the Vice President's assistant explaining how my letter was damaged by the security screening. After speaking with Ms. Boyer and faxing a copy of our request, she had VP Cheney sign this letter of recognition. The controversy that followed was unforseen and an entirely unintentional result of our efforts. Of course, Ms. Ohanesian, her family, and all of us on the Connecticut Genocide Commemoration Committee were so pleased to receive this wonderful letter. We were then able to recognize Maritza Ohanesian formerly at the 90th annual state capitol commemoration in April of 2005.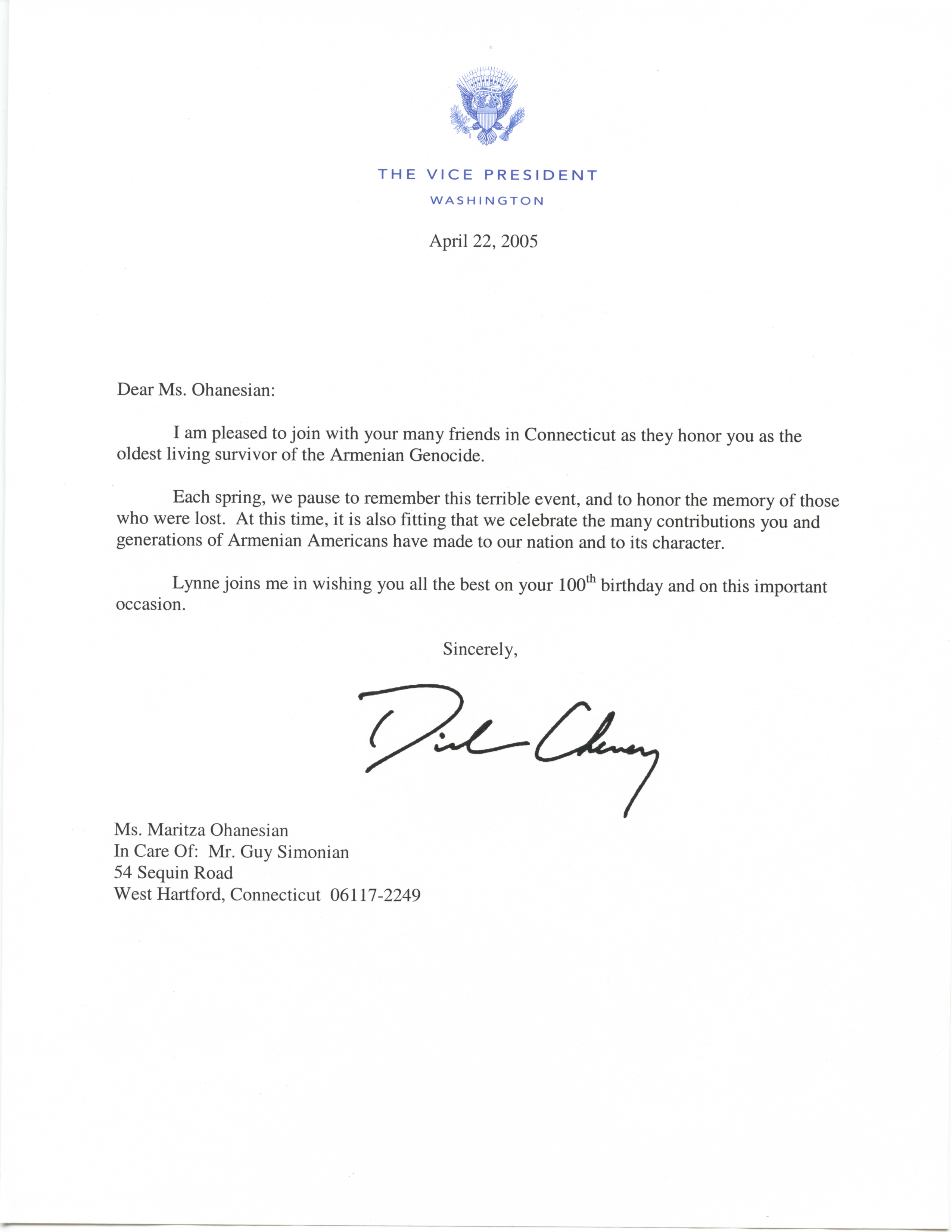 Press Raises Awareness
Within a short period of the Armenian press let by the Armenian Mirror-Spectator latched onto wording within the letter which as you can see mentions the then forbidden word "Genocide" in association with the events of 1915. A congressional request was sent to Vice President's Cheney's office requesting clarification. Here is the Armenian National Committee of America's (ANCA) press release report on their actions from 2005.
Screamers filming overlap to Commemoration Recognition
At the same time this was happening, Carla Garapetian was in the process of filming what some describe as a "Rockumentary" by travelling around the world with the all diaspora Armenian musicians alternate metal band called System of a Down led by vocalist Serj Tankian. The film alternates between live performances by the band, and episodes of their members with government officials including the UK's House of Lords and the US House of Representatives. The documentary crew became aware of our role in the controversy and conducted our interviews before heading to Washington which is where Maritza and I appear in the final cut. Tragically just days before the January screening, journalist Hrant Dink was assassinated in Istanbul which created a somber tone to the premier attendees adding to the narrative of the perpetuation of Genocide denial portrayed in the film. Right in front of us was a present day activist we just saw and heard from on screen murdered in cold blood simply for speaking up.